Salman, Rahman steal the show in Cuttack
Salman Khan and A.R. Rahman joined the second phase of the inaugural ceremony of Hockey Men's World Cup at Barabati Stadium in Cuttack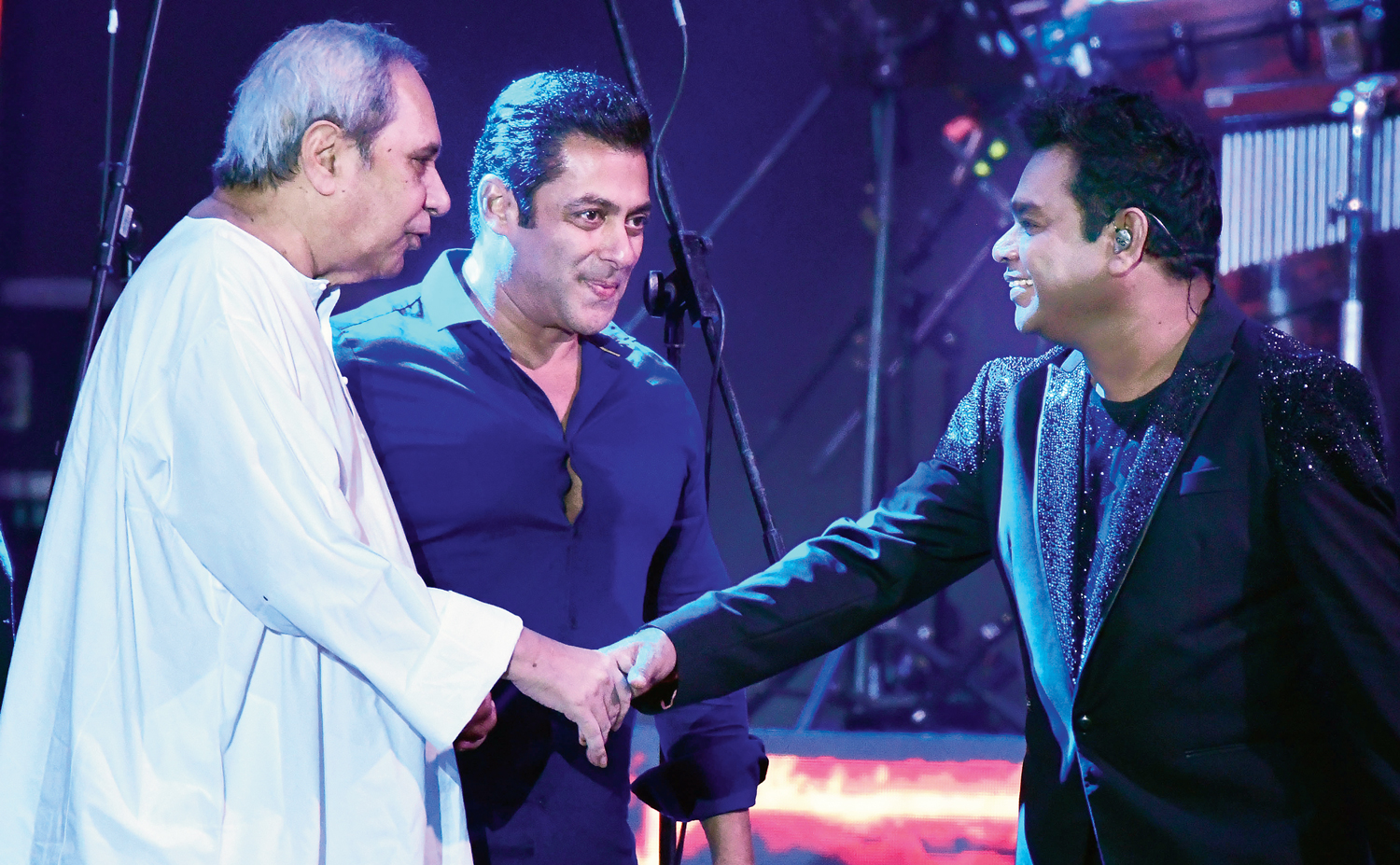 ---
---
Amid loud cheers from thousands of fans, Bollywood superstar Salman Khan joined the second phase of the inaugural ceremony of Hockey Men's World Cup at Barabati Stadium in Cuttack on Wednesday.

The entire stadium roared 'Bhaijaan' as he entered the stadium amid 15,000 people gathered from across the state.
After he took to the stage, he greeted his fans in Odia, saying: "Bali yatra kemiti chalichi? Jai Jagannath."
"I have always wanted to come to Odisha and I am overwhelmed to receive so much love from everyone. This is my first visit to the state," said Khan.
He spent around 10 minutes with the crowd and also invited chief minister Naveen Patnaik onto the stage. Naveen and Khan received a standing ovation from the crowd as they greeted each other.
"The chief minister is a very simple man and I am very happy to meet him," said Khan. He also praised the state for being the only one to sponsor the national hockey team.
He also crooned the popular song "Pehli baar mile hain" from his film Saajan. To the surprise of his fans, he also said that he would taste the famous dahi bara of Cuttack before leaving.
"Mu tumaku bhala paye (I love you)," signed off Bollywood's Bhaijaan before leaving the venue.
Earlier, there were apprehensions about his participation following which Salman took to Twitter on Tuesday and uploaded a video confirming his presence at the event.
"I am happy to join Men's Hockey World Cup celebrations in the millennium city of Cuttack. Come let's cheer for the world's best and make it memorable," he tweeted.
The stadium also witnessed Rahman's second consecutive performance in the state after Kalinga Stadium on Tuesday.
Rahman ensured that the fans sang along with him to the tunes of his popular creations such as the Humma song and the Rang De Basanti title song.
Cuttack DCP Akhileswar Singh said that a three-tier security arrangement was put in place for the event.
"To maintain law and order during the celebration, 45 platoons of the armed police force were deployed in and around the stadium," he added.
Earlier, Khan was escorted to Cuttack from the Biju Patnaik International International Airport amid tight security. He was welcomed by hundreds of fans at the airport.
The entire route was sealed as he travelled to the stadium with fans lined up along the route to have glimpse of the superstar. Khan's team also supervised the security arrangements at the stadium on Tuesday and held discussions with the DCP and the Collector.
For the fans of Khan, it was a rare chance. "He was so energetic and had so much to talk about Odisha," said Jyoti Patnaik, a social worker.