Odisha's Bali yatra takes off
The fair, held to mark the voyages of Kalinga's traders to Bali in Indonesia from the second century BC onwards, could draw a million people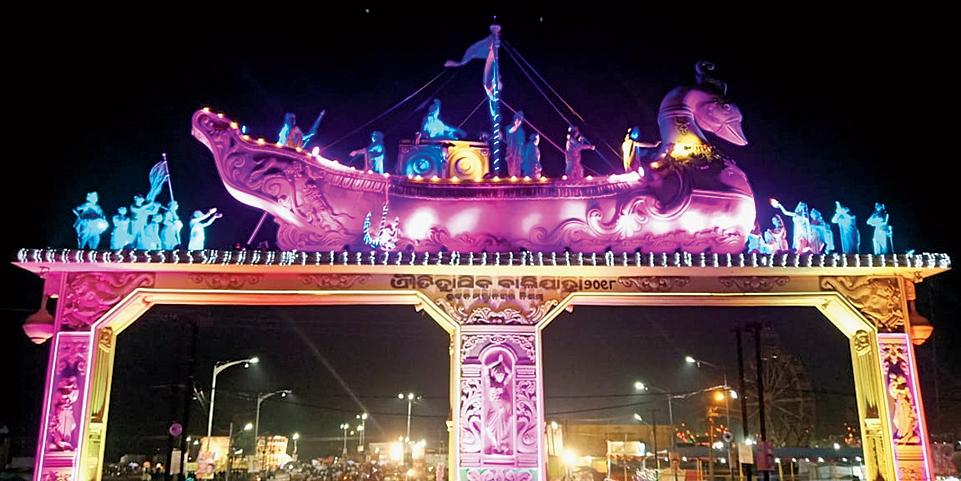 The decorated entrance to the Bali yatra ground in Cuttack on Friday.
Picture by Badrika Nath Das
---
Cuttack
|
Published 23.11.18, 07:27 PM
|
---
Bali yatra started here on Friday evening amidst tight security and elaborate arrangements for fire safety and basic facilities.
As this year the seven-day fair will continue till November 2, the turnout is expected to go up to more than 10 lakh.
Deputy commissioner of police Akhileswar Singh said 50 platoons of armed police have been deployed. "While 32 platoons are in place at the Bali yatra ground, the rest have been engaged to control crowd and regulate traffic," he said.
"CCTV cameras have been installed at 50 strategic locations," Singh said. Around 450 officers, 900 police personnel and nearly 500 home guards have been deployed for smooth conduct of the fest. Besides, the Quick Response Teams, anti-terrorist squads and patrolling squads have been engaged while two police aid posts have been opened to extend a helping hand to the people.
Assistant fire officer (Cuttack) Pradeep Rout said: "Five temporary fire stations have been set up at the ground, along with one vehicle, one officer and nine other personnel in each."
"Besides, fire bucket posts, along with fire extinguishers, have been set up at 38 places. A mobile patrolling vehicle has been engaged to make non-stop rounds around the ground from 12.30am to 6.30am all throughout the 10-day fair," Rout said.
Public health engineering organisation executive engineer (Cuttack division) Sushant Ghadei said: "We have set up 50 tanks of 1,000 litres to 2,000 litres capacity at each location for 24 hour drinking water supply."
"Four tankers of 4,000 litres to 10,000 litres capacity will supply water to the stalls, kiosks and pavillions from 6am to 10pm. Six tube wells at the ground have also been made functional," Ghadei said.
The district administration has allotted plots for around 1,100-odd pavilions, stalls and kiosks (mostly eateries) spread over more than 40 acres.
Cesu's Cuttack division executive engineer Deepak Rout said 18 temporary power sub-stations had been set up, along with the required transformers, for uninterrupted power supply. "Power supply is being extended to the pavilions, temporary showrooms, kiosks and stalls from 11 power lines through 210 temporary poles and underground cabling," Rout said.
"This year, power supply would be extended through around 210 poles and underground cabling also from the temporary power sub-stations at the Bali yatra ground," he said.