Odisha ideal business hub, say industrialists at Make in Odisha Conclave
Stable leadership, natural resources, cheap labour & skilled manpower attracts investment to Odisha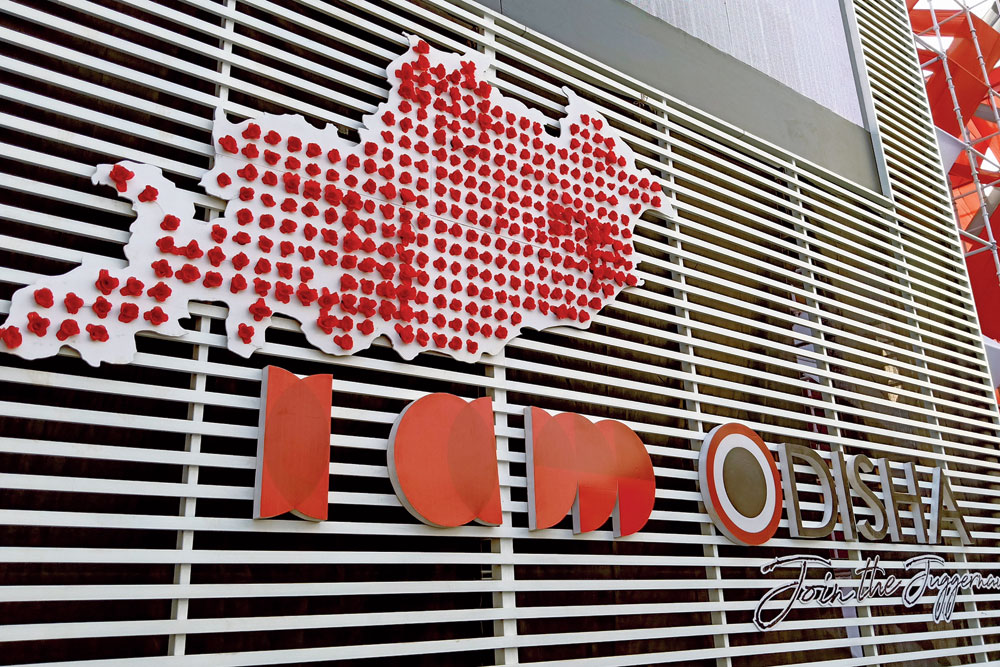 The Make in Odisha logo in Bhubaneswar on Tuesday and
Picture by Ashwinee Pati
---
Bhubaneswar
|
Published 13.11.18, 07:09 PM
|
---
A cross-section of participants, including some of the doyens of Indian industry, at the Make in Odisha Conclave feel the state has emerged as an ideal destination for investments because of some key factors. Industrialists such as Mukesh Ambani, Kumar Mangalam Birla, Sajjan Jindal, Anil Agarwal, Naveen Jindal and others say stable leadership, good governance, natural resources, cheap labour and skilled manpower work in favour of Odisha.
Subhashish Mohanty of The Telegraph takes a look at what gives Odisha the edge:
Stability
For past 18 years, the state has a stable government, by and large peaceful. It also boasts of good governance and the chief minister has a vision to take the state to a newer height. These are prerequisites for an industrialist wanting to set up his unit.
Ease
The project proposal can be cleared using a single-window system. The government promises to clear a project within 20 days. Bhubaneswar is the third best city for doing business in India as it ranks among the 20 top-performing smart cities in the world.
Pro-industry policy
It has launched a number of pro-industry policies and programmes, including the Industrial Policy Resolution, 2015 Apparel Policy, Biotechnology Policy, Food Processing, Health Care Investment Promotion Policy, Information and Communication Technology, a friendly MSME Development Policy, tourism, Special Economic Zone Policy, Aerospace and Defence Manufacturing Policy and the green field electronics manufacturing cluster to attract business houses.
Growth rate
The state's growth rate has consistently been over that of the country since 2013-14. Against India's growth rate of 6.5 in 2017-18, Odisha's is 7.14.
Incentives
The state also offers employment-based incentives, anchor tenant subsidy, industrial infrastructure development policy, fiscal incentives added subsidies and schemes for private industrial estates.
Ports
It has three deep water ports and inland water transport system. A number of ports are in the pipeline.
Oil refinery
A modern oil refinery is in Paradip with 2,400-km-long pipes, nearly length of the Ganges. One of modern petroleum, chemicals and petrochemicals investment regions is coming up there.
Land
Odisha has more than 1,25,000 acres of land bank for industrial development. An industrialist sitting in any part of the world can get to know about the status of the land he seeks with the click of the mouse. The industrialist will able to know about the location of the land also.
Industrial estates
112 industrial estates are in operation here. A industrialist can set up the units here and get the opportunity. Besides, it has 10 high-end integrated industrial parks and seven high-end food parks.
Power surplus
Assured power supply is the prerequisite for any industry. Odisha is power surplus and generates more than 17,600MW of power.
Cheap labour

Compared to Andhra Pradesh, Gujarat, Karnataka, Maharashtra, Rajasthan and UP, the labour cost in Odisha is cheaper. It makes setting up business and its operation more competitive.
Skilled manpower
Odisha produces more than 1.78 lakh technical manpower graduating every year from 956 training institutions. It has big educational institutions such as AIIMS, Niser and IIT.
Natural resources
It has 96 per cent chromite, 92 per cent nickel, 53 per cent bauxite, 45 per cent manganese, 35 per cent iron ore and 25 per cent coal of the country. It is the largest stainless steel producer in India, 56 per cent of aluminium smelting in India is done here and 20 per cent of steel making capacity of India lies with Odisha.