Odisha CM inauguarates modern sewage treatment plants
Naveen Patnaik inaugurated 6 plants in 6 towns and cities of the state through videoconferencing from a hotel in Bhubaneswar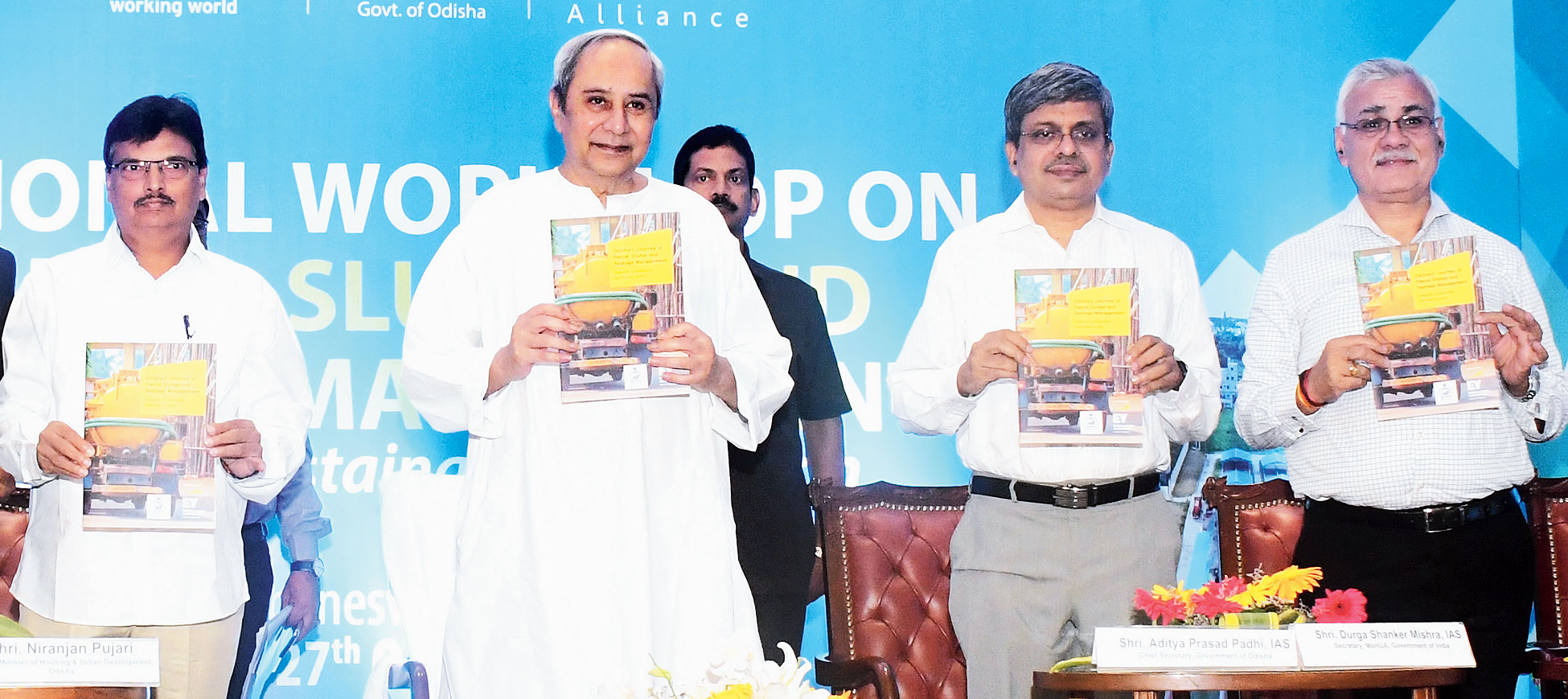 Chief minister Naveen Patnaik at the National Workshop on Faecal Sludge and Septage Management in Bhubaneswar on Friday.
Picture by Ashwinee Pati
---
Bhubaneshwar
|
Published 26.10.18, 07:40 PM
|
---
The state government's aim to ensure "Swachha Odisha, Sustha Odisha" got a boost on Friday when chief minister Naveen Patnaik inaugurated the modern sewage treatment plant that would improve the hygiene level of the city.
The plant will treat wastewater and faecal sludge before releasing them into the water bodies so as to avoid contamination of water.
Naveen inaugurated six such plants in six towns and cities of the state through videoconferencing from a hotel in the city, where he was attending the National Workshop on Faecal Sludge and Septage Management. Fifteen states and Union territories besides 100 other urban local bodies of the state have taken part in the event.
"I am happy to inaugurate the septage treatment plants in our six towns. This is a significant step towards the goal Swachha Odisha, Sustha Odisha. We have successfully demonstrated the innovative sanitation solution and implementation models in the large towns, and now, we shall scale it up to cover the entire state," said Naveen.
He announced that the faecal sludge management services would be extended to all the 114 municipal areas in the state, along with the modern faecal sludge and septage management treatment facilities. "I take this opportunity to complement the housing and urban affairs department for their relentless efforts in this regard," he said.
The administration has been constructing three such plants at Basuaghai, Kalinga Nagar and VSS Nagar in the city. While the one at Basuaghai was inaugurated on Friday, sources said the other two would shortly be opened as the work on those was nearing completion.
The treatment plant has the capacity to treat about 40 million litres of wastewater every day before releasing it into the water bodies. The plant has been constructed and operated using the decentralised water treatment technology that is an effective and efficient wastewater treatment solution. It minimises water and soil pollution, said an expert.
The technology is based on the principle of low cost and low maintenance, sources said. "The decentralised water treatment technology is the most accepted system for sewage treatment plants. The plant will treat the water in such a manner that it will not contaminate or prevail any unhygienic condition in the surrounding areas," said a civic body official.
In absence of the treatment plant, several cesspool vehicles carrying the faecal sludge and wastewater have been releasing the same into water bodies and open drains triggering a fear of contamination of water and simultaneous outbreak of various diseases, including jaundice.