Odisha acts to end electrocution of elephants
Forest department writes to power counterpart to ensure that high-voltage cables do not sag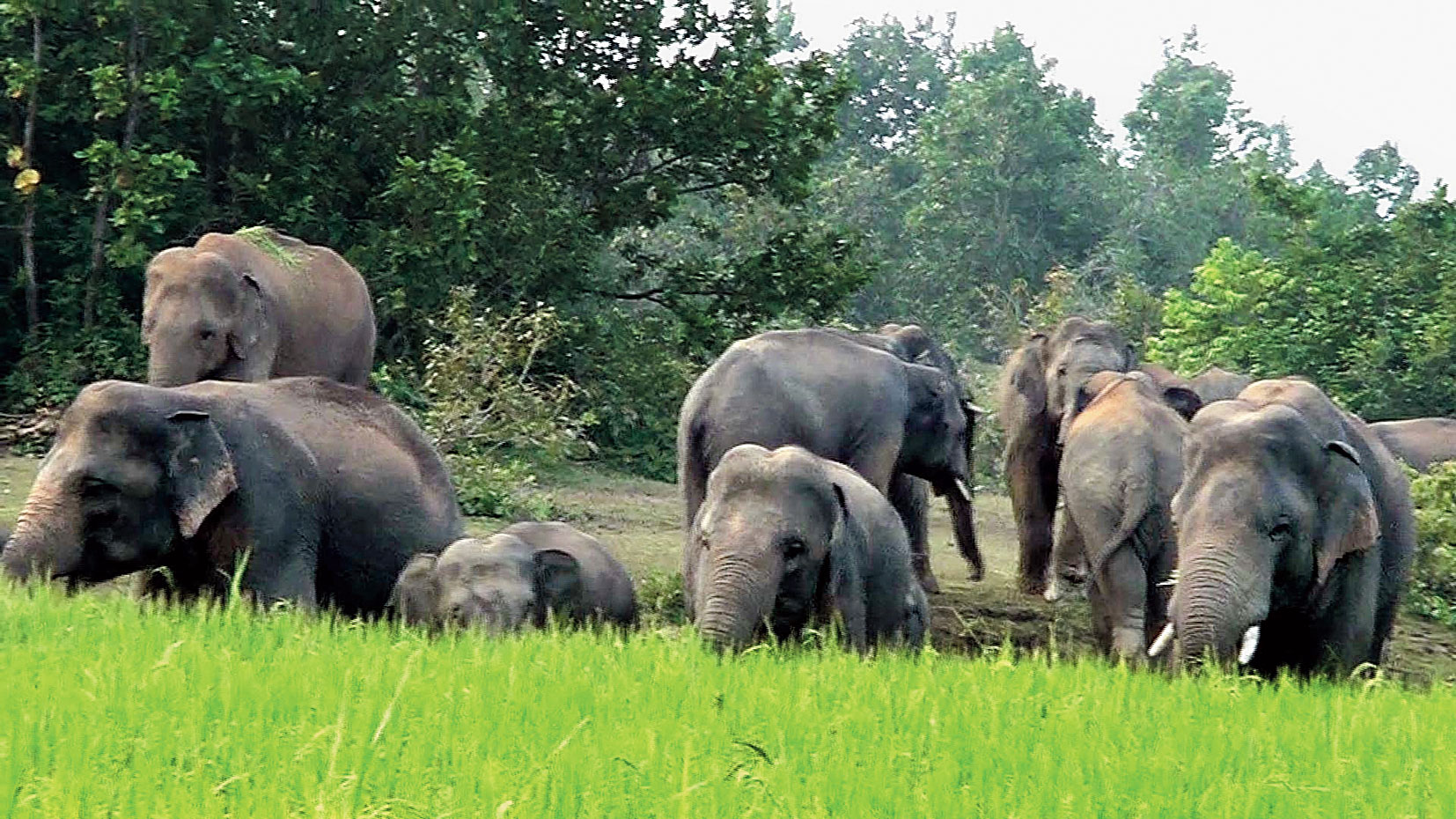 Elephants at a forest in Odisha.
Telegraph picture
---
Keonjhar
|
Published 10.11.18, 06:52 PM
|
---
After the electrocution of seven elephants in Dhenkanal district, forest authorities in the district have asked the energy department to be careful about the power supply infrastructure in the elephant habitat areas.
A 1.8km stretch of the forest area has been identified as a vulnerable corridor of elephants in Kenonjhar forest division as high-voltage electric wires are sagging at a low height at specific spots. The North Eastern Electricity Supply Company of Odisha Limited (Nesco) authorities have been strictly told to ensure that the electric wires were placed at a height of 17-18ft above the ground.
The forest department is deeply concerned over the incident that took place in Sadar forest range of Dhenkanal district. The Nesco has been directed to take corrective measures on a war-footing so that elephants are protected from sagging overhead lines, said an official of Keonjhar forest division.
The forest department has also asked the Nesco to undertake the underground cable work of high-tension supply lines across vulnerable zones to protect elephants from electrocution.
According to latest census of these animals, Keonjhar is home to 40 elephants. Elephants frequently migrate from Jharkhand to Keonjhar forest. About 149 elephants are firmly ensconced in the forest. The animals are straying into the forested areas of Keonjhar from Similpal Tiger Reserve in Mayurbhanj district and Jharkhand.
The vulnerable zones where electric lines were found sagging are located in Champua, Bhuian Juanga Peedha forest range, Sadar and Barbil forest ranges.
Elephants perishing due to electrocution have been a few over the years. According to the last record, two full-grown elephants died in 2011 when came in contact with sagging live wire in Telekoi of Keonjhar district.
The forest department has also issued advisories asking the railway authorities to initiate corrective measures for protection of elephants from getting killed on railway tracks. The officials of Keonjhar forest division and East Coast Railway authorities held discussions on Thursday to ensure the safety of these animals, who face the threat of being mowed by moving trains.
The Daitary-Banshapala rail line stretches across 42km through the forest areas of the Keonjhar district. These areas are elephant habitation corridors. It is also the migration path of these animals. So, safety of these animals has been prioritised in co-ordination with the railways. The railway authorities have consented to impose suitable speed restrictions on identified locations.
Signage boards have been installed on identified corridors. The elephant squad staffs, who track the animals' movement along the rail line zones, will swiftly inform the forest department control room, which in return would alert the rail control room for speed control of moving passenger and goods trains. The railways have been asked to reduce the train speed to 30km per hour on the elephant migration rail route, an official said.