Odia signboards a must at Bali yatra
Participants of the Bali yatra will be fined if rule is flouted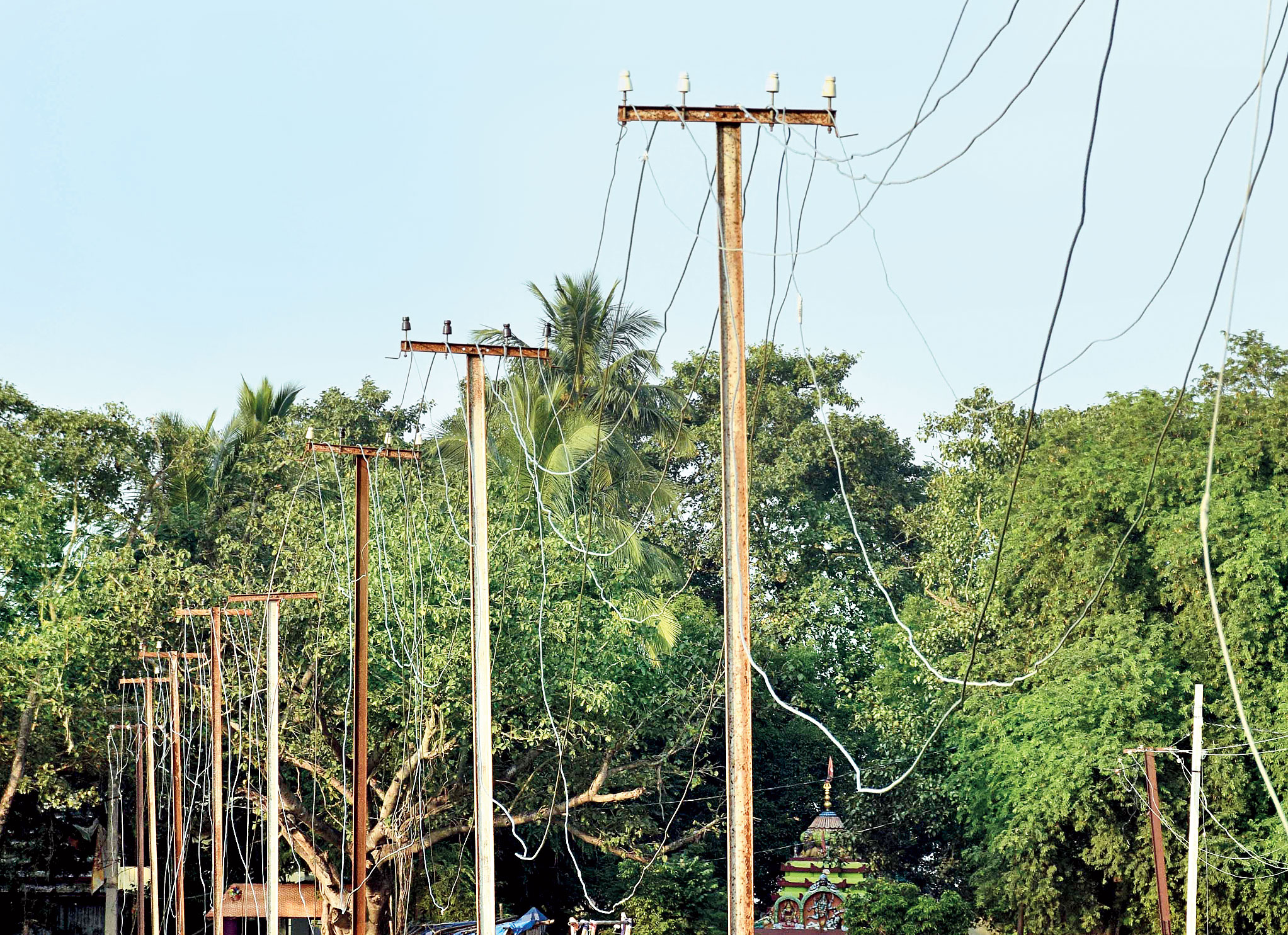 Electric poles coming up for Bali yatra at Cuttack's Killa Maidan on Sunday.
Picture by Badrika Nath Das
---
Cuttack
|
Published 28.10.18, 06:39 PM
|
---
The district administration has decided to strictly implement the display of signboards and name boards in Odia at the Bali yatra this year.
The decision was taken at a preparatory meeting for the Bali yatra – 2018, which was held by the Cuttack collector on Friday.
The weeklong annual fair on the banks of Mahanadi river near Gadgadia temple will start on November 23 and continue till November 29. There has been standing instructions for display of signboards and name boards in Odia at Bali yatra since 2012. Initially, it was not intended to force the order. Instead, voluntary use of Odia as a mark of respect to the state was expected.
Later, efforts were initiated to implement it when it was found that the rule was being given a go-by.
Collector Arvind Agarwal said a fresh official directive would be issued in this regard for effective implementation of the order and the administration along with Cuttack Municipal Corporation would start an awareness programme for use of sign boards in Odia.
"A special drive will be launched to ensure that the standing instruction is followed and signboards are written in Odia in Bali yatra this year. Strict action would be taken against those who do not implement it," Agarwal said. He made it clear in the preparatory meeting kiosk owners can use English and Hindi on the name boards, only second to the regional language – Odia.
The district administration is hopeful that all the kiosks, showrooms and outlets of business establishments in Bali yatra will comply with the rule this year. A senior official said as part of the special drive a special squad would move around the fair and check on the use of Odia sign boards. The squad will ask the violators to comply with the order. If they continue to flout the rule, fine will be imposed on them, he said.
Land will be allotted over 40 acres in the Killa maidan in front of the Barabati Fort gate and within the banks of the Mahanadi river near the Gadgadia Shiva Temple. The process will start from November 5. More than a thousand odd pavilions, kiosks and eateries are expected to come up this year.
Doctor attacked
A doctor was allegedly assaulted following death a 65-year-old patient during treatment at Sahaspur Medical in Mahanga block in Cuttack district on Sunday. The deceased has been identified as Bhagirathi Sahoo of Chhatia in Jajpur. Sahoo's family members had admitted him to the hospital after he complained of chest pain on Saturday. Alleging negligence in treatment, the relatives of the patient created ruckus and thrashed the doctor on duty on Sunday. Police are probing the case.