Mask dance seeks patronage
Read more below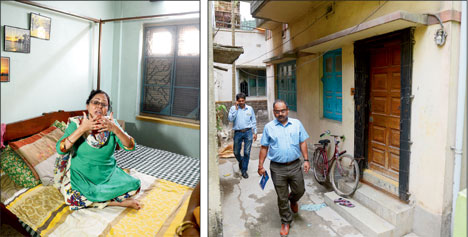 ---
Published 24.12.14, 12:00 AM
|
---
Berhampur, Dec. 23: The famous 179-year-old wooden mask dance of Bisipada in Kandhamal district that depicts Lanka Podi yatra is fading into oblivion and struggling for its sheer existence.
The main reason behind the decay is the absence of patronisation from the state government.
The wooden mask dance of Bisipada is one of a kind in India, which is almost as similar to the one that was prevalent in ancient Greece.
'It was the British, who had started the Lanka Podi yatra of Bisipada in 1835 to mobilise the tribal population of the area. This show is still going strong even after 180 years,' said Manmath Kumar Satpathy, a former secretary of the Odisha Sangeet Natak Academy.
At present, Satpathy is doing a research project on the dying art forms of Odisha under the fellowship of the central government's department of culture. 'The Lanka Podi yatra of Bisipada is also a part of my project titled Folk Theatre of South Odisha,' Satpathy said.
The mask dance is staged on an open field with 70 characters, including Ram, Lakshman, Sita, Hanuman and Ravan for a fortnight from Ram Navami every year. The most important aspect of the dance is the wooden mask of Ravan, which weighs 70kg. All characters are made to wear the wooden masks from their head to the feet except for Ram, Lakshman and Sita. Local organisers of the festival have done away with the wooden masks of Ram, Lakshman and Sita since the past 20 years to give a twist to the tradition.
The dance recital lasts for 67 hours, beginning at 9pm every night and draw curtains at 4am. Youths under the age group of 20 to 25 take part in playing various characters, but strangely, there is no role of women in the yatra.
'The characters enact every chapter of the play accompanied by Sutradhar's songs and musical instruments such as dhola, mahuri, ghanta, jhanja, turi and with the recently included harmonium. However, they only read out the texts of the last chapter,' said Satpathy.
Bisipada, a non-descript village situated near Gasma forest, is consisted of 150 families. Most of them are farmers, and they collect forest products for their livelihood. 'During the last Ram Navami, each family of the village contributed Rs 500 to stage the Lanka Podi yatra and keep the century-old tradition alive. The government must patronise this wooden mask dance,' said a local resident.
The wooden masks, which are still in use, are made by the wood carvers of Chadheiyapalli near Belaguntha in Ganjam district, about 80km from Bisipada. Krushna Chandra Maharana created it 165 years ago, and it is still going strong. 'These wooden masks are maintained and repaired every year,' said carpenter Laxmidhar Maharana.