Mango season starts on dull note
The mango market situated near the Neelakantheswar temple here has opened on a dull note as prices of the fruit is high.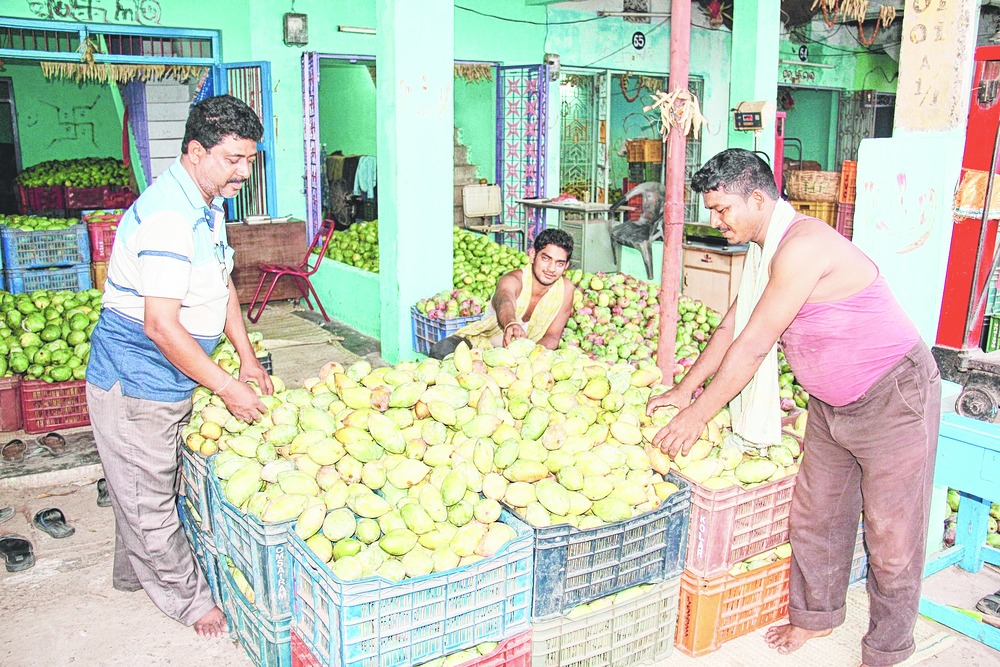 ---
Berhampur
|
Published 11.05.16, 12:00 AM
|
---
Berhampur, May 10: The mango market situated near the Neelakantheswar temple here has opened on a dull note as prices of the fruit is high.
"The rates of the mangoes have gone up by Rs 10 a kilo in almost all the varieties as compared to last year due to inclement weather in Andhra Pradesh and Odisha. Production has nose-dived to more than 50 per cent," said secretary of the Neelakantheswar New Mango Market, Berhampur, Prakash Chandra Gouda.
"Continuous fog and absence of timely rain in Andhra Pradesh and Odisha caused widespread damage to the mango crop in both the states and we are facing scarcity in supply," he said.
The mango market in the city is a seasonal one and runs for four months every year from April to July. There are 85 kiosks operated by around 40 wholesalers and other commission agents.
"As mango is a perishable item, about 75 per cent of businessmen prefer to be commission agents of Andhra wholesalers and about 25 per cent traders purchase it directly from Andhra," he said.
This is the largest mango market in Odisha and seventh-largest in the country. Baroda in Maharastra is the largest mango market in the country, said sources. The market has been functioning near the Neelakantheswar temple since 1995. It mainly depends on Andhra Pradesh for its stock, which comes from Srikakulam, Vijayanagaram, Elluru, Nellore, Narsanapeta, Vijayawada and some other places. About 10 per cent mango also comes from Karnataka and Tamil Nadu. Varieties such as sundari, baiganapalli, cherukurasam or akhurasa and panukul are in great demand here.
"The Berhampur market supplies mango to various places in Odisha and Bengal," Prakash said.
"While baiganapalli and sundari costs Rs 30 to Rs 40 a kilo at wholesale rates, the likes of totapuri and amrutkalasi costs Rs 15 to Rs 20. Pickles are prepared from totapalli, kalamgoda and some other varieties while local varieties are used only to produce dry-mango, popularly known as ambula and mango juice. The costliest mango is the katapallikaburi that costs Rs 60 a kilo in the wholesale market," said mango merchant Dhiren Patra, adding that it costs Rs 20 more in the retail market.
"Around 150 tonnes of mango come to the market from Andhra Pradesh on trucks, mini trucks and pickup vans every day. Each truck carries between three and 16 tonnes of mangoes. Five years ago, only around four tonnes of mangoes used to come to the market on a daily basis," said another mango merchant Narayan Gouda said.
With Savitri Amabasya to be observed on June 4, mango merchants are hopeful of good business.
"We expect sales to climb during the end of May," said Narayan Gouda.