Magazines galore - Young writers yet to  challenge veterans 
Read more below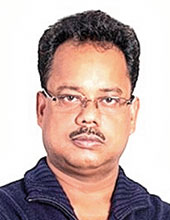 ---
Published 08.12.14, 12:00 AM
|
---
Reviewing Puja magazines will always be a tricky affair, considering the fact that there are more than a hundred magazines of various sizes and shapes.
Some look like champion Sumo wrestlers, while some others give the impression of being Latin American super models. There are of course those who have maintained a fine balance in between. I said it is a tricky affair not because of their shape and size, but since I have failed to cover even 50 per cent of the whole fare that has made me apprehensive.
But then, that is not the fault of magazines. Though I purchased a large number of magazines and received many complimentary copies, it is never possible to finish reading them all. Therefore my assessment will be based on my own reading, leafing through hundreds of pages, listening to hot and passionate debate in an old bus-stand and talking to some writers.
Some of the names of the magazines are Arpita, Amrutayan, Akhyansha, Asimaloka, Akankhya, Ayamarambh, Bartika, Batoi, Biswas, Banaphool, Digbalaya, Neelakain, Yugashri Yuganari, Rajanigandha, Sparsha, Samaroh, Nabalipi, Sabitri, Kalinga Prava, Kadambini, Nishant, Kathakar, Soham, Lekhalekhi, Samna, Katha, Galpa-Ekabinsha Satabdira, Palak, Odisha Bhuin, Urbi, Nandan Kanan, Janasudha, Swati, Santineeda, Bindas, Satadru, Pahacha, Istahaar, Jhankar, Sahakar, Katha, Sambad (Annual number), Nabanita, Akhyara, Chira Samartha, Odia Parva, Paschima, Panchajanya, Gokarnika. However, the list can very well go on.
Most of these magazines boast of vibrant colours, attractive design and photoshop generated aestheticism. Hand-drawn cover designs are few and far between.
Quality wise, I would refrain myself from making any comments. Yet I am tempted to say that the Sambad annual number is the best with a fare of 12 essays, 23 stories, 33 poems and one translation. The essays, which includes one by Assam governor J.B. Patnaik, are rich in content, relevant in context and brilliant in execution. JB's lucidity, Asit Mohanty's well-researched thoroughness, Ranjit Guru's calling a spade a spade and Abhiram Biswal's novel way of presentation are all a high quality fare. Of course Istahaar, Jhankar, Sparsha, Bartika, Gokarnika and a few others have real good essays. Yet, except in Sambad, the quintessential original essay is missing. The annual number's menu of short stories boasts of the who's who in Odia literature (Jagdish Mohanty's absence is the only exception!) and offers a very rich variety.
Right from Santanu Acharya through Debdas Chhotray, Gaurahari Das, Debraj Lenka to Paramita Satapathy, Sarada Mishra and Ajay Swain, the menu is full. In fact, some of these writers have impressed readers by their efforts elsewhere. Seniors - as I had anticipated in my pre-Puja article in this column - have kept their reputation high, with Santanu Acharya, Ramchandra Behera leading the way. Debdas Chhotray is exceptionally innovative, as he has been over past three-four years, while Sarada Mishra in the first of his new Abolkara seriesin Arpita and his efforts in Neelakain (a fully transformed version of H.M. Marathe's and hard-hitting Marathi story) is outstanding. Elsewhere, Mishra is only a notch higher than average.
Gaurahari Das in a number of magazines, especially in Sambad, Kalinga Prava is powerful. Debraj Lenka is in his elements in each of his efforts whereas Ajay Swain, Bhima Prusty, Paresh Patnaik, Debabrata Madanray, Bishnu Sahu, Debasis Panigrahi, Mrutyunjaya Sarangi, Sadananda Tripathy and Paramita Satapathy have led the way, though Bhima Pursty and Sadananda Tripathy have written much less. The sad part is these writers have not been challenged by any youngster in the 20 to 30 age group. Bhima Prusty and Narasingha Sahoo deserve kudos for their feature titled Lekhakara Gaon (writer's village) in Akankhya.
Poetry is the only area where all the big guns are leading the way with Ramakant Rath, Sitakanta Mohapatra, Rajendra Panda, Saubhagya Mishra, Sarat Chandra Pradhan, Haraprasad Das, Harihar Mishra, Jayant Mohapatra, Saurindra Barik, Prativa Satapathy, Phani Mohanty, Pramod Kumar Mohanty have led the way followed by the next two generations that include Amarendra Khatua, Sunil Prusty, Kedar Mishra, Sucheta Mishra, Subhashri Lenka, Ipista Sarangi, Krushna Kumar Mohanty, Bharat Majhi, Gayatribala Panda, Saubhagyabanta Moharana, Pitambar Tarai and others. All have shone in their own distinguished way.
Some magazines are theme based. Bibhuti Patnaik edited Galpa is Marquez-centric, dedicated to an artist who could weave magic on paper. Akhyansa has valuable articles on 'nature-ism'. Santineeda is dedicated to Gopinath Mohanty. Popular monthly Kadambini has a valuable feature on Gandhi on celluloid and then its contemporary issue-based feature on how good songs are no longer a part of different melody parties/ orchestra is an interesting one.
Editor Itirani Samanta's editorial is a bit longish, but her editing skills come to the fore as the reader enters into Kadambini's world of short stories. Here again, Gaurahari Das, Sarada Mishra and Adityeswar Mishra prove a point or two. However, it is the younger Mishra - Adityeswar - who has excelled.
However, two women editors deserve kudos for having featured two women on the cover of their magazines: Editor of Yugashri Yuganari Mamata Mohapatra has featured the one and only Priyambada Mohanty Hezmadi whereas editor of Kadambini Iti Samanta has featured Delhi-based Odissi danseuse Kabita Dwivedy.
Adventure writing, crime fiction, detectives, travel stories, science fiction are areas where there is vacuum. Hope our established as well as young writers will venture into these during the next Puja in 2015. May be, there will be some new ideas during the year of the Nabakalebar. May be, poets will write stories, story writers will write one-act plays, playwrights will venture into adventure writing, novella writers will shift their focus on to 300-500 page novels! Another area that has completely lost its sheen is humour and satire. The last real warrior in the arena was Gantayat Sibaprasad and it is amazing how he could alone carry forward the legacy of Phaturananda for so many years.