Jajpur, Bhadrak on tenterhooks
Three swelling rivers add to flood fury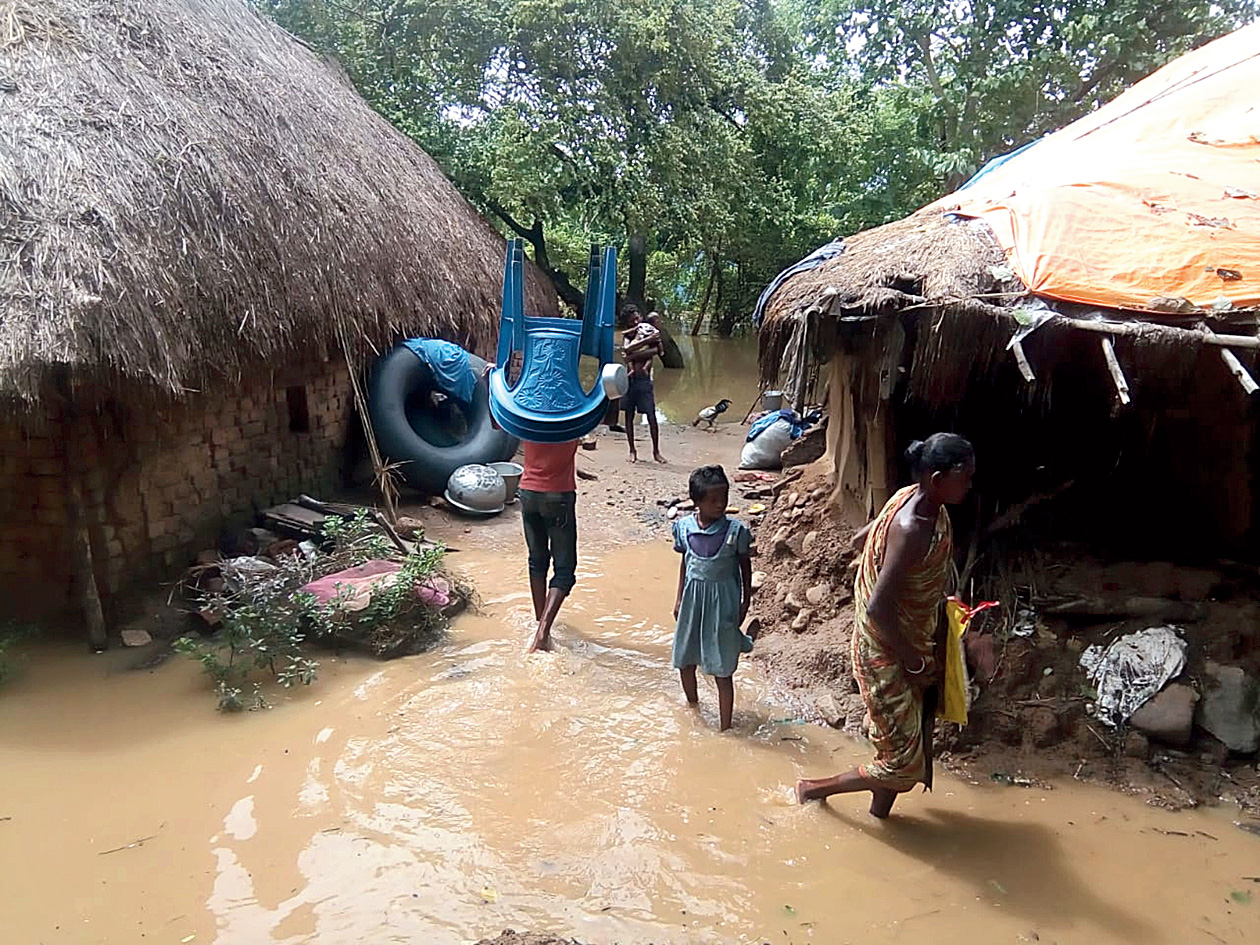 Misery: Condition of flood-hit victims at a village in Balasore district.
Telegraph picture
---
Jajpur
|
Published 13.10.18, 06:49 PM
|
---
Torrential rain triggered by cyclone Titli that hit the state coast on Thursday morning created a flood-like situation in north Odisha districts, including Jajpur, Bhadrak, Balasore and Baripada.
The situation remains critical in five blocks of Jajpur and Bhadrak districts, where acres of farmland in a number of villages have been inundated by the Baitarani waters.
With the Baitarani flowing above the danger mark, the low-lying areas of Dasarathapur, Korei, Jajpur blocks in Jajpur district and Bhandaripokhari and Dhamnagar blocks of Bhadrak district have been inundated. Alarmingly, the mighty river is rising steadily.
"The Baitarani is flowing at 18.06 metres against the danger mark of 17.83 metres near Akhuapada in Bhadrak. Other major rivers — the Brahmani and the Kharasrota — are also in spate because of the incessant rain triggered by the cyclonic storm," official reports of Jajpurt district emergency department said.
Many people from the low-lying areas of Dasarathapur and Korei blocks in Jajpur and Dhamnagar and Bhadaripokhari blocks in Bhadrak are living in fear because of the rise in the Baitarini's water level.
Floodwater from the Baitarani has gushed into farmlands submerging hundreds of acres in at least 15 panchayats of both the districts. An official from the water resources department predicted further rise in the Baitarani level. Besides, water level in the Brahamani, Budha and the Kharasrota is also rising.
The Jajpur district administration on Saturday directed three block administrations to be prepared for floods. "The BDOs of Dasarathapur, Korei and Jajpur have been asked to keep vigil on weak embankments and alert people living in the low-lying areas," said Jajpur collector Ranjan Kumar Das. Jajpur has received about 250mm rainfall in the past three days, while three of its 10 blocks received above 300mm rainfall during this period.
In Balasore, more than 20 gram panchayats in Basta, Sadar and Remuna block are bearing the brunt of the storm-induced rain with reports of floodwaters overtopping embankments. Road connectivity in the low-lying areas has been affected.
According to the latest official reports, the Budhabalanga river is flowing at 8.22 metres against the danger mark of 8.13 metres at Barunighat in Balasore. Similarly, the Jalaka river is flowing at 6.50 metres against the danger mark of 5.50 metres at Mathani in Balasore.
"We are preparing ourselves to face the flood fury. We have heard of abysmal failure of government agencies in rescue and relief operations in flood-affected Ganjam and Gajapati districts. So, we no more trust the government agencies," said a resident of flood-affected Basta village, Sadananda Roul.