Green & peaceful adieu to deities
'Respectable' farewell to Goddess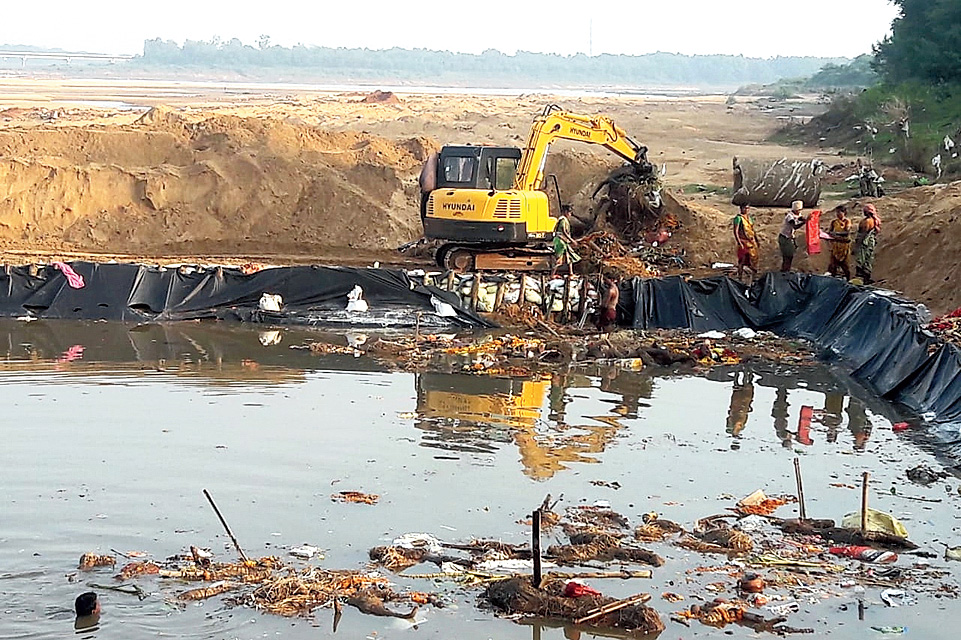 ---
---
The civic body has, for the first time, come up with a plan for easy handling and "respectable" immersion of the idols of Goddess Durga and the side deities.
As it was found that the age-old practice of throwing the idols into water bodies hurts the devotees' sentiments during the deities' final journey, the Bhubaneswar Municipal Corporation has deployed a crane for the immersion.
"Earlier, the immersion used to be conducted in the usual way, and in the process, various body parts of the idols were broken. This year, the crane helped the Puja organisers lift the heavy idols and place them inside the largest immersion pond at Kuakhai. The artificial pond is spread over nearly 8,000sqft," said the corporation's executive engineer (division-I) P.S.N. Patro.
The immersion ceremony of the idols on Saturday began in the city amid high festive fervour with lakhs of devotees joining processions to bid adieu to the Goddess.
Police, Bhubaneswar Municipal Corporation and various Puja committees made elaborate arrangements to complete the immersion ceremony with ease in the city. The police have divided the city into four zones and opened three immersion routes, while the civic body pledged to go green for the ceremony this year.
"We have created four artificial ponds beside the Kuakhai and Daya rivers for the idol immersion. We have also put up adequate signage to let the Puja committees know the route. We have personally monitored the immersion programme, which started on Saturday morning," said the civic body's deputy commissioner Srimanta Mishra.
In a related development, the police have imposed traffic restriction on one side of Janpath and started closing the medians after 4pm in phased manner. "The intersections between Vani Vihar and Raj Mahal Square have been closed for smooth passage of the processions and safety of the general public," said assistant commissioner of police (traffic) Jatin Panda.
Several roads across the city got crowded with trucks carrying the idols. People swayed to the tunes of cymbals and dholaks in the procession. A total of 175 idols of the Goddess from various Puja mandaps were immersed at these four artificial ponds.