'Films these days lack values'
Read more below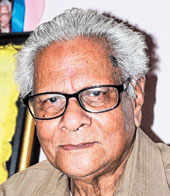 ---
Published 16.11.14, 12:00 AM
|
---
A television producer by profession and a filmmaker and lyricist at heart, Sarada Prasanna Nayak has a diverse body of work to his credit. Recognised for films such as Lakshmi, Stree and Kaa, the veteran director has been conferred with the Jayadev Award this year for his contributions to the Odia film industry. The filmmaker turns candid in a tête-à-tête with The Telegraph. Excerpts:
Congratulations for the award, this should feel special, does it?
Definitely. I am extremely pleased that my works got recognised. I have received national awards for my films earlier, but this is special because I got the honour from my state.
From Lakshmi to Stree, most of you films were women centric. Why?
When I was young, I used to watch a lot of films. Many of them made by veteran directors of our country dealt with issues related to women. They inspired me a lot, particularly Sita Bibaha by Mohan Deb Goswami and Achyut Kanya by Franz Osten and Niranjan Pal.
Was it difficult to involve women into acting during those times?
Yes, it was. During those days, not many women wanted to work in films. The society was conservative, so acting was not seen as a respectable profession. We approached artistes involved into theatres to act in the big screen. Most of the prominent actresses of that time came from theatres.
Do you see a quality gap in the films produced today in comparison to your generation?
The primary thing that we kept in mind while making films was the common man. Our films used to revolve around simple stories that the entire family could watch together. We ensured that it had a social relevance, but the films that release these days lack values. The commercial success overpowers the ethics.
Do you think the director should be solely blamed for the decreasing quality in films?
What I feel is that the demand of the people has become cheaper. They love glitzy and over-rated stuff rather than stories that would link them to their roots. So, the producers give them what they crave for. Moreover, in certain cases the director is not given a free hand, so his horizon of exploring his creativities gets confined.
How did you efficiently juggle work and filmmaking?
There were times when I wished for 48 hours in a day. I had so many things to do but had so less time. But, I enjoyed whatever I did. Television producing earned me money while filmmaking fulfilled my desires of being a director.