Evicted vendors back on Bhubaneswar roads
Encroachments had been removed to clean up city roads for hockey world cup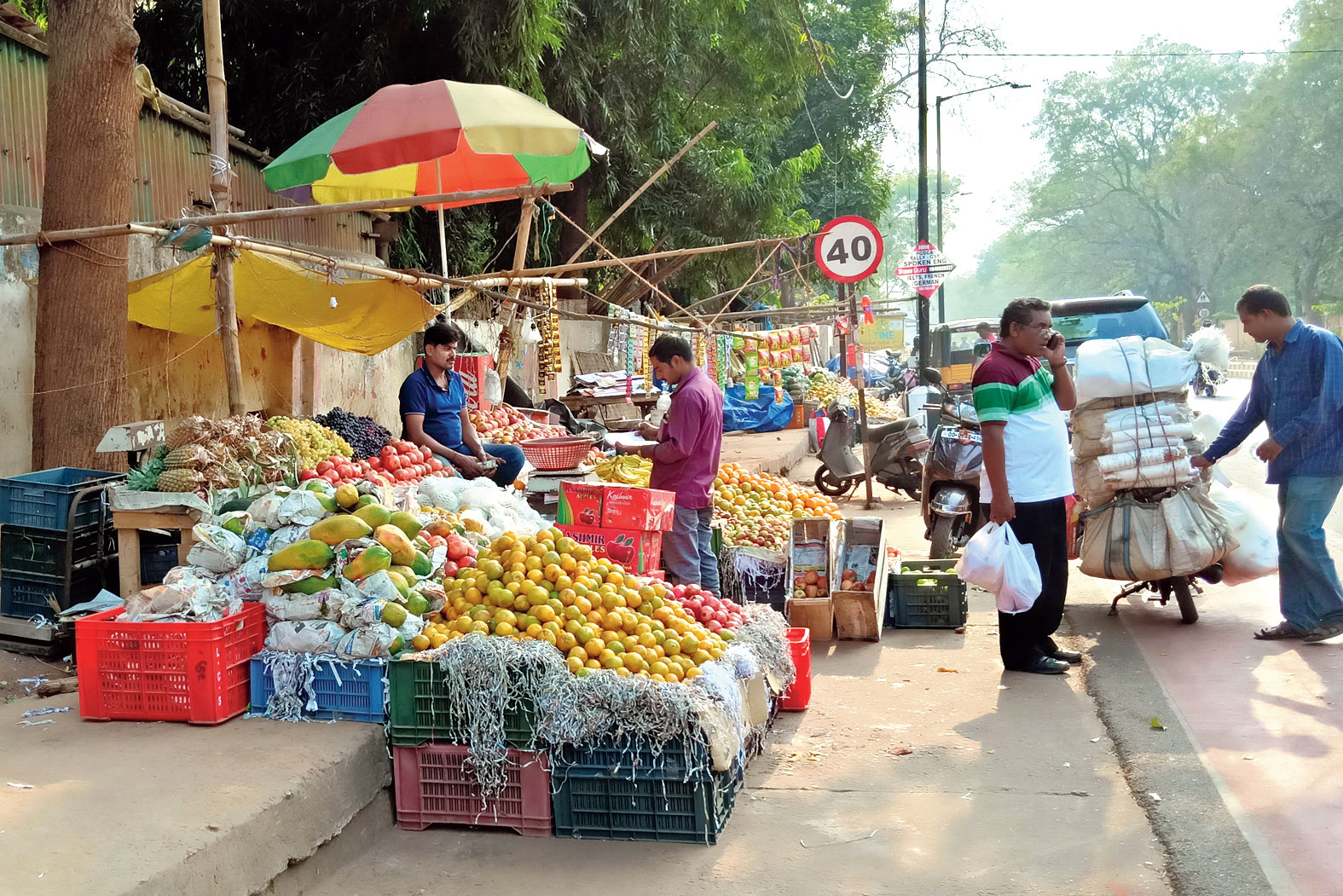 Fruitsellers reoccupy pavements at Gopabandhu Square in Bhubaneswar.
Picture by Ashwinee Pati
---
Bhubaneswar
|
Published 03.12.18, 06:12 PM
|
---
Bhubaneswar Municipal Corporation (BMC) and Bhubaneswar Development Authority (BDA) had taken up rigorous eviction drives in various parts of the city to free the roadsides and drains from encroachments as part of the city's beautification drive in the run up to the hockey world cup.
But, lack of enforcement activity has led to reappearance of encroachments in various parts of the city, who are now doing their business under temporary or makeshift structures.
Often, it has been noticed that they remove their shops after getting information about the arrival of enforcement officials in their areas.
"The city does look good after roadside vendors were evicted, but now the scenario is the same and even uglier as temporary shelters have come up in a haphazard manner. This shows the inability of the administration who only know to evict but never bothers to monitor the process afterwards," said Nayapalli resident Jyoti Sahoo.
The civic and development authority officials were entrusted by the state government with the task to clear the road sides, drains and government land from encroachment.
To execute the job, authorities started the demolition-cum-eviction drives in various parts of the city with the help of the police.
Accordingly, several important stretches such as Janpath, Sachivalaya Marg, Jaydev Vihar-Nandankanan Road and Gopabandhu Marg were made free from encroachments.
Sources said that the joint eviction committee of the state government had undertaken as many as 35 smaller and major eviction drives in various parts of the city between July and October.
However, in the absence of patrolling, street vendors are now reappearing at places from where they were evicted.
"The authorities never bother about rehabilitating us rather. They always search for reasons to evict us. They are evicting us for the hockey world cup now. Soon they will do it for some other random events and this will go on. We are small vendors and earn our livelihoods from this petty business," said Minaketan Jena, a vendor.
Mayor Ananta Narayan Jena said that they have directed the councillors of all the wards to identify places where new vending zones will be created for the rehabilitation of the evicted vendors.
"The survey for the eligible vendors will be done after the world cup and the evicted vendors will be rehabilitated," said Jena.