Eco-friendly Diwali for Cuttack & Bhubaneswar
Market flooded with diyas, candles, fairy lights and lanterns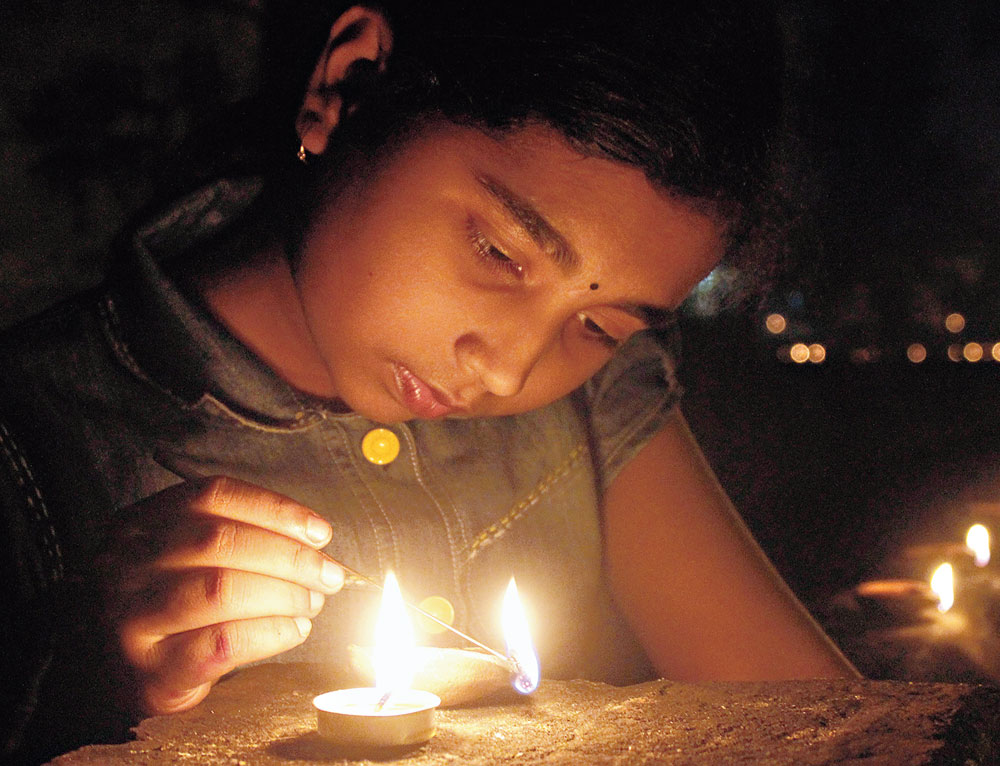 A girls lights diyas in Bhubaneswar on Tuesday evening.
Picture by Ashwinee Pati
---
Bhubaneshwar
|
Published 06.11.18, 05:12 PM
|
---
With the number of cracker shops going down considerably, a number of people across the state have decided to go for eco-friendly Diwali.
After the Supreme Court imposed time restriction on bursting of crackers, sales were at an all-time low this year at the major markets here.
Sumit Ranjan, owner of a firecracker shop at the Barmunda ground, said that restricting sales to only green crackers had hit the sales.
"This year, I had procured less crackers than last year and that too only low decibel ones. Apart from sparklers and ground spinners, nothing has sold much," he said.
Instead of imposing a blanket ban on crackers, the Supreme Court has allowed bursting of crackers between 8pm and 10pm across India.
The restriction has taken the glitter out of the festival with very little excitement visible among children and youngsters.
"Our state is not as polluted as the metro cities. But we still have to face the brunt. We are buying half the amount of crackers we buy every year," said Ashish Patnaik, a student of Utkal University.
With the focus on an eco-friendly Diwali, the market is flooded with stuffs such as diyas, candles, fairy lights and lanterns.
"Lanterns made from handmade paper, jute and wood with traditional cravings are ruling the roost this year. The ones made from plastic have very few takers. Although plastic lanterns are cheaper, people are not ready to compromise, which is a good sign," said Jadumani Jena, a seller in Cuttack.
People thronged Kali temples Bhubaneswar and Cuttack on Tuesday to seek the blessing of the goddess. Psychedelic lights, amusement rides and folk dancers swaying to the tune of lively music marked Kali Puja that precedes Diwali.
Devotees visited the temples at Satya Nagar and Saheed Nagar in Bhubaneswar to be a part of the rituals. Around 70-odd Puja committees in Cuttack are worshipping Goddess Kali maintaining its 500-year-old tradition.
Animal lovers also urged people to take care of pets during Diwali. Youth volunteers of Bakul Foundation are gifting trees to their loves ones instead of chocolates and crackers. Students of Utkal University are staging street plays to urge people to spend time with underprivileged children.