Doctors resign to protest staff crunch
They claimed the medicine department deserved at least six junior resident doctors whereas it has only two junior residents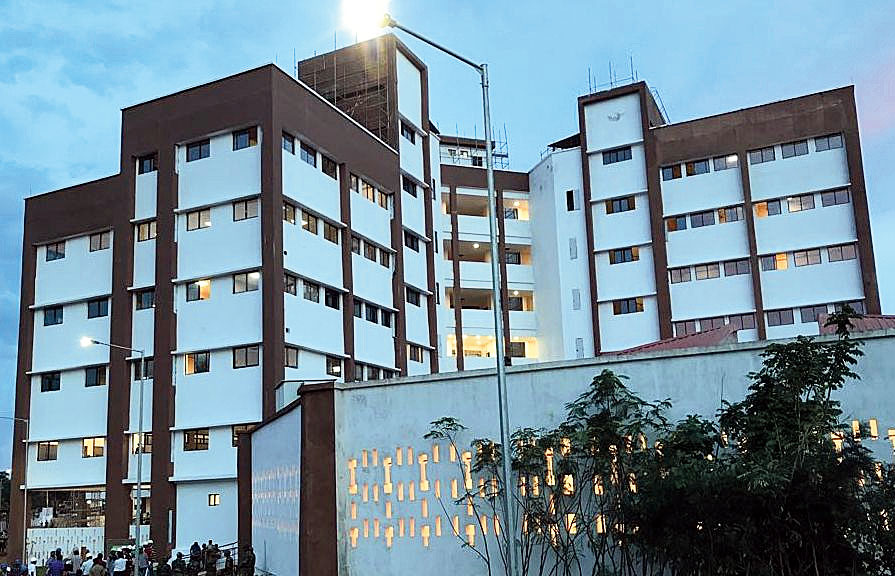 Saheed Laxman Nayak Medical College and Hospital
Telegraph picture
---
Koraput
|
Published 01.11.18, 06:31 PM
|
---
Health care service at the Saheed Laxman Nayak Medical College and Hospital has virtually collapsed on Thursday as all the four senior resident doctors of the medicine department tendered resignation alleging shortage of junior resident doctors in the department and non-receipt of salary for October due to their refusal to use biometric attendance machines.
The doctors who resigned on Thursday are Manoj Kishan, Sashi Bhusan Sutar, Swapna Sarit Sahoo and Gurupada Das.
"Every day, we treat around 450 patients, including 250 to 300 outdoor patients. There is a heavy workload on us. For the past six months, we have been demanding appointment of more junior resident doctors in our department. But no one paid any attention to our plea. So, we were left with no option but to resign from our services," said Kishan.
They claimed that according to the guidelines of the Medical Council of India (MCI), the medicine department deserved at least six junior resident doctors whereas it has only two junior residents. "Recently one of the two junior doctors was transferred to some other department," said Kishan.
The doctors also claimed that according to the MCI guideline, they were no required to put attendance in the biometric machine as their duty has "no time limit".
"During emergency, we work overtime and also we are called whenever a patient comes in serious condition. Still, we used to put our attendance in the biometric system when the machine was installed at the hospital. But last month, the machine got shifted to the medical college and it takes a lot of time to only go to the college to register attendance," said Sutar.
However, the senior doctors claimed that non-receipt of their salaries was not bothering them as much as immense workload due to lack of junior assistants.
Medical college dean Krushna Chandra Biswal said: "I am yet to get the resignation letters as those will reach my office through the head of the department concerned. ."
Biswal, on the other hand, claimed that though the district collector had conveyed a meeting to sort out the problems, but the senior doctors chose not to attend the meeting.
"Showcause notices will be issued to the four senior doctors as and when necessary," he said.
Doctors' selfie
A controversy has surfaced in the district headquarters hospital in Koraput after a photograph of doctors doing a surgery in the operation theatre went viral on social media. A doctor had reportedly taken a selfie on his mobile phone inside the newly functional operation theatre and the photo was later uploaded on social media.