Defence investors' meet in January in Odisha
Potential for aerospace & defence sector as coastline will cut down logistic & transportation cost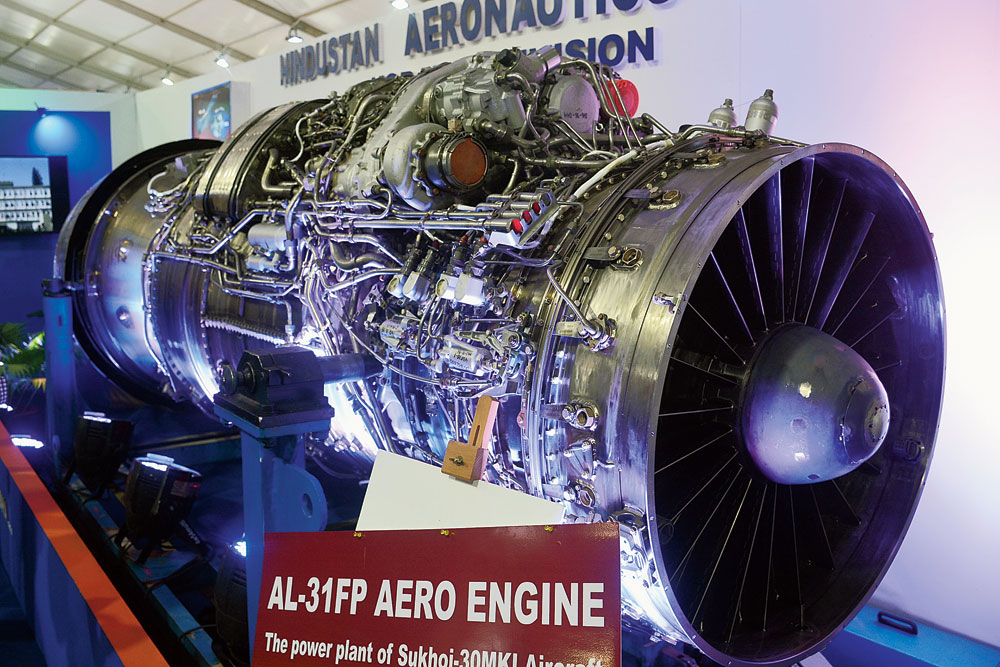 The engine of a Sukhoi-30MK1 on display at the conclave on Tuesday.
Picture by Ashwinee Pati
---
Bhubaneswar
|
Published 13.11.18, 07:17 PM
|
---
Defence equipment manufacturer BEML Ltd and Integrated Test Range, Balasore, on Tuesday announced that they would jointly organise an investors' meet in aerospace and defence here in January next year.
During an interactive session at the conclave, several speakers highlighted the potential and opportunity of the aerospace and defence sector in the state having a 480km coastline that helps cut down on logistic and transportation cost.
"All naval ships and submarines are being built in India and the country is 40-45 per cent self reliant in production of defence equipment in all armed services. The target will be to make the country self-reliant to 70 per cent by 2027," said director (planning and coordination), department of defence production, ministry of defence, Ravin Kulshrestha.
While the engine manufacturing division of Hindustan Aeronautics Ltd is operating in Koraput, Balangir has an ordnance factory.
The speakers said that the state had tremendous potential in the sector, as it was the highest producer of aluminium, steel and stainless steel, which were the key components for manufacturing of defence equipment.
Principal secretary (industry) Sanjeev Chopra said the Odisha Aerospace and Defence Manufacturing Policy, 2018, was aimed at industrialisation in the state through promotion of allied enterprises.
"The policy has been promulgated with competitive provisions, including a capital subsidy upto Rs 100 crore, for the first three original equipment manufacturer setting up units in the state. The provision is designed to attract key players to set up units in the state that in turn will provide impetus for further development of ancillary and downstream units," Chopra said.
Later in the day state government claimed that Chivaro Technologies has proposed to invest Rs 1650 crore in the sector in the state.
According to the policy, the state government has also decided to give subsidy to new manufacturer for timely payment at the rate of five per cent per annum on term loan availed of from public financial institutions for a period of five years, to a total limit of Rs 10 lakh for micro, 20 lakh for small, 40 lakh for medium, and Rs 1crore for non-MSME units.