Cuttack turns fortress for immersion
Bright and dry weather brought enthusiasm and involvement of a larger number of people in the immersion ceremony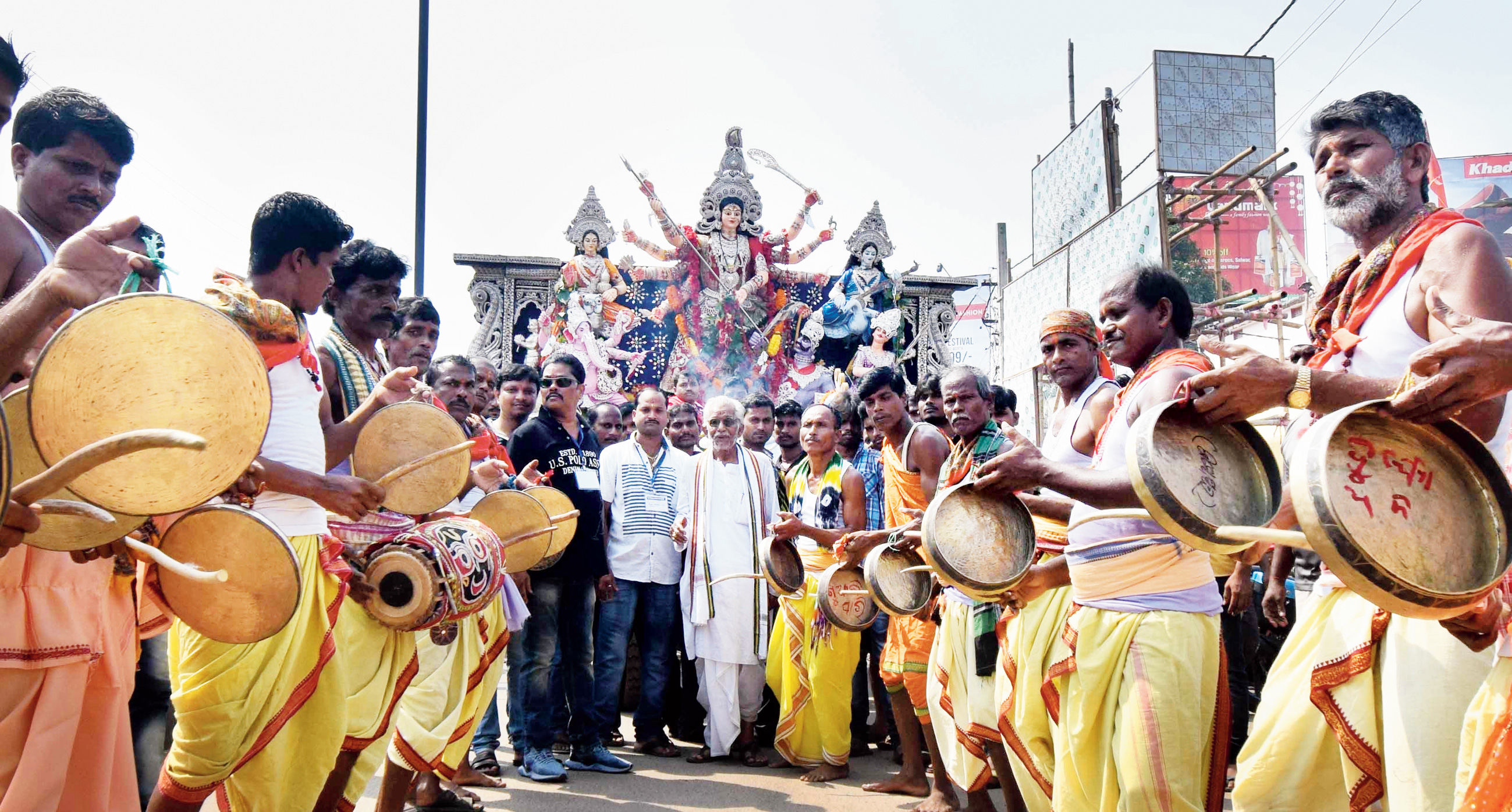 ---
|
Cuttack
|
Published 20.10.18, 07:04 PM
---
More than one lakh people took part in the immersion ceremony of Durga Puja in the city as it inched towards completion on Saturday amid tight security.
Bright and dry weather conditions brought enthusiasm and involvement of a larger number of people in the immersion ceremony bidding farewell to the Goddess.
Puja committees in various localities took their idols in a procession to the Kathajodi river bed near Devigada at Purighat, where temporary ponds had been dug up for immersion.
This year Durga idols had come up in nearly 80 of the 160-odd Puja mandaps. In the rest, idols of Mahadev and Hara-Parvati had come up.
The Cuttack Municipal Corporation had dug up three temporary ponds on the Kathajodi river bed and prepared them with polythene cover for immersion of all the idols.
The corporation's deputy executive engineer D.R, Tripathy said: "Excavators, tractors and other vehicles along with sanitary workers have been engaged for immediate post-immersion clearance from the temporary ponds and dumping at a separate place."
Tripathy said one mobile toilet and five mobile light towers have been positioned at the spot for the immersions, which is expected to continue whole night.
The city roads were crowded with idols being carried on trucks to join the main procession to the Kathajodi. People taking part in the processions swayed to the tunes of cymbals, dholaks, bada bajas and ghantas.
Most of the Puja committees had apparently opted for traditional instruments and groups from various parts of the state for their immersion processions keeping in view of the 60 decibel sound restriction.
Chandni Chowk Puja Committee president Pratap Kishore Singh said promoting traditional instruments and groups from various parts of the state during immersion ceremony was a good trend. "It is indicative of adherence to the sound pollution norms by increasing number of Puja committees," Singh said.
The police have pressed into duty an 60 platoons of the OSAP for the immersion.
Deputy commissioner of police (Cuttack) Akhileswar Singh said: "Elaborate police bandobast has been made, along with deployment of around 400 officers, to ensure peaceful completion of the immersion ceremony." He said that as part of the precautionary measures, CCTVs had been installed at prime locations on the main thoroughfare.
Official sources said the CCTV cameras had been installed in 50 locations on the nearly 8-km-long traditional immersion route from College Square to Devigada at Purighat en route Ranihat, Manglabag, Nuapatna, Cantonment Road, Mastan Road, Mani Sahu Chakh, Buxi Bazar, Baropathar, Tinkonia Bagicha, Dargha Bazar, Jail Road and Choudhury Bazar.
Cuttack Mahanagar Shanti Committee secretary Bhikari Das said: "The immersion ceremony is the essence of Durga Puja, Kali Puja and Kartikeswar Puja celebrations in Cuttack."
Starting around 5pm, 48 idols were immersed by 6.30pm, Purighat police station reports said. Immersion of rest of the idols is expected to be completed before sunrise. Ten of them were immersed on Friday following the Bengali Puja tradition.