CPM's no to poll tie-up
These parties are anti-poor and anti-farmer. Time has come to overthrow them: Yechury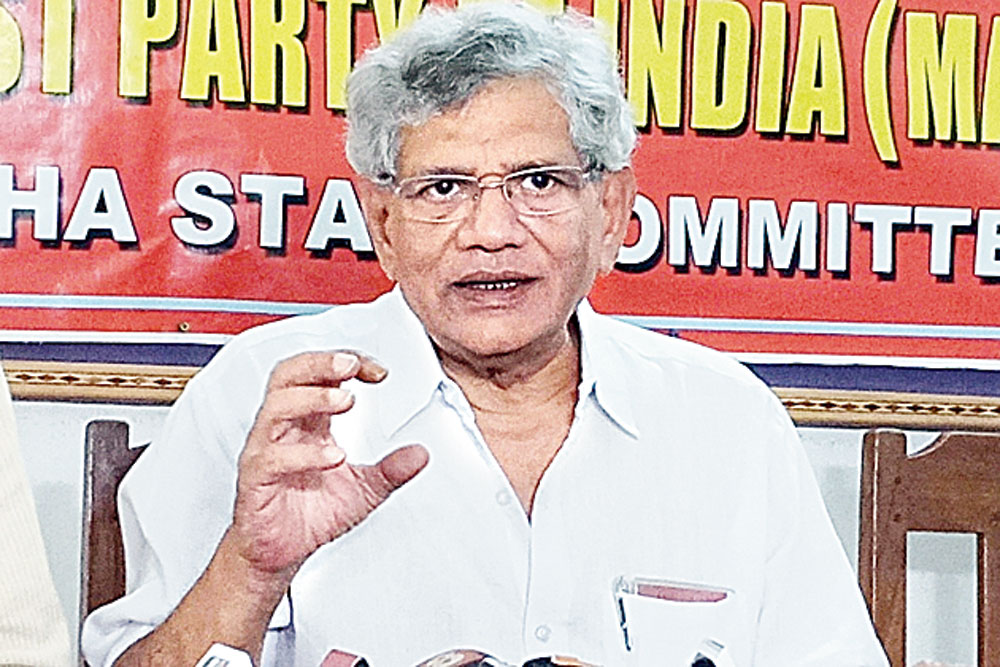 Sitaram Yechury at a news conference in Bhubaneswar
Picture by Ashwinee Pati
---
Bhubaneshwar
|
Published 15.10.18, 05:38 PM
|
---
CPM general secretary Sitaram Yechury on Monday said his party would field its candidate for the Lok Sabha seat here.
Yechury said: "We will not go for any alliance with any party, including the BJP, the Congress and the BJD. We will maintain equal distance from each of these parties. They have failed to deliver the goods to the people."
He said: "These parties are anti-poor and anti-farmer. Time has come to overthrow them."
However, Yechury said it would try to explore alliances with the Left and secular forces. "Work is on to finalise the candidates for the Assembly seats. The party's state unit will have a bigger say in it," he said.
On the governance front, Yechury flayed the Naveen Patnaik government for its failure to tackle the fallout of cyclone Titli.
"The cyclonic storm has left a trail of devastation in Ganjam, Gajapati and Rayagada districts. Odisha government's disaster management was not adequate," said Yechury.
Yechury advised the state government to make all-round efforts to provide relief to the people. "The state government should not close down relief camps," he said.
Speaking about the Narendra Modi government, he criticised the Centre's failure to boost the nation's economy.
"Indian economy is in the midst of its worst ever crisis. For the last three years, Indian economy is sliding down leading to a very severe crisis. Burden on the people has grown many folds," he said.
Yechury said: "Farmers are also facing their worst ever crisis. Earlier, the growth rate was 5.12 per cent, but in the last four years the growth rate has dropped to 2.5 per cent."