Buddhists on walk to link key Odisha sites
With prayers to save Earth, monks to touch Bhubaneswar, Udayagiri, Dhauli, Lalitgiri and Ratnagiri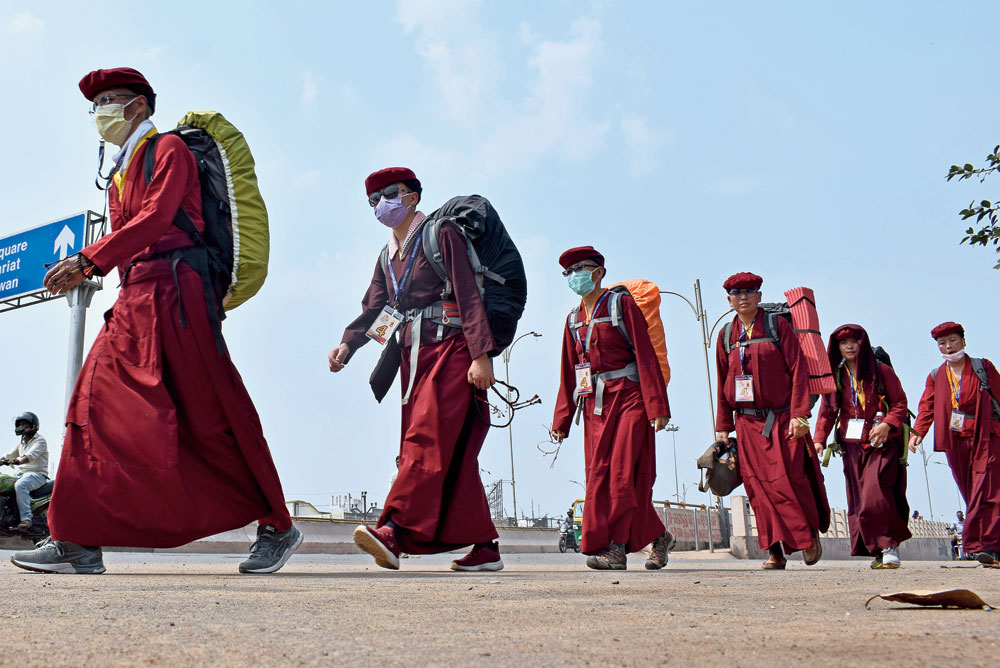 ---
---
Buddhist monks of Drukpa lineage started a pada yatra (foot march) from here on Wednesday to spread the message of environmental awareness.
Gyalwang Drukpa, the spiritual head of the lineage, will cover 140km across the state as part of the march along with 100 monks and nuns of the Drukpa lineage and more than 200 devotees from across the world.
During the eight-day long tour, they will cover eminent Buddhist sites in the state — including those in Bhub-aneswar, Udayagiri, Dhauli, Lalitgiri and Ratnagiri.
The state government, which is trying to promote religious tourism along the Buddhist circuit, feels the initiative will be helpful in highlighting the state's famous Buddhist destinations to people across the globe.
"Odisha has the honour of having many important Buddhist heritage sites scattered across the state. We look forward to the pada yatra which will bring people's attention to important lessons from Lord Buddha on peace, universal brotherhood and harmony with nature," said tourism minister Ashok Panda while inaugurating the march.
"We are promoting the Buddhist circuit. The focus is now on bringing more Buddhist tourists to the state from South and Southeast Asian countries," he added.
During the course of the journey, the participants will offer daily prayers for peace and compassion, perform large-scale cleanings of the terrain along its route, and will campaign amongst the local citizens about the importance of preserving nature and sustainability.
Drukpa Thuksey Rinpoche said the journey aimed to remind people of the important teachings of Buddha.
"In our modern lifestyle, we have totally forgotten the ancient times and Mother Nature, both of which hold important lessons for us," he said.
"We look forward to motivating people to build their connection with the earth as walking on it helps us build a relationship with the nature and also connect with people on ground and inspire them to take care of their environment and spread awareness on the same among others. While doing all this, we will draw inspiration from the Buddhist heritage sites of the state," he added.
The event will also promote awareness about the Buddhist heritage sites of the state, where cultural relics and monastic structures have been preserved for hundreds of years.
The march will conclude at Ratnagiri on October 31.