Bhubaneswar spruces up signage
Multilingual directions at for all tourist locations, new hoardings with details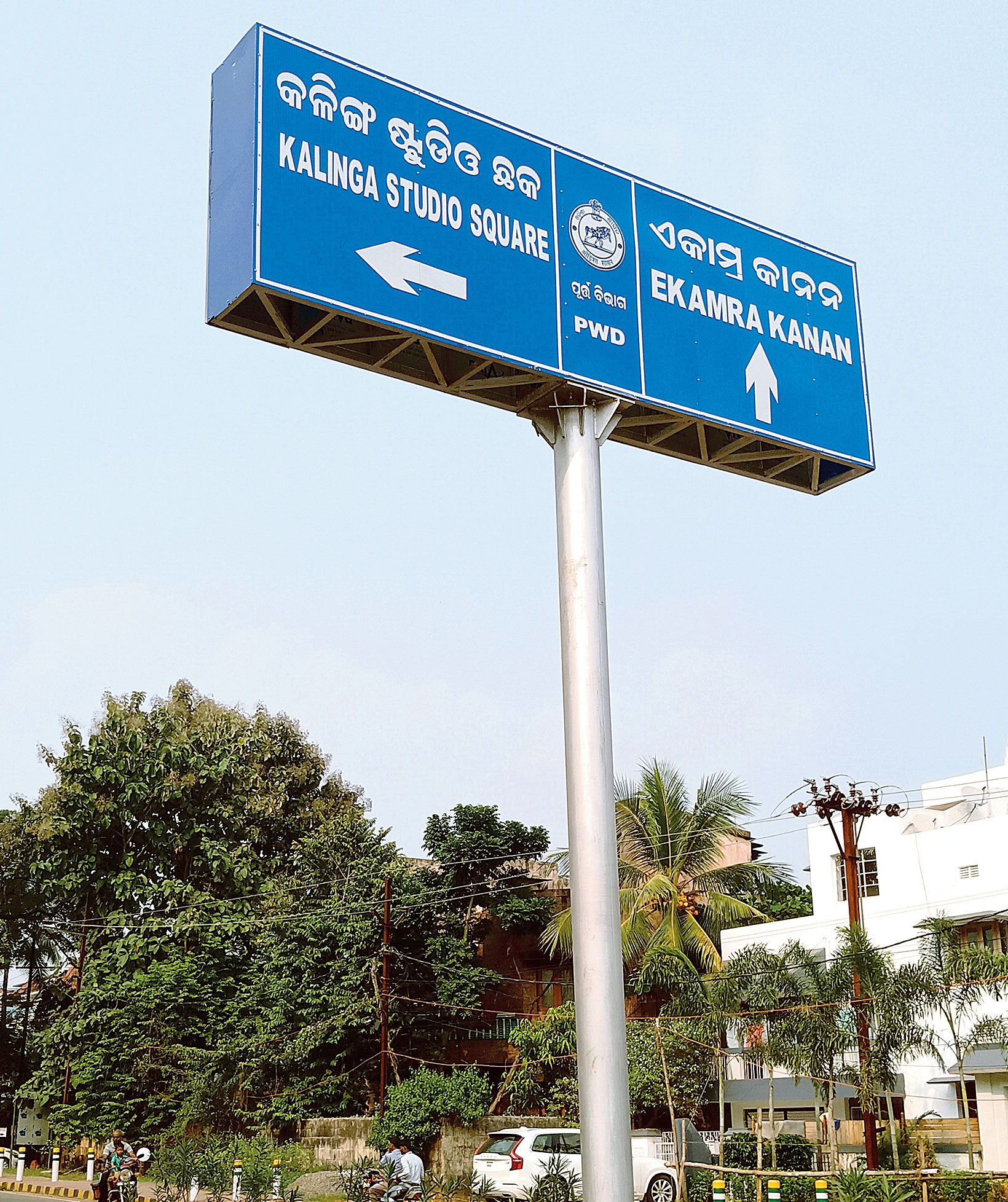 A road signage in Bhubaneswar.
Ashwinee Pati
---
Odisha
|
Published 25.10.18, 06:58 PM
|
---
The idea to put the signage was cropped up during the tourism advisory committee meet held last month when officials and stakeholders taking part in it showed concern over inadequate informational and directional signage in various tourist points that lead to a confusion for the visitors to the city.
Following a deliberation, tourism department director N.B. Jawale wrote to works department secretary Nalini-kanta Pradhan requesting him to intervene in the matter and put multi-lingual signages in Odia, Hindi and English on the highways and other strategic locations to guide visitors to the tourist points.
"The signages should be placed in such a manner that travellers on the roads get to know about the tourist spot much in advance so that they can take the detour at the right place. Old and damaged hoardings should be replaced. You are requested to kindly put up signages on the national highway and other locations," Jawale wrote to Pradhan.
Besides the signage, the state tourism department has also decided to put up hoardings at important places for better dissemination of information of the tourist spots so that it will help attract more footfalls. "The signage and the hoardings will be put up within a period of six months," said Jawale.
At present, several such signage and display boards were put up on different roads in the city by the works department as well as the National Highways Authority of India, but not many of them provide proper directional information about many tourist spots. Instead those boards direct the people to the airport, the railway station, the hospital and the bus stand, among other places.
"We will put signage on important places that would provide information about tourist spots. We are placing signage that are providing information about important places in various parts of the city. Those will be added with additional information on the tourist spots," said works department chief engineer (roads) O.P. Patel.
An official of the department told The Telegraph that a special survey would be done to point out strategic locations where the signage could be put to guide the tourist find their way to the attraction points. "The survey will be completed in a month. We will also ask NHAI to suggest the places," said the official.