Bhubaneswar bus shelter plan misses date
Passengers confused as old ones are being demolished, new ones not ready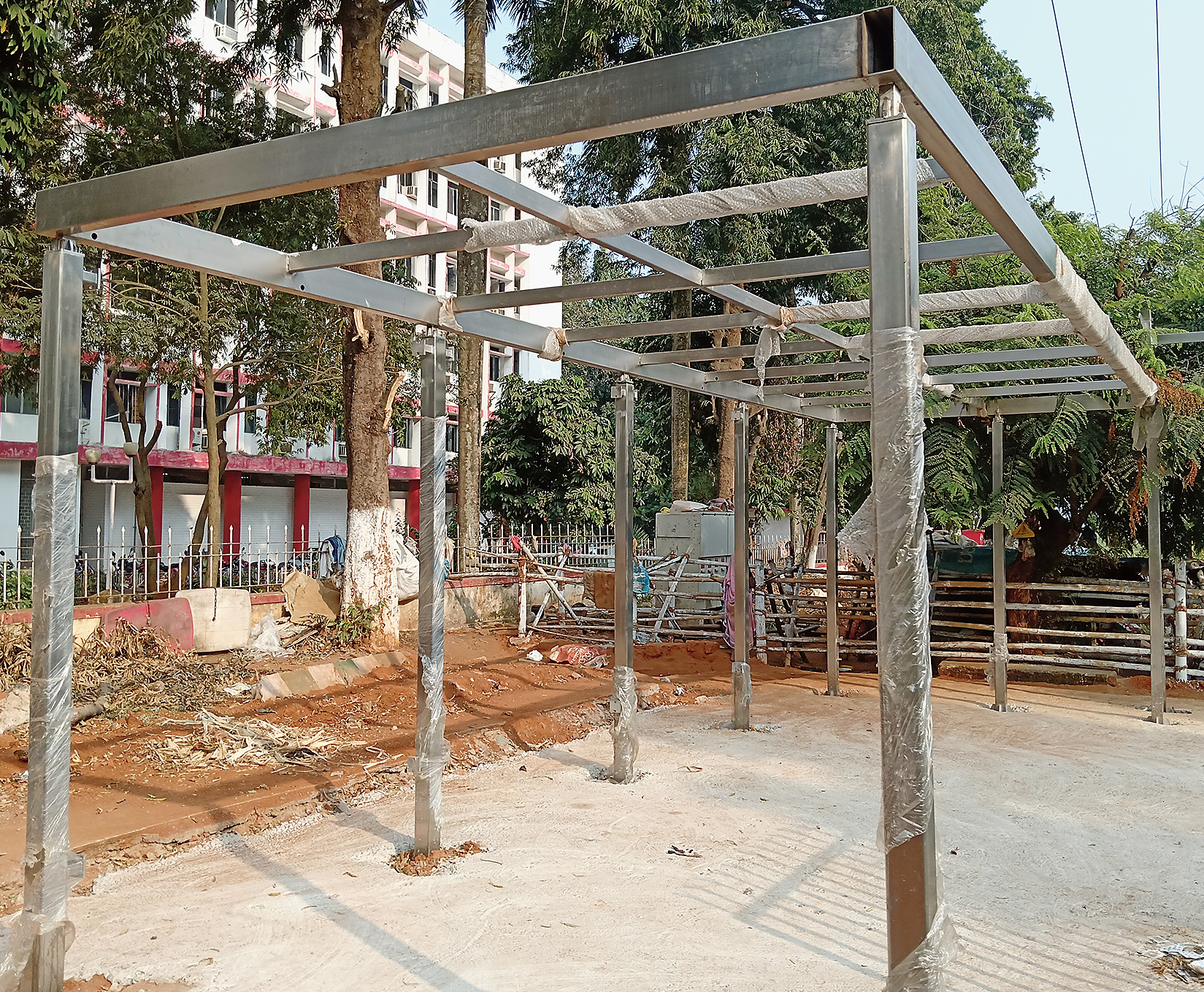 An incomplete bus shelter in Bhubaneswar.
Picture by Ashwinee Pati
---
Bhubaneswar
|
Published 06.12.18, 08:15 PM
|
---
The Capital Region Urban Transport (Crut) has taken up upgrade of 100 existing bus shelters and creation of another 100 in various parts of the capital city where the recently launched technology-driven Mo Buses will stop to pick up and drop passengers.
The plan to revamp and create the new facilities was mooted in May while the work on the project started in the first week of October with a deadline to complete construction of the bus queue shelters by mid-November.
However, the work on the project is stopped now confusing people on the right place to wait for the buses.
"The new buses are really good, but we find no place to wait for the buses. The new bus shelters are under development and not many buses stop there. I was waiting for a bus at one such partially constructed shelter at Studio Square. But the bus didn't stop and I was forced to take an auto-rickshaw instead," said Vimal Jena, a resident of Shampur.
The authorities planned to introduce 200 bus queue shelters in different parts of the city which will be equipped with digital display boards for information on the timing of the buses, a city map for navigation and bicycle docking stations among others, but except a few shelters on major roads none other is fully completed as of now.
"Many of the partially constructed shelters are now coming in use to park different kinds of vehicles. I have seen labourers working war-footing on these shelters a month back to complete these on time, but now the work is almost stopped for about a week. I guess this will going to be the fate of the shelters," said Surya Hota, a shopkeeper at Unit VIII.
What comes as a major problem for the passengers here is that the authorities attempting to revamp existing bigger bus shelters have demolished them and the delay in completing the construction of new shelters in place of them have deprived the people of the already existing facilities too.
"We have completed the construction of the new bus queue shelters in major parts of the city and people are boarding and de-boarding the buses quite smoothly from there. The construction on other bus shelters is also going in full swing and if the contractor is doing any irregularities, we will look after that," said mayor Ananta Narayan Jena.