Balangir farmers torch crops
Farmers set crops on fire after pest infestation; blame govt for situation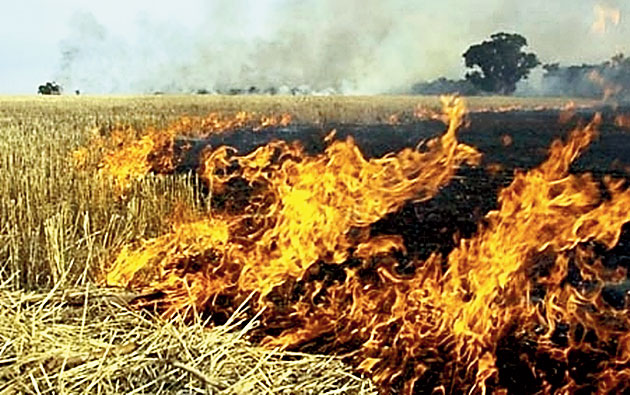 ---
Published 28.10.18, 06:51 PM
|
---
Suffering from frequent pest attacks, the farmers of this region are torching their standing crop that has been damaged due to the brown plant-hopper or Chakada pest infestation.
At least two farmers of Sahajbahal and Jhareibahal villages of Balangir Sadar block on Saturday set their crop,cultivated on eight acres, on fire after their entire paddy crop got damaged due to pest attack.
There are reports of pests damaging thousands of acres of paddy crop in villages such as Deogaon, Gudvela, Paintala and Agalpur.
Anil Hota, a farmer of Sahajbahal who had cultivated paddy on five acres said that his entire crop was damaged by pest attack. He said that he had approached the district administration after brown plant-hoppers appeared in his crop, a couple of months ago.
"After I noticed the pest in the paddy crop, I visited the agriculture officials. They advised me to spray the pesticide, but it was ineffective. With no alternative left, I torched the crop on Sunday. I had taken loan to take up cultivation. Now I have no idea how I will repay the loan," Hota said.
Rabi Sandh of Jhareibahal village is another farmer who also set his entire paddy crop on fire. Sandh said that he had cultivated paddy in three acres of land, but due to inclement weather, the crop got attacked by the pest.
"I had cultivated paddy in three acres. However, the crop was infested with the pest. I used the pesticide according to the instruction of the district agriculture officials, but it didn't work. Now my entire crop lies damaged. I had no option but to torch my paddy crop," he said.
Angry farmers blamed the agriculture department for not providing adequate amount of pesticide on time. Farmers said the pest attacks had dashed the hopes they had placed on the kharif harvest and also alleged that the agriculture department had taken no ameliorative measures although they had alerted the officials of the situation.
"They didn't even spread awareness about the situation," a farmer claimed. The farmers demanded a fair investigation of the situation and sought compensation for crop loss along with waiver of agricultural loans. They said they intended to hold mass protests if supportive measures were not taken.
Deputy director of agriculture of Balangir Sridhar Das, however, said that he had no reports of farmers torching their paddy crop. "I have not received any report of farmers torching their crop. I will however look into the matter and take necessary action," Das said.