95-year-old from Odisha beats coronavirus
Of the 103 Covid-related casualties in the state so far, 59 have been reported from Bisoyi's area, Ganjam, alone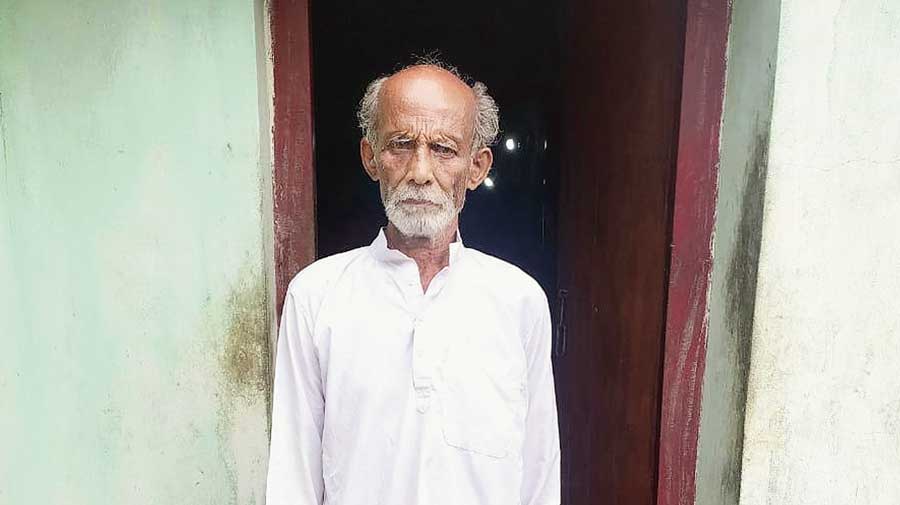 Udayanath Bisoy
Telegraph picture
---
Bhubaneswar
|
Published 22.07.20, 01:48 AM
|
---
Ninety-five-year-old Udayanath Bisoyi is the oldest man from Odisha to have conquered the coronavirus.
Discharged from the hospital three days ago and convalescing at his home in Ganjam's Chakunda village, about 240km from here, he looks relaxed. "Finally I am back home. I defeated death. When my grandson took me to the hospital, I was not sure if I would ever return home. I don't fear death but I don't want to die of corona," said Bisoyi, a farmer.
The chief minister's office on Tuesday tweeted, "Congratulations to nonagenarian Udayanath Bisoyi from Ganjam district on successfully winning the battle against Covid-19. Your win will inspire others to stay strong as Odisha fights this pandemic."
Bisoyi was allowed by doctors at Tata Covid hospital in Sitalpalli to go home on July 18. Ganjam has emerged as the hot spot of coronavirus. Of the 103 corona related casualties in the state so far 59 have been reported from Ganjam alone. So far the state has recorded 18,757 Covid-19 positive cases with Ganjam alone accounting for 5,991 cases.
"The worst part of death due to corona is no one would like to touch your body. I don't want a death that will scare away your near and dear ones. I want a normal and peaceful death," said Bisoyi who speaks to others with the help of his 26-year old grandson, Jitu Bisoyi who is a teacher in a government primary school.
Bisoyi, a father of three sons and two daughters, spent eight days at the covid hospital. He contracted the coronavirus from Jitu who was in charge of the temporary medical centre where migrant labourers who had come to the district from Surat were kept in quarantine.
"It's because of me that my grandfather got infected. I tested positive but I was cured. As his health condition deteriorated, he had to be admitted to the hospital. During his stay there, I was in touch with him regularly through video conferencing and encouraged him to fight against corona. He used to tell us not to worry and finally he emerged victorious," said Jitu.
People are so scared of the virus that they are even staying away from the cremation of their relatives. In some cases district administration had to step in for the cremation of bodies. "We are sending hearse vehicles and helping people to cremate the dead. We are also receiving requests for help in such matters from people across the district," said a senior official of Ganjam administration.
Worried over reports that dead bodies were being carried for cremation in trolleys, Naveen Patnaik government has announced Rs 7,500 for handling and disposal of each covid positive dead body.
As more and more covid cases are being reported in Ganjam, the government has launched several programmes to strengthen health services in the district which is the chief minister's home district. The government has empowered the district administration to deploy 100 ambulances and announced Rs 25 crore from the chief minister's relief fund to manage health care. The government has also announced the setting up a 100-bed Covid hospital, including 100 ICU beds in Berhampur in association with Ashwini Hospital Cuttack and the launch of plasma therapy at the Tata Covid Hospital at Sitalpalli in Ganjam.