Youths protest in Delhi, Assam
Plea to unite against hate, youths stage boycott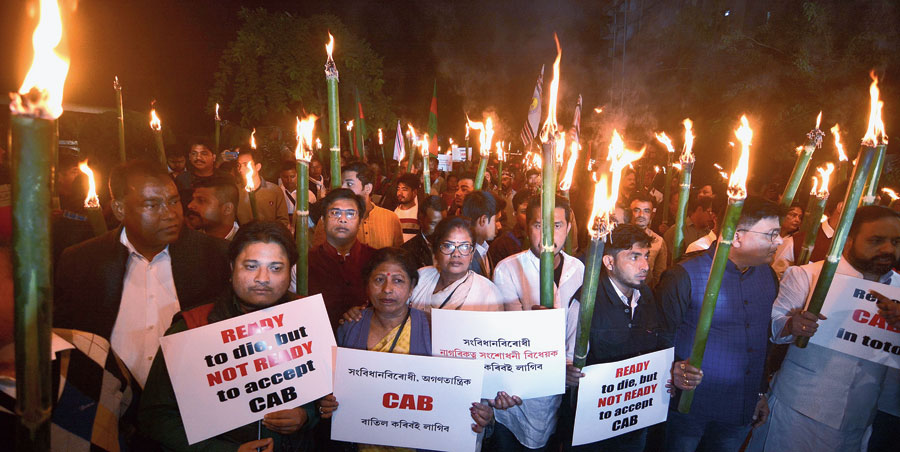 People at the demonstration organised by United Against Hate in New Delhi on Saturday
Picture by Pheroze L. Vincent
---
New Delhi
|
Published 07.12.19, 08:02 PM
|
---
United Against Hate, an NGO, on Saturday staged a demonstration here, seeking a boycott of the National Register of Citizens if extended to the rest of India, and gherao the offices of parties and homes of MPs who vote for the Citizenship (Amendment) Bill, to be tabled in Parliament on Monday.
Nadeem Khan, a member of the NGO, said, "A year ago, NGOs offered help to the people to collect documents required to prove their citizenship in Assam. Even a three-time Muslim MLA was left out of the NRC. Now after the majority of those excluded from the NRC are Hindus, the government wants a fresh NRC all over India. Until they get the results they want, they will continue this process."
He added, "The NRC and citizenship bill are two sides of the same coin. The objective is to disenfranchise Muslims. If five crore of us boycott the NRC, they do not have jails big enough to keep all of us…. If parties which throw iftar parties support the citizenship bill next week, we will protest outside their offices. If MPs who get our votes, vote for the bill, we will gherao their homes."
Congress MP Mohammad Jawed said, "India has never seen such continuous tension and repeated attempts to tear the country's secular fabric… Yes, they are doing Hindu appeasement, but the greater truth is that these people are Muslim haters."
Before the meeting on Jantar Mantar road, a flash mob enacted a Chilean anthem against rape culture (A Rapist in Your Path).
The meeting was mostly attending by the students of Jawaharlal Nehru University and other institutes in the capital.
Speaking at the event, Swaraj India president Yogendra Yadav said, "Secularism has been attacked before. It is weak but still this is a secular country. If Parliament makes the CAB a law next week, then we can no longer raise our heads and say that India is a secular country… they are trying to make us a Hindu Pakistan."
Several other protests have been announced against the bill next week.
In Tezpur, the students' groups of Tezpur College, Tezpur Law College and Tezpur University registered their protest against the citizenship bill, along with different organisations in the state, including the Asom Jatiyatabadi Yuba Chatra Parishad and All Assam Students' Union.
The AJYCP activists, supported by people from every walk of life, took out a rally through Tezpur town and shouted slogans against the government and the BJP.
The Tezpur unit of AASU also took out a rally against the bill.
Students of Darrang College also registered their protest.
The Tezpur Central University Student's Council took out a torch-lit protest at Napam, led by the council's president, Jyotishpal Deka, among other members.
Additional reporting by our correspondent in Tezpur