Wild meat sale at Hornbill fest
The meat of birds, squirrel, deer and wild boar is being openly sold at the 10-day Hornbill Festival at Kisama village, in spite of the state government's ban on hunting.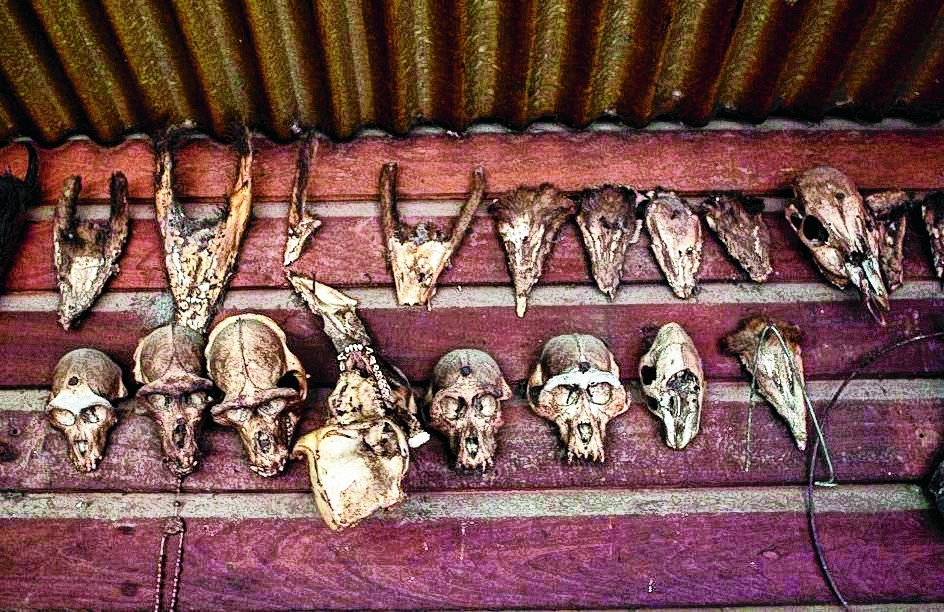 ---
Kohima
|
Published 08.12.16, 12:00 AM
|
---
Kohima, Dec. 7: The meat of birds, squirrel, deer and wild boar is being openly sold at the 10-day Hornbill Festival at Kisama village, in spite of the state government's ban on hunting.
While collective efforts are being made to protect and preserve flora and fauna in the state, some of the stalls are providing the meat for consumption.
A stall owner said the meal was selling like hot cakes. "Even foreigners come and eat the meat," said one of the youths running the stall.
They claimed that they get in touch with hunters in Peren district in the state during the Hornbill Festival.
"Today our main dish is wild boar meat," a youth from Dimapur said. "We can cook for you birds, deer, wild boar, wild cat, monkey and many more animals. We bring wild animals from Peren."
A plate of wild boar meat at the stall costs Rs 200 and a cup of zu (local brew) costs Rs 100. "It really goes well with zu," the youth added.
They said they were aware of the state government's restriction and ban on killing animals but it was their business. Moreover, they said no state wildlife department official had visited their stall.
Another hotel near the Assembly secretariat was also serving meat of wild animals. The owner said the demand for wild animal meat was high and that tourists were flocking to the hotel for it.
Most of the animals are hunted at Barak Valley, bordering Tamenglong district in Manipur. The meat available in Kohima mostly comes from Peren and Senapati district in Manipur.
Government officials said they would continue to create awareness among the people to protect and preserve flora and fauna of the state.
"We seek the support and cooperation from all sections of people to protect our flora and fauna," an official said.
Of late, state wildlife officials have seized the carcasses of several animals across the state.
Various Naga organisations, along with the Nagaland Baptist Church Council, have been campaigning for the protection of wild animals.
The Baptist church has banned the serving of wild meat during special gatherings and public functions.
Sithie Mere, from Tsiesema village near Kohima - the village which has banned hunting, fishing and cutting of trees - said once upon a time hunting was his hobby but today he stressed the need for a collective effort for a campaign to save the "decaying environment".
"Our state was very rich in flora and fauna but today it is in a sorry state. Our animals are being randomly killed and jungles destroyed. We can't go on like this," he said. "I like eating wild meats but I have decided not to," Mere said.
The village youth organisation has decided to punish anyone caught defying the ban.
Many villages in Kohima district have banned hunting as initiated by the Angami Youth Organisation (AYO) but some villages lift the ban during Christmas and New Year.
Animals are being killed by rifles and air guns that are easily available in the state.
There was also a proposal to ban airguns from the state.
Kenny Peseyie of Jotsoma village said all things in an ecosystem are interdependent.
"The existence of one species may depend on the health of another," he said.
"Owing to reckless and uncontrolled cutting of trees for timber, firewood, continued jhum cultivation and annual fire in vast tracts of land, forests got degraded, which diminished most of the original characteristics of the forests," Peseyie said.
He appreciated the initiate of the Angami Youth Organisation in Kohima district.