Uproar in Assam House over ban on black flags at Sonowal events
Congress legislators either wore black badges or were dressed in black in the Assembly to protest against the ban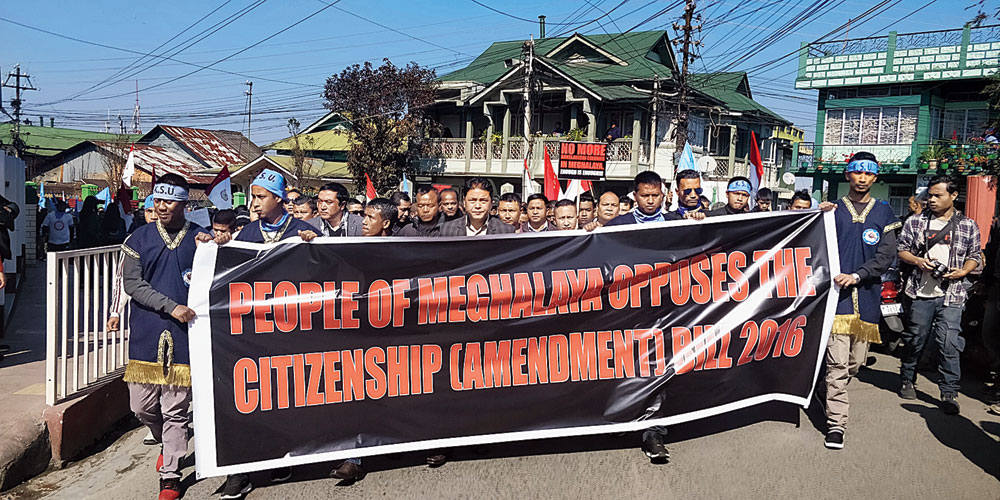 ---
Guwahati
|
Published 30.01.19, 06:52 PM
|
---
The Assam Assembly on Wednesday witnessed acrimonious scenes and a walkout by the Congress MLAs over the ban on black flags at public events attended by Assam chief minister Sarbananda Sonowal to prevent black-flag protests against the Citizenship (Amendment) Bill, 2019.
The Congress legislators either wore black badges or were dressed in black in the Assembly to protest against the ban, including Tuesday's incident at Behali in Biswanath district where the mother of a child was allegedly forced by security personnel to remove her child's black jacket before they could enter a government function addressed by Sonowal.
The Opposition legislators described it as an "inhumane act".
The Congress members also moved an adjournment motion to discuss the protests against the bill with particular reference to the Behali incident.
Speaking on the admissibility of the motion, Congress leader Abdul Khaleque said the matter was definite, urgent and of recent occurrence and therefore, all other businesses of the House should be adjourned to discuss it.
Khaleque was supported by his party colleague Rupjyoti Kurmi.
Parliamentary affairs minister Chandra Mohan Patowary said there is no need for an adjournment motion as the matter could be discussed in the House under other devices.
Patowary said there was no ban on wearing black clothes in government meetings and the security personnel were only instructed to prevent black flag protests.
He also claimed that the 13-month-old child's mother, Rina Biswakarma, however, seemed "sketchy" as she described two different versions of the event.
In a video that went viral on social media since Tuesday night, she was found saying, "I was not asked to disrobe my child. He was feeling uncomfortable wearing the jacket."
However, on Wednesday, she said, "I was promised Rs 10,000 through a phone call from an unidentified man to say that I removed my child's jacket on my own. But actually they had asked me to do it."
There was a war of words between the ruling and Opposition MLAs, which forced Speaker Hitendra Nath Goswami to adjourn the House for 15 minutes.
After the House reassembled, the Speaker disallowed the adjournment motion and the Congress MLAs walked out in protest.
The AIUDF MLAs also staged a walkout to protest against alleged communal and anti-Constitution statements made by some ministers.
Later, outside the Assembly, Khaleque dared the government to order a probe by a high court judge into the Behali incident. He also accused health minister Himanta Biswa Sarma of making communal statements to polarise Assam on religious lines.
Sabha session
The bill will be the centre of discussion in the Asam Sahitya Sabha's 10th special annual session to be held at Raha in Nagaon district from Thursday.
Sabha's president Paramananda Rajbongshi here on Wednesday said they have invited all indigenous literary bodies, students' organisations and those who had been speaking to safeguard the interests of Assamese people to four-day session.
"We are committed to the betterment of Assamese culture and work to help it thrive. But now the Assamese identity has come under threat and the Sabha will unite all Assamese organisations that had been voicing their concerns against the bill," Rajbongshi said. Former Assam chief minister Tarun Gogoi, Krishak Mukti Sangram Samiti adviser Akhil Gogoi and other former political leaders have been invited to the event, he added.
The session that coincides with Me-Dam-Me-Phi, an Ahom festival held on January 31 every year, will witness several talks on the bill, along with other language-related issues.
Additional reporting by Avishek Sengupta