IITG students placed under 'suspended expulsion'
The Students' Disciplinary Committee took the decision after several meetings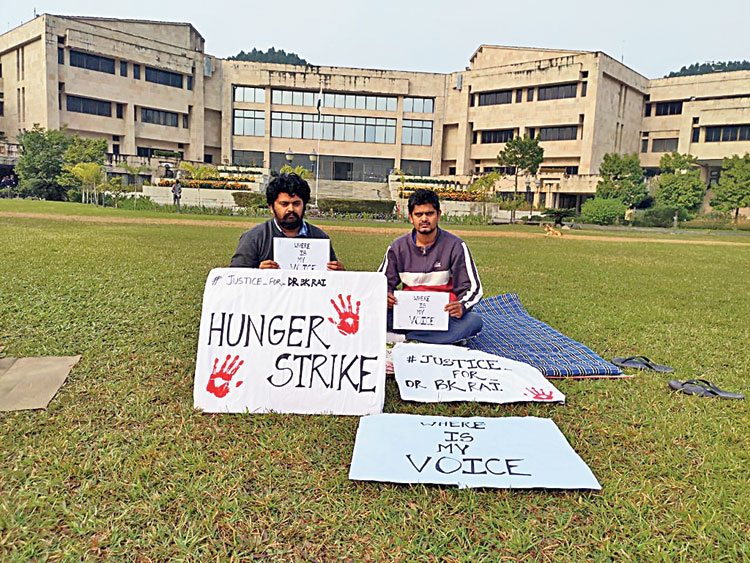 Vikrant Singh and Himanchal Singh on hunger strike at IIT
Telegraph picture
---
Guwahati
|
Published 19.03.20, 07:10 PM
|
---
Two students of Indian Institute of Technology, Guwahati, have been issued a warning for a semester for staging a hunger strike and indulging in "misinterpretation of facts" and defaming the institution.
The PhD students — Vikrant Singh and Himanchal Singh — were protesting against the administration's decision to make a suspended faculty member vacate his official accommodation and had staged a hunger strike from January 4 to 7.
An IIT notice released on Tuesday to the students said they "indulged in misinterpretation of facts in print and electronic media related to the institute without proper verification, resulting in defamation of the institute".
The Students' Disciplinary Committee took the decision after several meetings and said, "You (students) are kept under 'suspended academic expulsion' from the institute for one semester, which will be applicable any time during your stay at IIT Guwahati. Violation of any clause of Ordinance on Code and Conduct of Students… in future, will lead to your expulsion from the day the SDC deems it fit without further deliberation. No appeal in this regard will be entertained."
The students have also been "debarred from representing the institute at any level for the entire duration" of their study.
They cannot contest for any students' body posts at the institute during the suspension period.
Vikrant and Himanchal had gone on a hunger strike in January this year, protesting against the administration's order of suspension of Brijesh Rai and against the order to vacate his official residence.
Rai was suspended in November 2019 after he alleged corruption in the institute.
Vikrant and Himanchal refused to comment, but those in the know confirmed that they received the notice and said they will challenge the order in court.
"The authorities are trying to suppress the voice of the students because of the FIR they filed against the director," said a close friend of the students.