Toilet trauma for NRC applicants
National Register of Citizens hearing centres at Chenga lack proper toilet facilities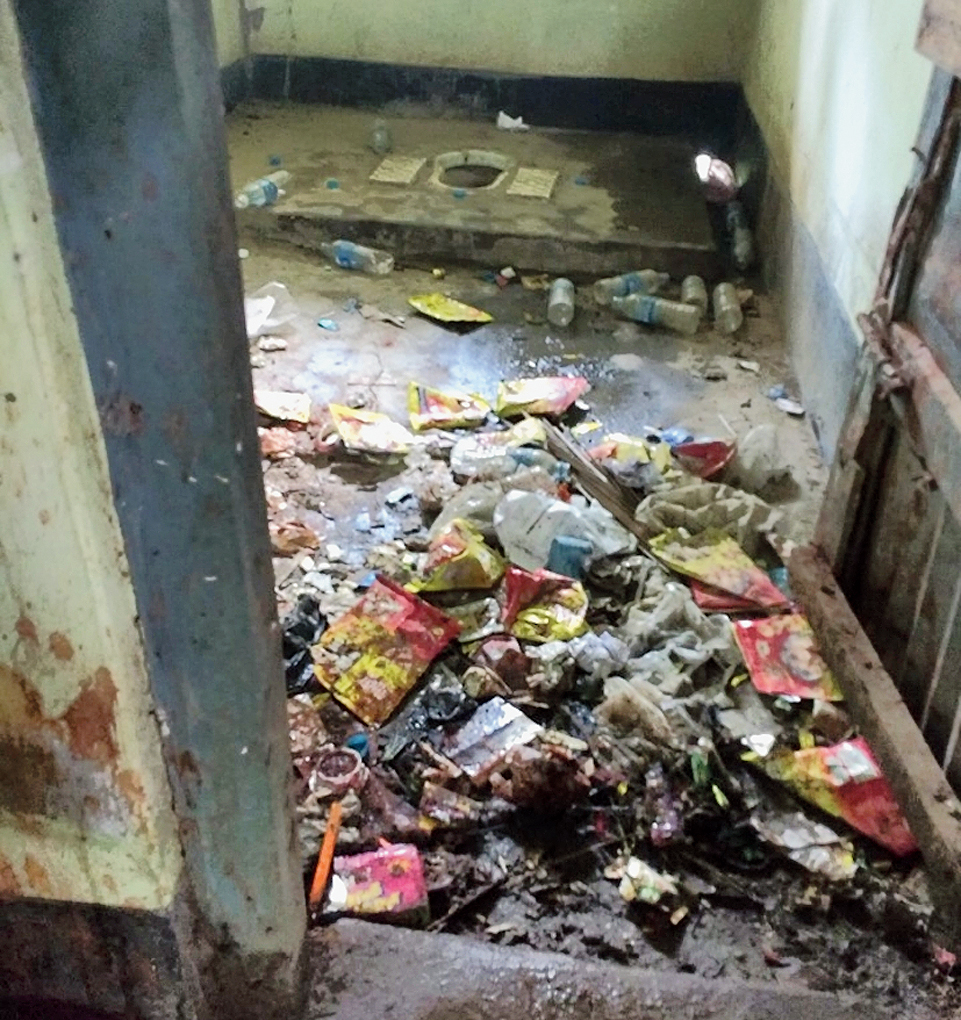 ---
|
Guwahati
|
Published 10.05.19, 07:33 PM
---
Rashida Begum, 45, waited patiently in an unending queue at the Chenga Unnayan Khanda development block office, one of the centres for National Register of Citizens (NRC) hearing at Chenga block in Barpeta district.
When she looked around for a toilet, she found one nearly 500 metres behind the office in a heavily-wooded area. Its filth, squalor, unhygienic and deplorable condition forced her to give nature's call a miss. There is no water supply either.
Nearly 1,000 men, women and children arrive at the centre for hearing, to be welcomed by heaps of garbage, muck, spit, tobacco and betel leaf stains, used plastic bottles, plastic wrappers, disposable plastic tumblers and every sort of dirt inside the centre's toilet, a sight strong enough to churn their stomachs and making them nauseous.
Activists and volunteers who are helping people at the NRC hearing centres at Chenga block in Barpeta district said the condition of toilets at almost all the five government establishments where NRC hearings are being conducted are pathetic.
People who are visiting these centres are facing the brunt of such conditions.
Activist Ashraful Hussein of Sambidhan Sevak, a lower Assam-based rights collective who was at the Unnayan Khanda centre helping people with counselling on how to proceed during NRC hearing, took a photo of the toilet and uploaded it on Facebook.
He said he thereafter informed Barpeta deputy commissioner Munindranath Sarma.
"The Barpeta deputy commissioner sent cleaners to the centre and swept the dirt off sometime later. There is still no drinking water and water for washing at the centre. There are two toilets at the centre. The condition of both is equally bad. Almost at all the NRC hearing centres at Chenga, people are having a hard time just because of lack of proper facilities," said Hussein. Pathetic infrastructure, dirty toilets or absence of it, lack of water have rendered people like Begum and scores of others, especially women, to venture into unsafe wooded areas to relieve themselves.
"I felt sick looking at the condition of the toilets at the NRC hearing centre. Women require a proper toilet. How can I enter such a pathetic and dirty toilet? I would have fallen sick. I had to go behind the centre to a heavily wooded area to urinate. I was afraid of snakes and dogs. But I had no other option," Begum said.