To vote or not to vote is the question in Huramara hamlet
Huramara residents have lost around 20,000 hectares of land to erosion caused by the Aie river in the past 20 years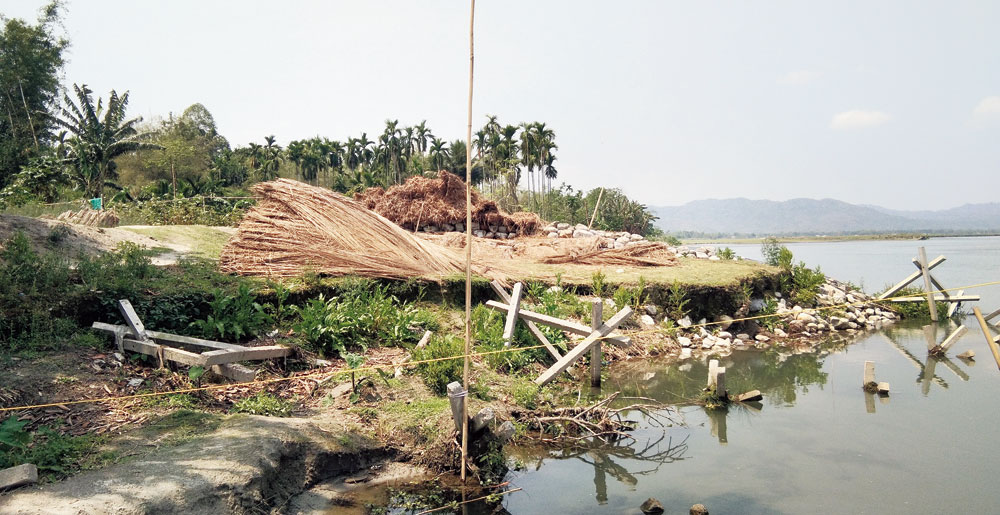 ---
---
Residents of Huramara, an erosion-hit village in Bongaigaon district, under Barpeta Lok Sabha seat, are still unsure which political party or candidate to vote for in the ensuing Lok Sabha polls.
Barpeta Lok Sabha seat in Bongaigaon district includes three Assembly segments — Abhayapuri North, Abhayapuri South and Bongaigaon — and will go to polls on April 23.
Huramara, under Abhayapuri North Assembly seat, is situated on the banks of the river Aie, which erodes every year during floods and the residents of the village have to take shelter on a worn-out dam nearby.
The residents of Huramara have lost around 20,000 hectares of land, including crop fields, residential plots, beetle nut orchards, bamboo groves and others because of erosion of Aie in the past 20 years.
Villagers alleged that not a single paisa of the funds allocated to protect the village from erosion has been spent.
Akhil Ray, 53, a farmer, had eight bighas of land in the village, but the river,
he said, wiped out all his land about 18 years back. Now, he runs a small shop next to the dam and lives with his wife in a hut attached to the shop.
"In 2005, about 65 families, including mine, were displaced because of erosion. We were taken to Amtoli, which is around 25km from here, by local legislator Bhupen Ray and we were rehabilitated on government land. But the locals there did not allow us to stay there for long. So, we returned to our village and took shelter on the dam," Akhil, who is a diabetic, said.
Since then, no legislator, MP or minister has ever visited this erosion-hit village.
Around 600 families were living in the village earlier but after losing their home and hearth because of erosion, many had moved out, said social worker Bhupen Ray, 35.
Huramara residents said they have never seen the face of Sirajuddin Ajmal, the outgoing Barpeta MP of the AIUDF.
This time, the party has fielded Hafiz Rafiqul Islam, who is a former legislator of Jania in Barpeta district.
"We don't know about any candidate of Barpeta Lok Sabha seat yet, so we will follow what the people decide," a woman said.
Hitendra Ray,77, who was once a landlord and is now a pauper, said they are not sure whether they should cast their votes in favour of the candidate on the basis of the party in this Lok Sabha polls.
"We have been facing erosion for the past two decades and the problem has not come to the notice of the officials yet, which is unfortunate," said another villager, Dhireswar Ray, 57.