Superwalk against drugs, depression
Parents must help their wards before they get to a super dark place: Khanin Roy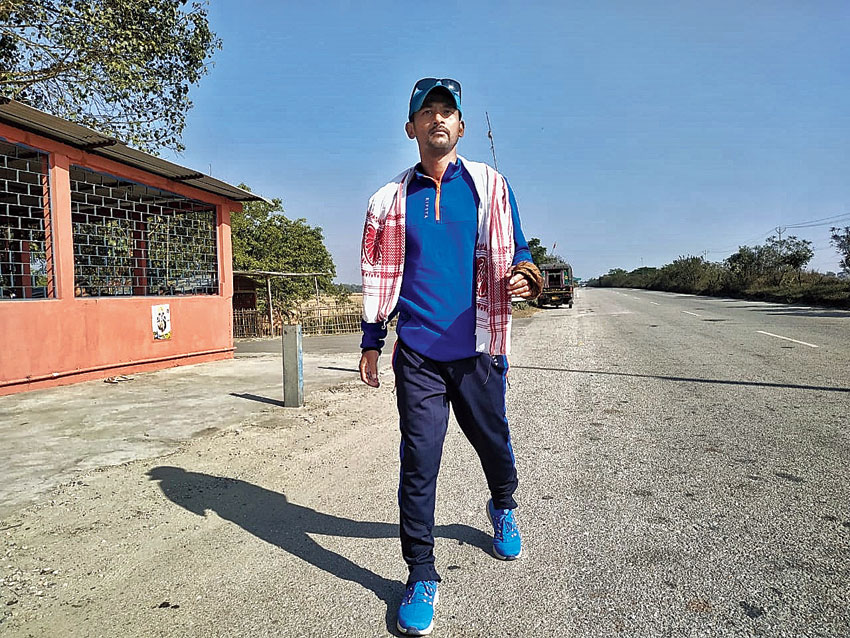 Khanin Roy walks on National Highway 31 on Saturday
Picture by: Shajid Khan
---
Udalguri
|
Published 28.12.19, 11:52 PM
|
---
A 40-year-old man from Pathsala town in Barpeta district of lower Assam has embarked on a "superwalk" to raise awareness on drug addiction and depression among youths.
Khanin Roy started his Pathsala-Guwahati walk on Saturday and will cover a distance of 100km.
Roy told The Telegraph, "I don't want my brothers and sisters to suffer from depression and drug addiction and end their lives over trivial matters. I appeal to every one to love life and promote adventure activities to keep themselves motivated and healthy. There is still a lot of stigma around drug addiction and mental health. People don't talk about it out of embarrassment. Social media has made isolation tendencies worse. People must come out from the virtual world of darkness and pursue activities like swimming, cycling, walking and yoga to stay spiritually awake and mentally and physically fit and active."
Roy, with his team, runs a wellness centre, Brain and Figure, in Pathsala. They carry out awareness campaigns and conduct yoga classes in the villages of Barpeta district. They also teach basic self-defence techniques of kickboxing and taekwondo to girls.
Brain and Figure acts as a crisis intervention centre for those suffering from depression by providing free counselling sessions.
He urged parents to watch out for symptoms of depression such as stopping activities, not spending time with friends or being socially isolated, among their wards.
"Parents must help their wards before they get to a super dark place," Roy said.
"Roy's campaign has touched all of us deeply. I love his message and his resilient nature. Everyone in society is duty-bound to save the lives and souls of our fellow beings from the grip of drugs and depression," Pathsala resident Sasanka Talukdar said.
Roy has been instrumental in inspiring students to take cycling tours to spread awareness against drug addiction and depression in Assam.
In 2016, he even swam across the Brahmaputra in 45 minutes to draw people's attention to the issue.
India has the highest suicide rate in the South-East Asian region, according to the World Health Organisation (WHO)'s 2016 estimate.
The report pegged India's suicide rate at 16.5 suicides per 100,000 people.
Sri Lanka has the second highest suicide rate in the region with 14.6 suicides per 100,000 people while Thailand stands third (14.4).
India also has the third-highest female suicide rate (14.7) in the world after Lesotho (24.4) and Republic of Korea (15.4).
Around 800,000 people commit suicide every year in the world, according to the WHO report.