Student body flays road work of East-West Corridor
We are smelling a big scam in name of maintenance of the NH-54E in Dima Hasao says general secretary of union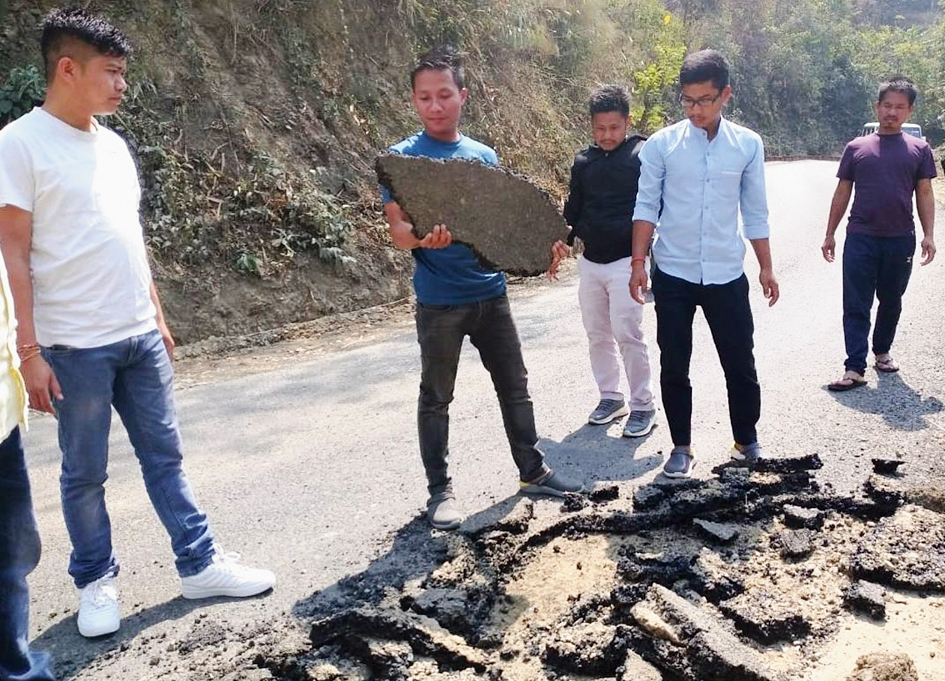 ---
|
Haflong
|
Published 14.03.20, 09:08 PM
---
Members of the Dimasa Students' Union (DSU) on Saturday visited the ongoing construction site of the 25km stretch of National Highway 54E, also known as the East-West Corridor. They found the road's topping easily removable with bare hands. The black topping was laid on dusted earth instead of stone chips and without proper levelling.
While addressing the media, DSU general secretary Pramith Sengyung urged the Centre and the National Highways Authority of India (NHAI) to suspend and blacklist construction firms Ratna Infrastructure and Lakshmi Motors for their substandard work in maintenance of the 25km stretch (from Jatinga to Harangajao).
On January 10, the regional officer of the NHAI awarded Hyderabad-based Ratna Infrastructure the contract for maintenance of the road at a cost of Rs 54.27 crore.
Sources said the construction firm had engaged Lakshmi Motors, a Silchar-based company, though it had earlier done sub-standard work in road maintenance.
"We are smelling a big scam in name of maintenance of the NH-54E in Dima Hasao. The black topping of the road can be removed with bare hands. Soon monsoon will set in and the road will be washed away in a light shower as the drainage system is of poor quality. People of our district have suffered a lot and now we will not tolerate this kind of work. We urge Union minister for highway and the NHAI to blacklist those companies engage in corruption and engaged another companies for the road construction or else our organization will take step," said Pramith Sengyung, general secretary of the union.
The authorities of NHAI and the construction firm could not be contacted for their comments.