Sangha session begins
Murong ghar accommodation was provided for padadhikar and GS of SSS is prepared by 36 units of SSS with Mising community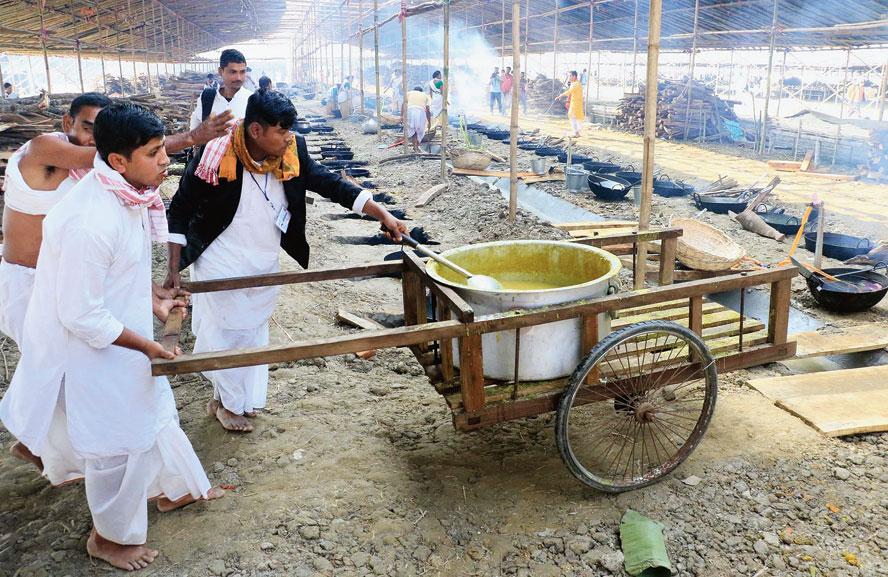 Devotees prepare food at the 89th annual session of Srimanta Sankaradeva Sangha at Kamargaon in Golaghat district on Wednesday
Picture by UB Photos
---
Bokakhat
|
Published 05.02.20, 06:54 PM
|
---
The four-day 89th annual session of Srimanta Sankardeva Sangha (SSS), the largest socio-religious organisation in the Northeast, started at Kaziranga Samanway Kshetra in Kamargaon, Golaghat district, on Wednesday.
"Knowledge with skill for attitude development is a must for social development. We must follow the ideals of great saint Srimanta Xankardeb for the betterment of society," vice-chancellor of Srimanta Sankardeva University, Nagaon, Kandarpa Kumar Deka, said after releasing a souvenir.
Four other books published by the reception committee — Bhakti Sahityar Rasanubhav, Impact of Gita on the Namghoisha, Pariveshya Kala Abriti and Bhaktire Pranipat were also released at the meeting.
Noted litterateur Karabi Deka Hazarika said: "We must realise the core areas of Srimanta Xankardeb's writings."
The meeting chaired by the padadhikar (chief) of SSS, Kamala Kanta Gogoi was attended by the deputy padadhikar Basundhar Deka and adviser Bhabananda Deka, among others.
Several books published by individual writers were also released by the dignitaries.
The programme started with the plantation of saplings by the divisional forest officer, Bokakhat, Ramesh Ch. Gogoi along with 10 other dignitaries in the morning.
The main welcome gate was inaugurated by social activist Nagendra Nath Baruah.
Inaugurating the book fair and exhibition, founder president of the All Assam Press Correspondent Union Bhabesh Saikia said books are mirrors of society.
The Murong ghar in which accommodation was provided for the padadhikar and the general secretary of the SSS is prepared by the 36 units of the SSS with Mising community.
In the evening, meetings of publicity committee and education committee of SSS were held. That was followed by presentation of ankia bhaona. A programme called Artiste Aideu Handique Memorial Cultural Function was held.
Minister Atul Borah is conducting the overall management.
The general secretary of the reception committee, Chandra Kanta Bhuyan, said due to largescale participation by different groups and communities the session would be successful. "As the opening day the attendance is thin today, but it will be go up," Bhuyan said.
Till the filing of this report, as many as 10,000 delegates have reached the session site.
The president of camp management sub-committee, Anil Hazarika, said delegates from 30 district branches had reached the session venue and were accommodated in the camps.