Seven ATM robbers arrested
More than Rs 42 lakh was looted from the ATM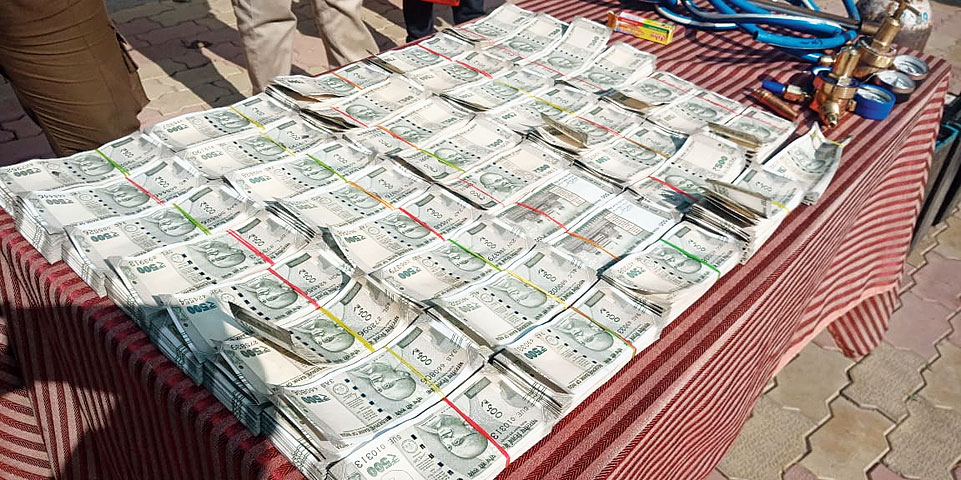 The recovered cash
Picture by Mukesh Kumar Singh
---
Dhubri
|
Published 25.01.20, 06:55 PM
|
---
Dhubri police claim-ed to have busted a gang involved in robbing a State Bank of India ATM on Monday near Gauripur town in Dhubri district, following the arrest of seven persons on Saturday.
More than Rs 42 lakh was looted from the ATM.
The arrested have been identified as Bahar Ali, 46, Nur Nabi Ahmed, 36, Mehedi Hassan Mondal, 30, Nur Zamal Houqe, 25, and Moniraz Zaman Ahmed alias Mintu, 28, of Dhubri district and Musa Miya, 34, and Kashem Ali, 33, of South Salmara-Mankachar district in lower Assam.
Dhubri superintendent of police Yuvraj said acting on a tip-off and video footages received from the CCTV camera installed at the ATM, the police have managed to book the seven persons alleged to be involved in the crime.
Police sources said nine persons were involved in the case. The two absconding are suspected to be the kingpins.
The police have recovered Rs 19.54 lakh so far. They have also recovered two motor bikes, one gas cutter, one oxygen cylinder and other equipment used in the crime.
"Dhubri police are looking for the rest of the money and the others members of the gang who are absconding following the arrest of these persons," the superintendent of police said.
"A high-level police team is investigating the matter. The operations will continue till the full amount is recovered and all the persons involved in the case are arrested," he added.
The sources said the robbers had put toothpaste on the CCTV camera inside the ATM and covered it with papers. But by then it had already captured the faces of the robbers clearly. Besides, the camera had captured the numbers of the bikes parked outside the ATM, which the police traced during investigation.
The accused used a gas cutter to cut the ATM and looted it within 15 minutes, the police sources said.