Sarbananda Sonowal draws up big plans for Sonbeel
Sonbeel is the largest wetland in the Northeast and second largest in Asia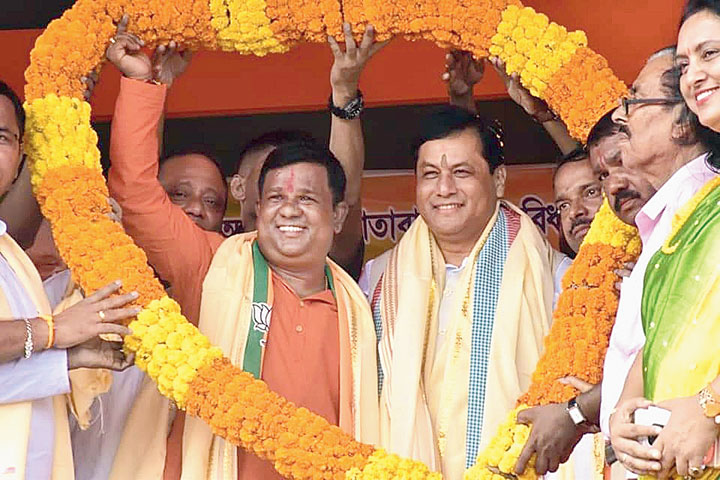 Sarbananda Sonowal campaigns for BJP candidate Bijoy Malakar at Ratabari on Monday.
Picture by UB Photos
---
Hailakandi
|
Published 14.10.19, 06:39 PM
|
---
Assam chief minister Sarbananda Sonowal on Monday iterated his stand to develop Sonbeel as one of the tourist hotspots in the state.
Addressing an election rally in favour of BJP candidate Bijoy Malakar for Ratabari (SC) byelection in Anandapur village adjacent to Sonbeel, he said the state government would prepare a detailed project for development of Sonbeel as a tourist destination after the byelections.
Sonbeel is the largest wetland in the Northeast and second largest in Asia.
It is a large lake in Karimganj district of Barak Valley in southern Assam. The lake is dotted with Barringtonia acutangula which is the main tree that grows in the beel. The lake becomes a farmland for paddy cultivation during winter till March.
Sonowal said a helipad and a tourist lodge would be constructed in Sonbeel for regular flow of tourists — domestic tourists and foreigners — to ensure their hassle-free visits.
He added that the natural charm of Sonbeel would be protected and the roads developed to ensure connectivity with other major towns of Barak Valley.
Sonowal said he would make the local people proud by developing Sonbeel and said the "beauty of the area is a gift of God".
He promised to bring Prime Minister Narendra Modi to Sonbeel to show him the beauty of nature and stressed the need of economic development through tourism.
However, a section of people under the banner of the Sonbeel Purbanchal Medical College Demand Committee raised slogans in front of Sonowal, demanding setting up of a proposed medical college in the eastern part of Sonbeel for residents of Karimganj and Hailakandi districts.
They also submitted a memorandum to the chief minister. Sonowal said a medical college would be set up in Karimganj though he did not mention the name of the place. 
A fisherman of the Sonbeel area said they were fed up with political leaders' assurances that Sonbeel would be developed as a tourist spot which never materialised.
He said fish of Sonbeel had a huge demand, but they faced extreme difficulties to send fish to local markets because of pathetic road conditions.
He demanded immediate repair of the roads, setting aside "the habit of making assurances" to make Sonbeel a tourist spot.
Sonowal announced that besides establishing a medical college, the government would establish Deendayal Upadhyaya Engineering College and a polytechnic in Karimganj.
He attacked the Congress for discriminating against the people of Barak Valley and said the BJP was extremely keen to develop the region.
He termed the Congress "durnitir saudagar (merchant of corruption)".