Results bring ray of light for visually impaired
Pallabi Borah of Bihpuria secures 73% marks, aims to fulfil UPSC aspirations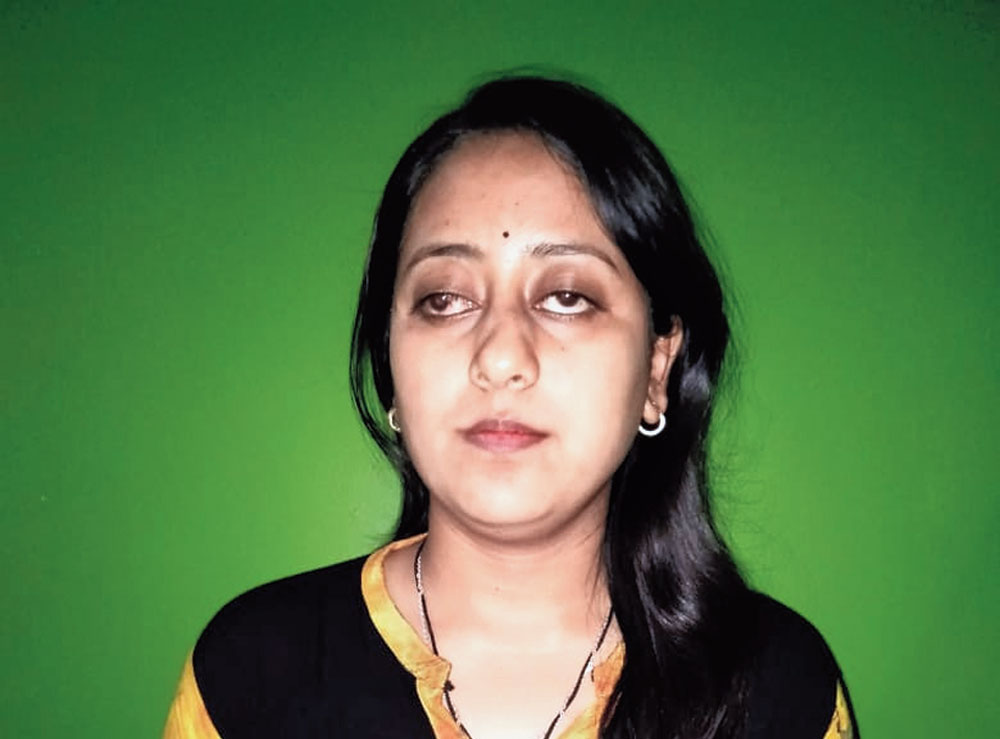 ---
|
Guwahati
|
Published 15.05.19, 06:34 PM
---
She had seen the world only halfway through her childhood before she was compelled to continue her life in darkness and start her education from scratch.
Yet her immense willpower ensured a ray of light for her amid the darkness.
At the age of 19, Pallabi Borah, a visually impaired girl of Assam Andha Sishu Bidyalaya, Bihpuria in Lakhimpur district of Upper Assam, on Wednesday overcame all odds to emerge with flying colours in the HSLC examinations, securing 73 per cent with letter marks in English and mathematics.
Hailing from a middle class family of Gagoi village, Kalabari, in adjoining Biswanath district, her father Narayan Borah runs an eatery at Kalabari centre.
She has two older brothers who also help their father in the trade.
Pallabi told The Telegraph: "I want to pursue higher studies in New Delhi. It will help me to fulfil my UPSC dreams. I have worked hard like everyone else and want to prove that I can stand on my own feet. My teachers and family members helped me a lot to get this result. I want to thank my sister-in-law Mousumi Borah especially, because she helped me to get letter marks in English and mathematics."
Pallabi's father, Narayan, said: "She was initially a normal child like my two sons but gradually lost her vision. She lost her vision completely when she was in Class VIII due to which she had to start her studies once again from primary level in a school for the blind. We don't have such a school in this area and we heard about the school at Bihpuria which has hostel facility for the students and is free of cost," her father said.
"She wants to pursue higher education outside the state but we are not financially in a position to send her. If the government aids us, somehow we can fulfil her dream," he added.
The principal of the Assam Andha Sishu Bidyalaya, Diganta Hazarika, said: "We are very happy to get Pallabi's result. She is a very hard working girl but we were not expecting that she would secure such a high percentage. She is the only student who sat for this year's Class X board exams. Though the school was established in 1969, it is not yet provincialised. We are not able to provide all the facilities to the students. Students of our school continue to shine as they attain 100 per cent pass percentage year after year. Last year, one girl secured 68 per cent in the Class X examinations," he added.
Nripen Malakar, the general secretary of the Pratibandhi Suraksha Sangstha Assam, an organisation working for the development of differently abled people of the state, said: "Students from the disabled category who have passed the examinations will be felicitated by our organisation soon. All the students from blind schools of Assam have attained 100 per cent pass percentage this year. Two students from Nagaon Blind School, three from Jorhat Blind School, one from Moran Blind School and two from Saraswati Ragdhwani Bidyalaya have got first division in the board examinations."
Altogether, 2.02 lakh students out of 3.36 lakh students passed the Class X board examinations this year.