Rameswar Teli promises jobs in Northeast
Union minister of state for food processing promises jobs in the Northeast through more mega food park schemes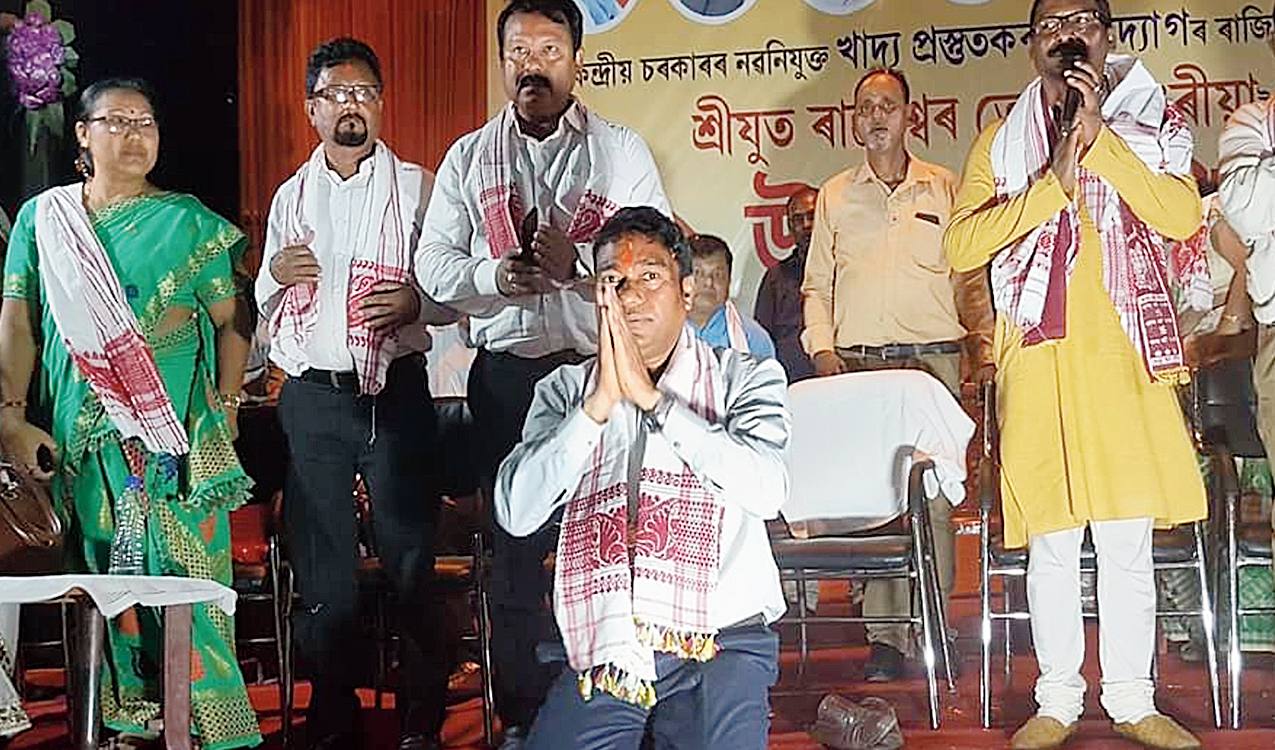 ---
---
Union minister of state for food processing Rameswar Teli said at Margherita in Tinsukia district of Upper Assam on Friday that he would explore avenues to generate jobs in the Northeast.
The Dibrugarh MP is on a whirlwind tour in different parts of his home constituency. "I will explore avenues to generate jobs in the Northeast through more mega food park schemes," he said.
Teli was in Dibrugarh on Wednesday, in Tinsukia on Thursday and at Margherita subdivision on Friday.
The Dibrugarh MP and the only elected member from Assam had taken oath of office at Rashtrapati Bhawan in New Delhi on May 30. He is known for working closely with the tea community of Assam.
Teli was accorded a warm welcome by party workers at Margherita by Tinsukia legislator Sanjay Kisan, Digboi legislator Suren Phukan, Marg-herita MLA Bhaskar Sarma, Sadia legislator Balin Chetia, Tinsukia district BJP president Lakheswar Moran, Tinsukia district BJP secretary Sushil Saikia, all BJP block presidents and secretaries, Bhartiya Janata Yuva Morcha, Bharatiya Janata Mahila Morcha and thousands of members and supporters.
"I will also try my best to revamp the Brahmaputra Valley Fertiliser Corporation Ltd (BVFCL) in Namrup besides the paper mills of Cachar and Jagiroad," Teli said.
Two paper mills in Assam, which employed more than 1,200 people and were an indirect generator of livelihood for more than 2 lakh people, have remained shut for more than three years.
The two paper mills under Hindustan Paper Corporation Ltd, Cachar Paper Mill in Panchgram of Barak valley and Nagaon Paper Mill at Jagiroad near Guwahati, were closed down on October 20, 2015 and March 13, 2017.
The BVFCL is the country's oldest gas-based fertiliser plant. Once considered among the finest fertiliser plants in the country, it has been gasping for breath of late because of various reasons.
Teli told reporters that he would like to know from the reporters also the issues related to the Northeast.
"At present, there are several mega food parks in the region, including one at Tihu in Nalbari district of Assam. But more are required. Our farming products go abroad, including bhut jolokia, tea, vegetables, pumpkin, fruits and others. We will have to explore more markets with more income for the happiness of people in the region. I am a minister and have to work for the people across the country but I will take special care of the region," he said.
Teli explained that to give a major boost to the food processing sector by adding value and reducing food wastage and loss at each stage of the supply chain with particular focus on perishables, the ministry of food-processing industries is implementing mega food park schemes since 2008 . Financial assistance up to Rs 50 crore is provided to set up mega food parks for creation of modern infrastructure facilities for food processing along the value chain from farm to consumer.
Later, he thanked the people for their support.
Teli, who belongs to the tea tribes community, defeated Congress heavyweight and former Union minister Paban Singh Ghatowar by 3.64 lakh votes in the Lok Sabha polls.
Support: Under the Project Rupantar for creating avenues for sustainable self-employment, Oil India Ltd extended financial support to 350 joint liability groups with a total project cost of Rs 6.68 crore at a disbursement function held at Rupantar growth centre in Tipling at Duliajan in Dibrugarh district on Friday.
Under the corporate social responsibility schemes for the project, OIL has distributed 150 power tillers, 20 weaving looms with Rs 10,000 each through cheque, 45 passenger vehicles and six three-wheeler auto-rickshaws.
Implemented by project partner, State Institute of Panchayat and Rural Development, Assam, around 1,495 families were extended support in the 2018-19 fiscal.
Teli graced the function as chief guest in the presence of legislators and OIL and Project Rupantar officials.
Additional reporting by Pradip Kumar Neog in Duliajan