Rahul, Rijiju trade barbs over trapped miners
Congress chief urges Modi to 'save the miners'; Minister blames negligence of 'previous Congress govt'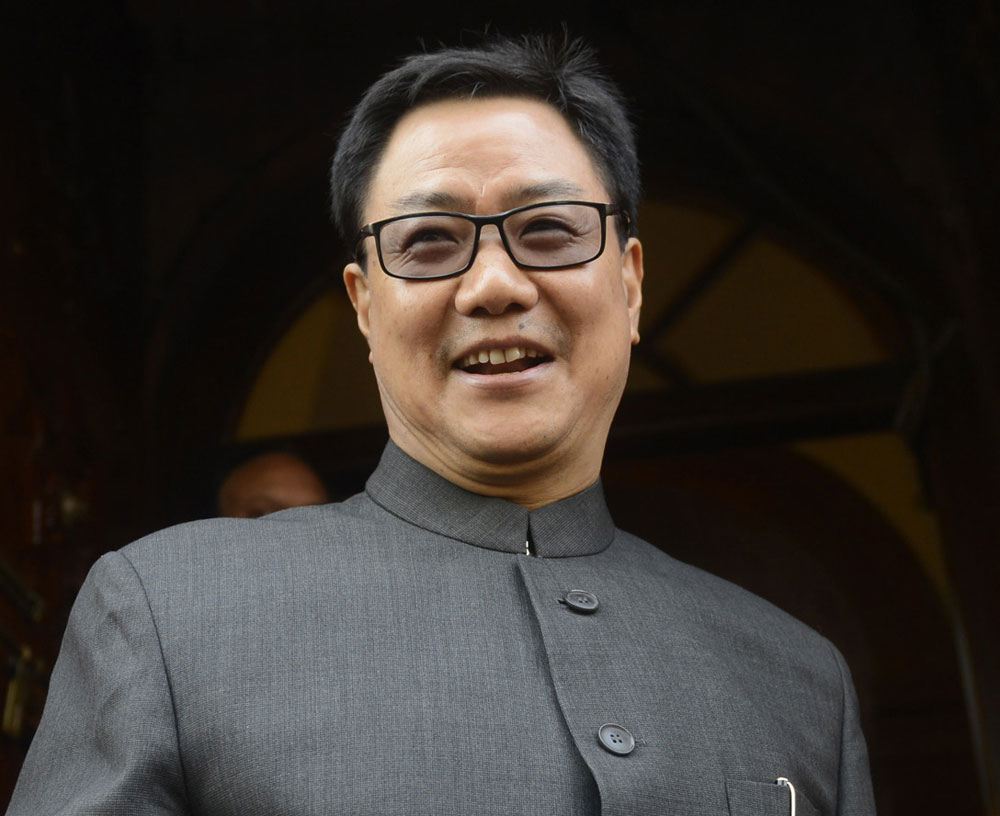 Union Minister Kiren Rijiju
Telegraph picture
---
Shillong
|
Published 26.12.18, 06:58 PM
|
---
Additional reporting by Sanjay Jha in New Delhi
A political slugfest has broken out between the Congress and the BJP over the fate of the 15 miners trapped in a coal mine in Meghalaya's East Jaintia Hills.
Congress president Rahul Gandhi on Wednesday took to Twitter and pleaded with Prime Minister Narendra Modi to "save the miners".
Rahul also hit out at Modi, saying the Prime Minister strutted on the Bogibeel bridge posing for cameras. On Tuesday, the Prime Minister inaugurated the bridge in Assam.
Search and rescue personnel have been busy pumping water from the mine to help divers get inside the dark pit. But since the pumps were unable to produce the desired results, pumping had been suspended since Monday.
The East Jaintia Hills administration and the personnel are waiting for bigger and powerful pumps to arrive.
However, officials from East Jaintia Hills on Wednesday said there has been no word so far regarding when the pumps would arrive. Rahul also accused the Prime Minister and the NDA government of refusing to organise high-pressure pumps.
"Fifteen miners have been struggling for air in a flooded coal mine for two weeks. Meanwhile, PM struts about on Bogibeel bridge posing for cameras. His government refuses to organise high-pressure pumps for the rescue. PM, please save the miners," Rahul tweeted.
After Rahul, the Congress also tweeted: "It's been 10 days since the request for high-powered pumps required for the rescue of 15 miners in Meghalaya is pending. Why do the lives of these 15 individuals matter so little to the Modi govt?" The Meghalaya Congress was not far behind in taking potshots at the NPP-led government in the state. "Fifteen miners are struggling for their lives for two weeks but neither the BJP-led central government nor the NPP-led state government has been able to organise high pressure pumps for their rescue. Looks like their lives don't matter to them," it tweeted.
Congress leader Ahmed Patel tweeted a few days ago: "It's been over 10 days & 15 miners remain stuck in Jaintia Hills mines, Meghalaya. The situation is extremely grave. I join the nation to pray for their wellbeing & safe return. I expect Central Government to take up the rescue mission with greater gravity & urgency."
On Wednesday he tweeted: "It is very sad 14 days have passed since the Meghalaya miners have been trapped while state & central governments are busy exchanging letters for rescue equipment. Why this lackadaisical approach?"
Hitting back at Rahul, Union minister of state for home affairs Kiren Rijiju asked the Congress chief not to politicise the incident, and blamed the previous Congress government in the state for its "negligence in relation with unsafe illegal mining".
"No politics on tragedy please @RahulGandhiji. We have been helping the state govt with all possible means. But the unsafe illegal mining activities were due to the negligence of the previous Congress govt," Rijiju tweeted.
In response to Rahul, Meghalaya chief minister Conrad K. Sangma tweeted: "The NDRF and the state government have been continuously working on the rescue work. Scale of the operation is a major challenge as water from a river has entered the mines. GOI was very prompt in sending their best people to help in the rescues ops."