Pushed, we will fight: Rajnath Singh in Arunachal Pradesh
Our armed forces are ready and it is heartening to see that the BRO is walking shoulder-to-shoulder with them, says defence minister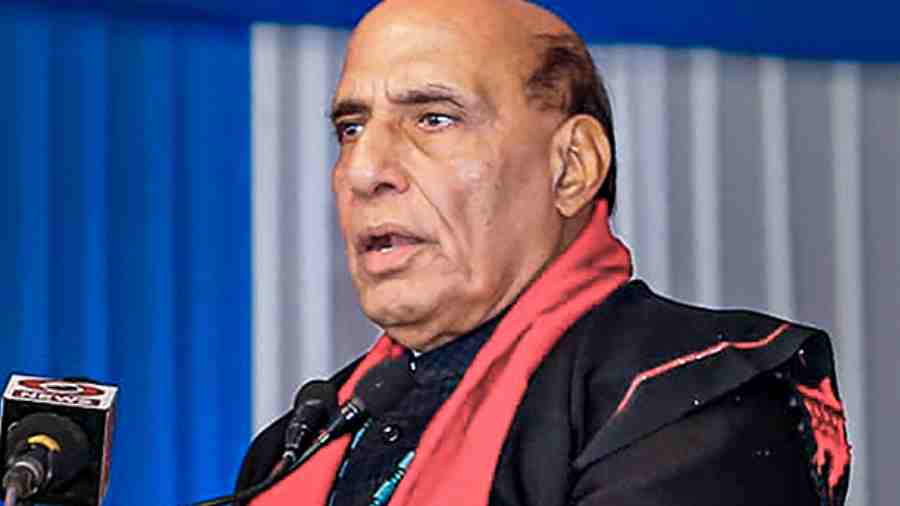 Rajnath Singh speaks at the inauguration of the Siyom bridge in Arunachal Pradesh on Tuesday.
PTI picture
---
Guwahati
|
Published 04.01.23, 04:23 AM
|
---
Defence minister Rajnath Singh has marked his first visit to Arunachal Pradesh after the skirmish between Indian and Chinese troops in Tawang in December by asserting that India does not believe in war "but if forced upon us, we will fight".
Rajnath was in Arunachal, which China considers an extension of South Tibet, on Tuesday to inaugurate 28 infrastructure projects, including eight in Ladakh and five in Arunachal, built by the Border Roads Organisation (BRO) at a cost of around Rs 724 crore. The defence minister did not visit any forward area.
While inaugurating the strategically located, 100-metre-long, double-lane Siyom bridge in Siang district, and 27 other projects through the virtual mode, Rajnath said: "The world is witnessing a number of conflicts today. India has always been against war. It is our policy. Recently, Prime Minister Shri Narendra Modiji drew the world's attention to that resolve when he said 'this is not the era of war'."
Invoking Lord Ram and Buddha to drive home his point, Rajnath said: "We do not believe in war, but if it is thrust upon us, we have tackled it with all our might and we are sure we will do so in the future as well. For this, we have to be always prepared and we are ready."
Rajnath added: "Our armed forces are ready and it is heartening to see that the BRO is walking shoulder-to-shoulder with them."
Rajnath later tweeted:"India has always remained against war as we believe in 'Vasudhaiv Kutumbkam (the world is one family). We do not believe in war, but if it is forced upon us, we will fight. We are ensuring that the Nation is protected from all threats."
Twelve of Arunachal Pradesh's 25 districts share a1,126km border with China. There is heavy deployment of forces in the state.
On December 9, Indian and Chinese troops had clashed in the Yangtse area in the Tawang sector. Both sides "immediately" disengaged.
The bridge Rajnath inaugurated is in Siang district, over 840km from Tawang.
On December 14, Rajnath had informed Parliament that Chinese forces had tried to "transgress" the Line of Actual Control and "unilaterally change the status quo" in the Yangtse area but Indian forces had prevented the bid.
Ties between the neighbouring countries nosedived following the June 15, 2020,clash in the Galwan Valley in eastern Ladakh that left 20 Indian soldiers and at least four Chinese troopers dead. TheTawang skirmish has further strained ties between the two nations.
Arunachal chief minister Pema Khandu said the Siyom bridge on the Along-Yinkiong Road would facilitate faster induction of troops, heavy equipment and rations to forward areas of Upper Siang district and the Tuting and Yinkiong regions along the LAC.
Besides eight projects in Ladakh and five in Arunachal Pradesh, the other projects are located in Jammu and Kashmir (four), Sikkim (three), Punjab (three), Uttarakhand (three) and Rajasthan (two). In addition, three telemedicine nodes — two in Ladakh and one in Mizoram — were inaugurated virtually, a government press release said.