Pump maker Kirloskar offers to help in Meghalaya mine rescue
No survivors found, but rescuers sniff foul odour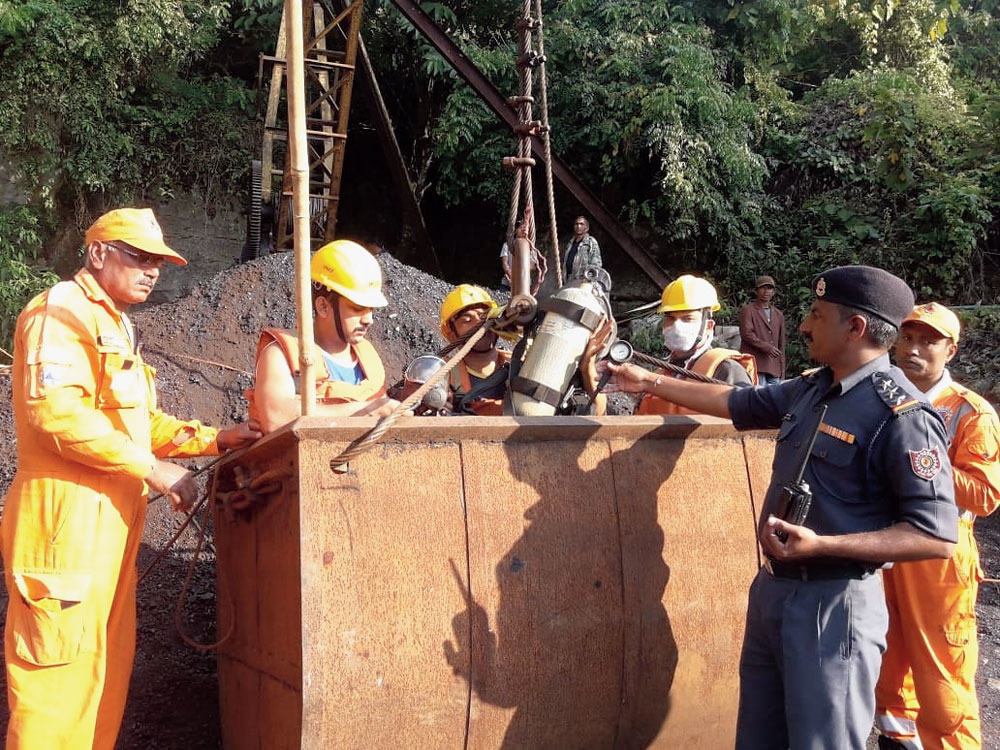 Rescue workers at the coal mine site on Wednesday.
Picture courtesy: NDRF
---
Shillong
|
Published 26.12.18, 06:59 PM
|
---
A Pune-based firm, which sent its technical experts to Thailand earlier this year to aid the rescue of 13 people trapped in a cave, said on Wednesday that it was in touch with the Meghalaya government to offer assistance to rescue 15 miners from a flooded coal mine at Ksan in East Jaintia Hills.
Search and rescue operations were launched since the day of the accident on December 13, but until now there has been little progress as the water in the mine has not receded.
Thousands of litres of water were pumped out from the mine since December 13 but the water level did not change, prompting the district administration to suspend the operation on Monday.
The water inside the mine was found to be that from the nearby Lytein river.
The search and rescue teams are waiting for bigger and more powerful pumps to aid them in draining out the water. However, until date, there has been no word as to when the pumps would arrive at the site, located about 160km from here.
However, in what is being seen as a ray of hope, the Pune-based Kirloskar Brothers Limited has offered its assistance and revealed it was in touch with Meghalaya officials.
"We are deeply concerned about the trapped miners in Meghalaya and are ready to help in whichever way possible. We are in touch with the officials of the Govt of Meghalaya to offer our assistance in this regard. We hope all miners are rescued safely," the company posted on its official Twitter handle.
As the search and rescue teams await the arrival of powerful water pumps, a source said on Wednesday that a "foul odour" was emanating from the surface of the water in the mineshaft.
"Although the water level has not receded, divers went inside the mine shaft today. They reported a foul odour from the surface of the water," he said. However, the source of the odour is yet to be ascertained.
Kirloskar Brothers said its expertise in draining water from a cave was sought by the Indian embassy in Thailand to support that government in its rescue operations in the Tham Luang caves where 12 young footballers and their coach had got stuck after it was filled with rainwater in June.
The experts had offered technical knowhow and advice on dewatering and pumps involved in the rescue operations.
The company, on its website, noted that it had been involved in flood control operation in Thailand in 2011 and had also executed the large Bang Sue project to keep Bangkok city flood-free by installing some of the largest concrete volute pumps in Thailand.