Post-deluge relief & salvage work begins
Assam governor visits inundated Dhubri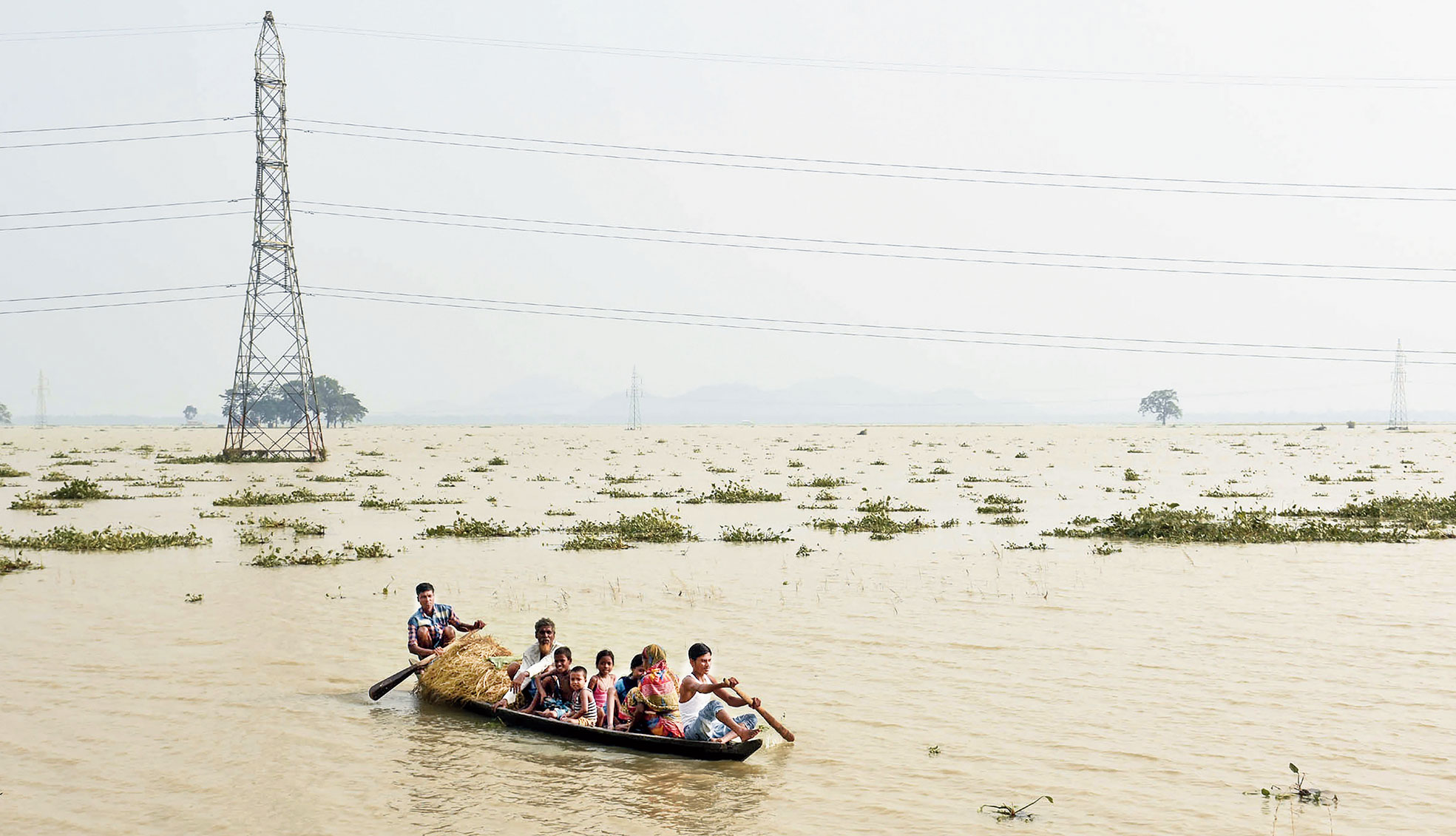 ---
|
Dhubri
|
Published 20.07.19, 08:34 PM
---
Assam governor Jagdish Mukhi on Saturday visited the flood-affected areas of Dhubri district and took stock of the plight of people who have taken shelter at relief camps in Gauripur and Dhubri towns.
He first visited the relief camp in PC Institute in Gauripur town and later went to relief camps at BC Memorial ME School, Dhubri Girls HS School and Dhubri gurdwara in Dhubri town where people, affected by floodwaters of the Brahmaputra and its tributaries, have taken shelter.
He listened to their problems and grievances and appreciated relief operations by the Dhubri district administration. He interacted with the inmates and their families, including pregnant villagers, and children.
Later, Mukhi took stock of availability of baby food, fodder and medical services in the flood-hit district.
Assuring them of full support from the state, the governor said the Assam government is helping the flood victims and directed the district administration to expedite relief measures.
Deputy commissioner Ananta Lal Gyani apprised Mukhi of the flood situation.
On Saturday, the data revealed by the Dhubri District Disaster Management Authority said nearly 11 lakh people of 540 villages in eight revenue circles have been affected by floods and 20,000 hectares of cropland have been destroyed. The district administration has taken necessary steps to provide relief materials to 3,0367 inmates staying in 103 relief camps in Dhubri.
Later, Mukhi visited the Dhubri gurdwara where thousands of people have taken shelter over last few days. The gurdwara has been providing succour by way of meals (langar) for people of all communities.
On Saturday, power was restored in more than 80 per cent areas of Dhubri town, which was reeling under darkness since Monday evening.
DGP assurance: The director-general of police, Kula Saikia, said: "Assam police are working with the administration for relief and rescue operations in the flood-affected areas. Assam police special teams are on patrol to ensure safety of animals in Kaziranga National Park. Our personnel have decided to donate a day's salary for the flood-hit people. We are always with them."
Goalpara Law College and the Poor Development Organisation on Saturday distributed relief to inmates sheltered in camps in the town.
Meghalaya floods: South West Garo Hills deputy commissioner Ram Kumar S. said on Saturday that the boy, who had a history of epilepsy, was chasing a rooster when he collapsed and could not get up. The incident occurred at Monabari near Mankachar on Friday evening, he said. However, the identity of the deceased has not been confirmed till the filing of this report. Around 30,000 people have been affected in the prevailing floods and 20,000 of them have taken shelter in around 40 relief camps. Earlier this week, two people had died at Mahendraganj area of in South West Garo Hills.
In neighbouring West Garo Hills, deputy commissioner Ram Singh said the water level has gone down decreased by around six inches on Saturday.