On World Wetlands Day, a plea to save Deepor Beel
All waste generated in the city is allegedly dumped into the Deepor Beel, a Ramsar site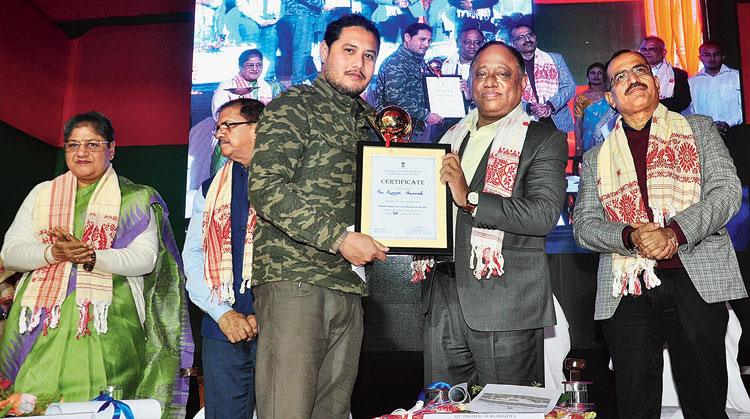 Parimal Suklabaidya awards photographer Rupjyoti Sarma for winning the wildlife photography contest, organised to mark World Wetlands Day, on Sunday
Picture by UB Photos
---
Guwahati
|
Published 02.02.20, 07:51 PM
|
---
Assam environment and forest minister Parimal Suklabaidya on Sunday claimed residents had not done much to conserve the biodiversity of Deepor Beel.
Speaking at the World Wetlands Day celebrations at Assam state zoo here, he said it was an occasion to remind "ourselves of the responsibility we have for securing a better future for our younger generation, for which wetlands security is of utmost importance".
Suklabaidya said all waste generated in the city is allegedly dumped into the Deepor Beel, a Ramsar site.
About 500MT garbage is generated in the city daily, said a Gauhati Municipal Corporation official.
World Wetlands Day is observed on February 2 every year to commemorate the signing of the Ramsar Convention on Wetlands of International Importance in 1971. The theme this year is Wetlands and Biodiversity.
"The department cannot alone protect biodiversity. People must also come forward to do their bit. There is need for a movement for the conservation of the wetland. To conserve and sustain the wetlands and their biodiversity, we have to create awareness among people," he said.
"We use this day to convey the message that we can't survive without the wetlands. It is the need of the hour to create a favourable atmosphere for wildlife too. The government is also concerned with the protection of Deepor Beel," he said.
Avinash Joshi, principal secretary , water resources, said: " There should be a balance between ecology and development. A lot of destruction has occurred in the name of development which could have been avoided."
Joshi said the 3Rs of reduce, reuse and recycle should followed at the individual level. He also said everyone must show respect to the people who carry out recycling by using the reusable materials.
Students and faculty of Digboi College in Upper Assam's Dibrugarh district on Sunday visited a wetland in the Digboi oil field on World Wetlands Day. They were accompanied by environmental activists, biologists and wildlife experts. The group spotted birds like lesser whistling ducks, mallards, little egrets and red jungle fowl, among others.
An environmental organisation, Voice of Environment, organised an awareness campaign at Deepor Beel.
Additional reporting by Avik Chakraborty in Dibrugarh