Officials mum on search for missing Meghalaya miners
35 days since 15 miners were trapped in the coal mine: no official word from top officials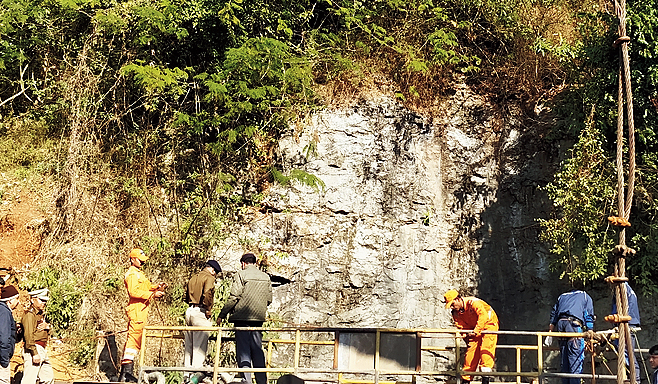 Search operations in progress
Picture by Andrew W. Lyngdoh
---
Published 18.01.19, 06:41 PM
|
---
The sound of generators and water pumps resonated in the isolated mines here in Meghalaya's East Jaintia Hills as efforts to reach out to miners trapped inside a mine continued.
On Friday, it was the 35th day since 15 miners were trapped in the coal mine here.
On Wednesday, the Indian Navy's remotely-operated vehicle (ROV) detected a body, which according to doctors from Shillong who arrived at the spot on Friday to take a look at the video recorded through the vehicle, was decomposed.
Apart from that, the vehicle has not yet detected other miners — whether dead or alive. However, navy personnel were seen monitoring the vehicle in case something new was detected. In the afternoon, Meghalaya director-general of police R. Chandranathan arrived at the spot to take stock of the situation. But he left the spot without uttering a word to the waiting media.
Apart from the navy, personnel from the National Disaster Response Force (NDRF), Odisha Fire Service and Disaster Management Services, Coal India Limited and others continued with their operations.
Official spokesman R. Susngi said Coal India Limited pumps operated for 44 hours and discharged 2,49,4800 litres of water from an old shaft.
Similarly, pumps from the Kirloskar Brothers Limited, Pune were used in another old mine.
However, there has been no word from the district administration on whether the relatives of five miners from the nearby Lumthari village and from Assam's Chirang district have given their opinion after they were on Wednesday showed the video captured via the ROV.
On Thursday, reporters were told that the relatives would give their opinion on Friday on the detected body.
However, apart from the roar of the machines, and confabulation between rescuers and scientists, there was no official word from either the top officials of the district administration, including the deputy commissioner, on the state of the operations.