Northeast MPs seek exemption for entire region
NPP claimed that Shah would call a meeting to finalise the technicalities for exempting Meghalaya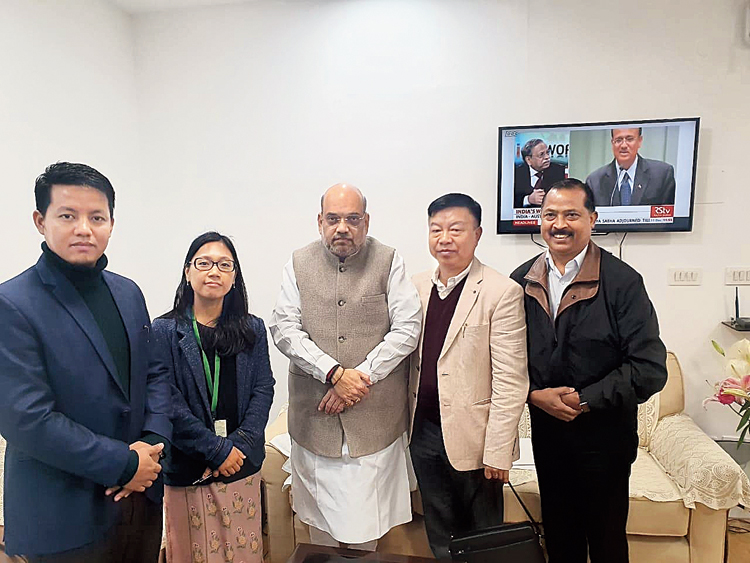 MPs meet Union home minister Amit Shah in New Delhi on Wednesday
Telegraph picture
---
Shillong
|
Published 11.12.19, 11:30 PM
|
---
A group of Parliamentarians from the Northeast demanded for the exemption of the entire region from the purview of the Citizenship (Amendment) Bill from Union home minister Amit Shah.
National People's Party (NPP) leader and Tura MP Agatha K. Sangma, Congress MP from Shillong Vincent H. Pala, Naga People's Front (NPF) MP from Outer Manipur Lorho S. Pfoze, and Sikkim Krantikari Morcha (SKM) MP from Sikkim Indra Hang Subba met Shah on Wednesday morning to make the demand.
Agatha supported the bill, which seeks to grant citizenship to illegal migrants, excluding Muslims, who have faced religious persecution in Pakistan, Afghanistan and Bangladesh and who have entered India before December 31, 2014, when it was passed in the Lok Sabha on Tuesday morning.
According to the NPP, Agatha and the team demanded that the entire state of Meghalaya and also the Northeast should get exemption from the bill, and not just the areas falling under the Sixth Schedule or the inner-line permit (ILP).
"The home minister assured the delegation that he will look into the demands of the delegation and will hold further consultations," the NPP said.
It also claimed that Shah would call a meeting to finalise the technicalities for exempting Meghalaya.
According to the bill, the states of the region where the ILP regime is in place would be left out. The regime is in operation in Arunachal Pradesh, Mizoram, Manipur and Nagaland.
The tribal areas of Assam, Meghalaya and Tripura have also been exempted from its purview. Around 97 per cent of the areas of Meghalaya fall under the Sixth Schedule.
However, there is pressure on the Centre and political parties from various quarters not to implement the provisions of the bill in the entire region.