Northeast battles coronavirus amid lockdown
Action on Lakshman Rekha breachers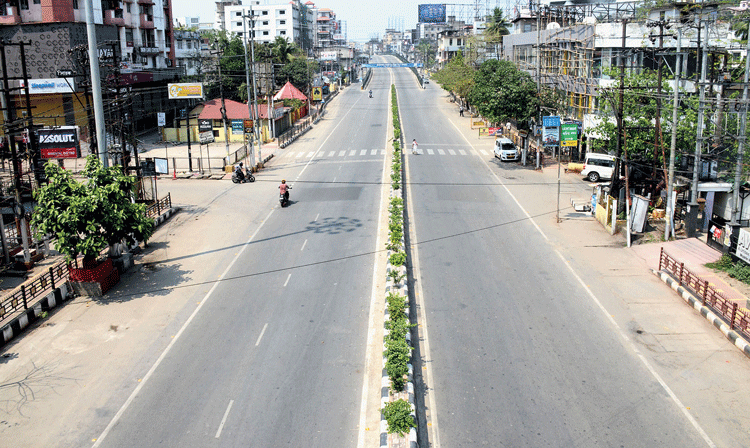 ---
|
Guwahati
|
Published 25.03.20, 07:52 PM
---
The first day of the three-week lockdown announced to combat the novel coronavirus threat hit life hard in Assam on Wednesday, and those who violated the Lakshman Rekha by stepping out of their homes for no valid reason.
Announcing the 21-day lockdown on Tuesday night, Prime Minister Narendra Modi had said, "If you cross the Lakhsman Rekha, you will invite the virus home."
The Covid-19 pandemic has infected over four lakh people and claimed over 18,000 lives globally.
The state administration had alerted the people not to come out on the roads and avoid mass gatherings to prevent the spread of Covid-19, though Assam has no positive case so far. Neighbouring Manipur and Mizoram have one each.
The streets were mostly deserted, except a thin presence of ambulances and vehicles on essential duties. A few people were seen at grocery shops.
Though many ventured out to get their supplies of essentials and meet exigencies, the police came down hard on those loitering or roaming the streets for no genuine reason.
Police resorted to lathicharge at several places across the state to bring the violators to heel and even made them kneel down at places to shame them and prevent them from repeating the act which may put them and their near and dear ones in trouble.
Chief minister Sarbananda Sonowal reviewed the actions taken by various departments and directed the municipal authorities to aggressively carry out a drive to sanitise all public places.
He asked the health department to ensure uninterrupted supply of medicines for the critically ill patients and directed director-general of police Bhaskarjyoti Mahanta to ensure strict monitoring of rumourmongering on social media platforms so that people do not panic. He also instructed that gaonburhas (village elders), teachers, opinion leaders, block development officers and circle officers fully alert to deal with rumours.
Chief secretary Kumar Sanjay Krishna also chaired a meeting here, which was attended by Mahanta and a few other senior police officers, among others. "We will take strong action if someone breaks the lockdown," Krishna later told reporters.
He said the deputy commissioners have been instructed to keep under observation those who have come to the state from outside. "If someone breaks the quarantine, they will be dealt with strongly," he said.
Mahanta asked people not to use vehicles for market trips.
In Golaghat district, police intercepted several motorcycle-borne youths on National Highway 39, caned them and sent them home. Some youths busy playing carrom were dealt the same treatment. The police even uploaded videos of violators, inviting more praise than criticism. There was an appeal for caution too.
The lockdown also affected distribution of newspapers, something which Krishna said they were trying to resolve by taking hawkers into confidence. A newspaper distributor said newspaper vendors/hawkers did not distribute papers because of the fear of being accosted by police. "Out of 450 hawkers, only 50 are distributing papers in the city," he said.
Nalbari-based research consultant and farmer Bonojit Hussain said the 21-day lockdown could not be imposed through vigilantism and police action alone. "For the lockdown to be successful in a country of 1.38 billion people (with 80 per cent earning less than Rs 180 daily), it will require a tremendously clear-headed road map on the part of policymakers in terms of contingency plan and economic packages. Otherwise, there might be explosions of social unrest in the days to come, rendering the lockdown meaningless."
Additional reporting by Rokibuz Zaman in Guwahati and Sanjoy Hazarika in Bokakhat