No starvation deaths: National Human Rights Commission, Tripura
The reports also stated that a complaint was lodged with the NHRC with a name of three Brus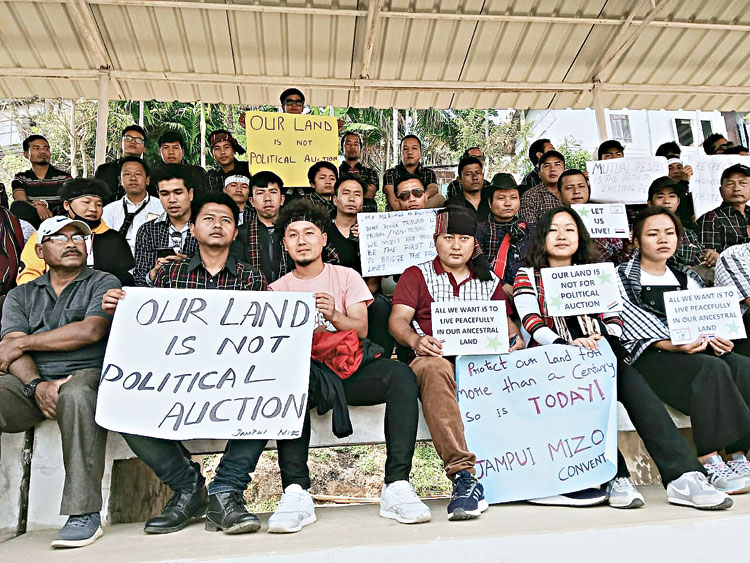 A rally against the settlement of Brus in Kanchanpur.
File picture
---
Agartala
|
Published 20.03.20, 07:45 PM
|
---
Furnishing a report to the National Human Rights Commission (NHRC), the Tripura government has informed that not a single Bru displaced person has died of starvation when the Centre stopped their rations on October 1.
The Centre supplied relief materials to the six relief camps across North district where more than 37,000 Bru had taken shelter.
The relief material supply was suspended from October 1 after the Brus refused to return to Mizoram according to a repatriation package offered by the government. The supplies, however, resumed after 38 days.
The Brus have alleged that six persons died during that period.
On March 5, in an "action taken report" placed before the commission in response to a complaint lodged on these deaths, North district magistrate Raval Hamendra Kumar said nobody named John Chongpreng, died because of starvation.
However, he said a three-month-old infant named John Changpuia died on October 31, 2019, because of fever.
The report also said another infant named Akosha Molshoy died when the Centre stopped the relief.
However, the district magistrate in his report said according to the post-mortem report, the death did not occur because of starvation.
Kumar's report said another four-month-old infant died in front of a primary health centre in the area. According to the medical officer in-charge Gachirampara primary health care, the infant died of pneumonia, the report added.
On another death of a four-month-old infant, named Pigili Reang, the district magistrate said in his report that she was not brought to the hospital or in any healthcare centre in Tripura.
However, during the inquiry, it was found that she was treated in Mizoram a day before of her death and she died of some other diseases and it was not a case of starvation death.
"Maloti Reang, 60, died at her home and was cremated before post-mortem examination. We have collected reports from 'ground sources and found that she was suffering from 'unknown diseases'. Bistirung Reang, 65, who expired on November 3 at a camp, also died and was buried. The body was later exhumed by deputing executive magistrate and the post-mortem report stated that she did not die of starvation," the report said.
The reports also stated that a complaint was lodged with the NHRC with a name of three Brus, who were admitted to Kanchanpur Hospital and died because of starvation.
"The names of the persons are Ramjoy Reang, 65, Khubarbati Reang, 60 and Dobokumar Reang, 55. An inquiry by sub-divisional medical officer of Kanchanpur claiming that no inmates with such name took admission in the hospital based on admission record," the report said.