No coronavirus case reported so far but Northeast on toes
Assam to test incoming fliers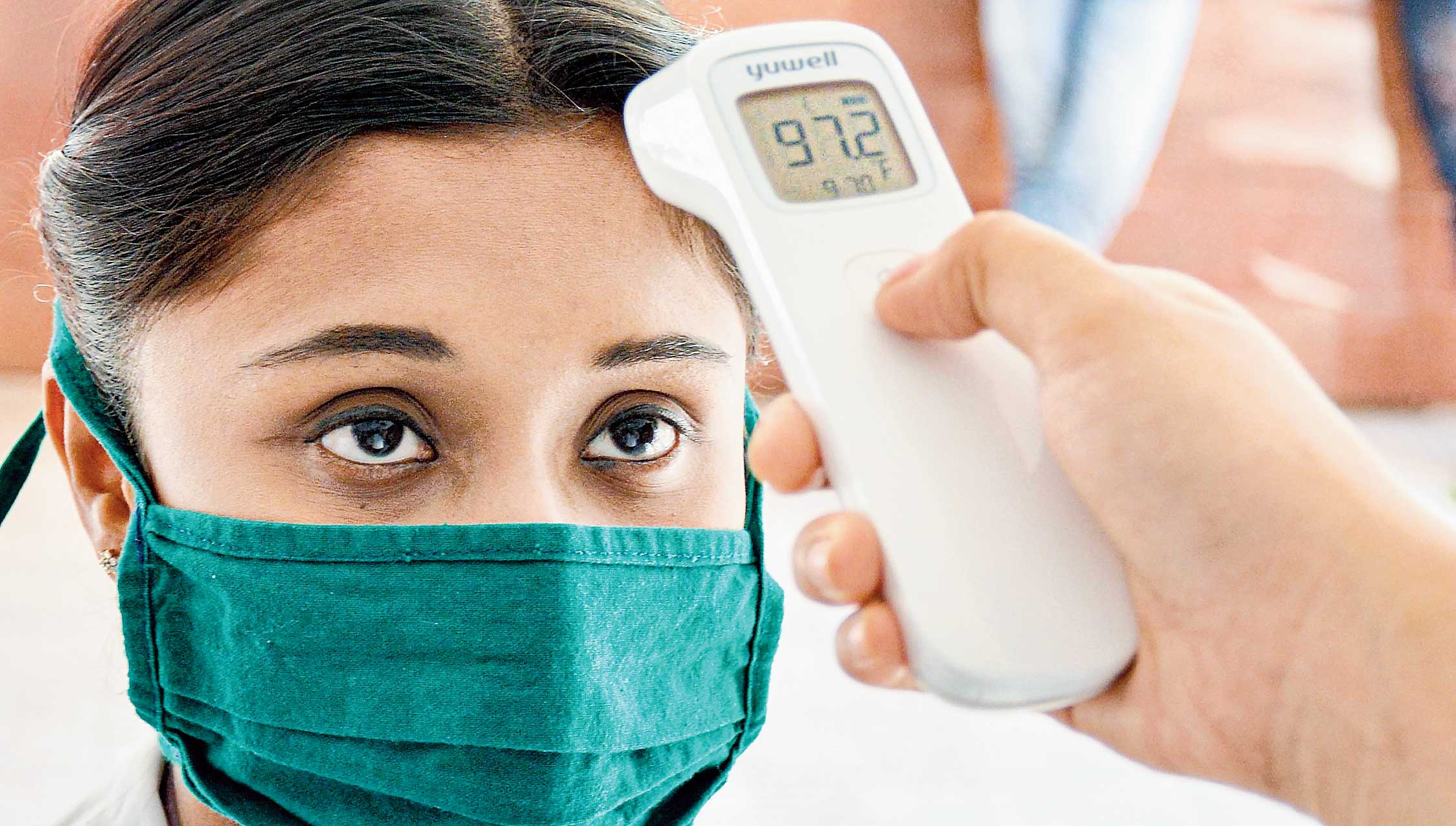 A medic uses a thermal screening device on a woman at B. Borooah Cancer Institute in Guwahati on Monday.
(PTI)
---
Guwahati
|
Published 16.03.20, 10:04 PM
|
---
People flying to Assam from other states will have to go through coronavirus tests from Tuesday.
Assam health minister Himanta Biswa Sarma on Monday said since the country is now going through the local transmission stage of the disease, the government has decided to screen foreign and domestic tourists at the airport. The screening facilities at railway stations will also be strengthened.
"The country-to-country transmission stage is over. This is a local transmission stage. So we have decided to screen passengers from other states as well," he said.
As a preventive measure against the pandemic, the state government has also restricted entry of daily visitors at Janata Bhawan to 100 persons per day and stopped the use of biometric attendance system in all offices — public and private.
Educational institutions in the state remained closed on Monday, following a government's directive. A few schools which opened in the morning, claiming that they did not get any formal government directive, closed soon after following guardians' ire.
Sarma said the government would take legal action against educational institutions which do not abide by the government's instruction.
Although educational institutions will remain closed till March 29, teachers will have to attend duty and engage in creating awareness on coronavirus, Sarma said.
The minister said no coronavirus case has been reported so far but, to combat the virus, the state is equipped with three testing laboratories, facility to quarantine 2,000 people, 507 isolation beds and 269 ventilation capacity. The laboratories are in Guwahati, Dibrugrah and Jorhat. Besides, hospitals in the state have 12,129 testing kits, 61,263 three-layer masks, 5,215 n95 masks and 57,69,166 gloves. Sarma also said the government was working on making sanitizers available cheaply.
He appealed to the people to avoid non-essential social gatherings, to maintain hygiene and not to panic but approach government hospitals if they develop coronavirus-like symptoms. "We should not try to hide the disease. Otherwise, we may put others, including our parents, in danger by infecting them. The fatality of elderly people is very high if infected," he added.
Assam chief minister Sarbananda Sonowal held an emergency review meeting. He instructed police to ensure timely reporting of arrival and departure of foreigners and assist in case of medical needs like isolation or quarantine.
Governor Jagdish Mukhi also took stock of the situation in the state with officials of the health and family welfare department and disaster management. Personnel of 1st NDRF Guwahati and NDRF rescuers organised an awareness programme on covid-19 at Jorhat airport.
Returnees: There is apprehension in Dhubri over return of youths from the district working in Kerala, where coronavirus cases have surfaced. The administration traced three families, all whom tested negative.
Dhubri joint director of health service Dr S.M. Emdad Ullah said no case has been reported in the district so far.
A resident of Haryana, suspected to have been infected, is kept in isolation ward at Mankachar hospital in South Salmara Mankachar district.
Additional reporting by Mukesh Kumar Singh in Dhubri