NHRC seeks Delhi report on mills
Cachar Paper Mill and Nagaon Paper Mill have been lying non-functional since October 2015 and March 2017 respectively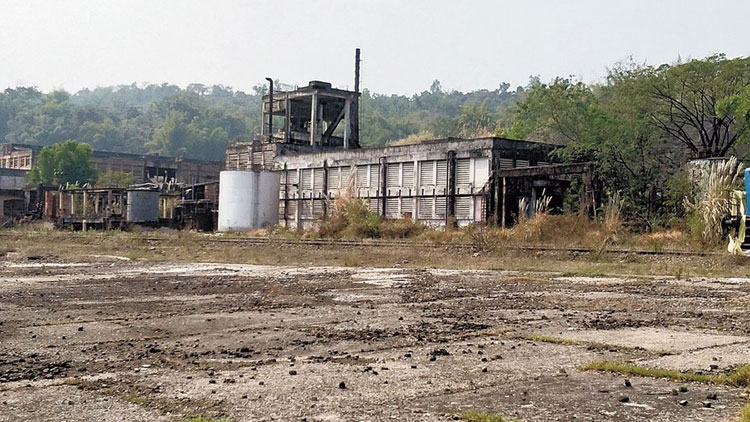 The defunct Cachar Paper mill at Panchgram
File picture
---
Silchar
|
Published 31.12.19, 07:40 PM
|
---
The National Human Rights Commission (NHRC) has ordered the Union ministry of heavy industries to submit its report on the two defunct paper mills in Assam on or before January 16, 2020 or its secretary to appear in person on January 23, 2020 in connection with a petition filed by the Cachar Paper Project Workers' Union.
The mills, Cachar Paper Mill at Panchgram in Hailakandi district and Nagaon Paper Mill at Jagiroad in Morigaon district, have been lying non-functional since October 2015 and March 2017 respectively and their workers have not got salaries for the past 35 and 33 months respectively.
Manabendra Chakraborty, president of the workers' union, told The Telegraph on Tuesday that he had filed a petition in 2016 about issues related to provident fund and pension and sought the NHRC's intervention. The commission eventually took up the matter with the Union ministry of heavy industries but the latter never submitted a report or appeared in person before it. They kept delaying the process citing various reasons, he alleged. He said the NHRC has also asked the ministry to explain the delay.
Chakraborty, who received the order copy on Monday, said they were sanguine that the commission would get them out of the "troubled waters". He said they had submitted a review petition with the commission in 2017 after their salaries were stopped. "We also apprised the authority about the death of the mills' workers," he added.
Chakraborty also lashed out at the government for not fulfilling its promise of reviving the industrial units and not paying pending salaries despite repeated assurances. "Sixty workers have died, including three suicides, since the mills stopped functioning. The government is totally responsible for the tragic incidents," he said and vowed to continue their fight till the issues of the mills was resolved.
The Hindustan Paper Corporation's liquidator had on December 23 issued an order for the employees to vacate all HPC quarters by January 31, 2020. This caused fury among the mills' workers, who vowed not to comply with the order unless all their dues are remitted.
On December 28, the state government said the workers would not have to vacate their quarters.
Reacting tothis, the mills' unions said they would not believe any verbal commitment.
Dipak Chandra Nath, general secretary of the Cachar Paper Mill Officers' and Supervisors' Association, said a meeting was held on the premises of Cachar Paper Mill between different unions and the management on December 25 over the liquidator's order. The unions made it clear that the workers would not vacate their quarters till all their dues were cleared, he said.
He said Gauhati High Court would hold a hearing on January 9 regarding a petition filed by the unions seeking clearance of Rs 90 crore (sanctioned in Parliament in 2018 but not disbursed) for payment of pending salaries. "Hopefully, the judicial system will save us from doom," he added.