Modi's praise for Assam's conservation efforts
PM talks of water birds in Kaziranga and turtles in ponds in Mann ki baat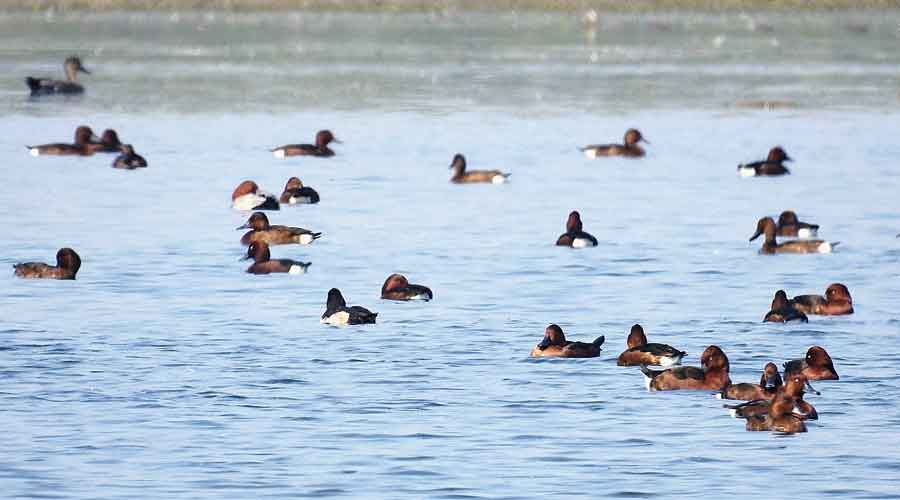 Migratory waterbirds, ferruginous ducks, from Central Asia and Europe in Kaziranga
Telegraph picture
---
Guwahati
|
Published 01.03.21, 01:26 AM
|
---
Prime Minister Narendra Modi in his Mann Ki Baat radio broadcast on Sunday praised the people of poll-bound Assam for their conservation efforts — starting with water birds in Kaziranga to turtles in temple ponds.
Modi highlighted the issue based on an "interesting" post by Mayur, a "passionate" birder and nature lover from Haryana on the NaMo App.
The post called for appreciation of the people of Assam for the rise in the number of waterfowls in Kaziranga,  "birds that nest not on the trees but on the water, such as ducks and others".
The Kaziranga National Park & Tiger Reserve Authority has been carrying out its annual waterfowls census for some time now, revealing the population of water birds and also about their favourite habitat
"You will also be delighted to know that this time the number of water birds has
increased by about 175 per cent compared to last year.
A total of 112 species of birds have been sighted in Kaziranga National Park during this census. And of these, 58 species happen to be winter migrants from different parts of the world including Europe, Central Asia and East Asia.
"The most important reason for this is that here, there is better water conservation along with very little human interference. However, in some cases, positive human interference is also very important," Modi said.
Stressing on "positive" human interference, Modi spoke glowingly of the contribution of Padma Shri Jadav Payeng, popularly known as India's Forest Man from
Majuli district, a person who has "actively contributed in raising about 300 hectares of plantations" and has been constantly working for forest conservation and is also involved in "motivating" people for plantation and conservation of biodiversity.
Then he moved to conservation efforts of leading temples in the state playing a "unique role" in the protection of nature.
"If you take a look at our temples, you will find that every temple has a pond in the vicinity. The Hayagriva-Madhab Temple at Hajo, the Nagsankar Temple at Sonitpur and the Ugratara Temple at Guwahati have many such ponds nearby.
"They are being used to save near extinct species of turtles. Assam is home to the highest number of species of turtles. The ponds of these temples can become excellent sites for their conservation and breeding and training about them," Modi said.
Guwahati-based conservationist Bibhab Kumar Talukdar welcomed the efforts of the prime minister to highlight conservation practices carried out in Assam by both government and civil societies.
"We hope he will continue to keep a watch on bio-diversity hotspots by ensuring appropriate balance between environment and development," Talukdar told The Telegraph.