Medha Patkar sees 'conspiracy' in Akhil Gogoi's arrest
Patkar observed that the AASU came to the fore of the anti-CAA movement only after Akhil was arrested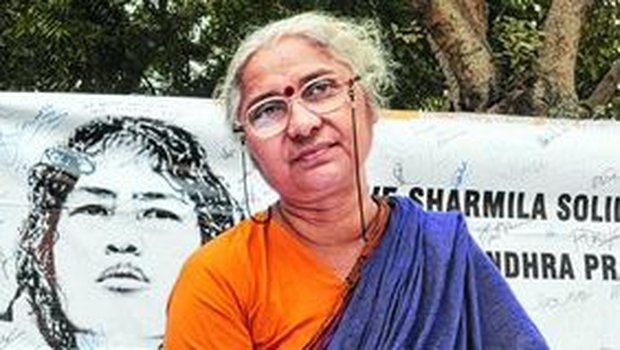 Social activists Medha Patkar and Sandeep Pandey also pushed for giving work permits to immigrants from neighbouring countries
File picture
---
Guwahati
|
Published 19.02.20, 07:39 PM
|
---
Social activists Medha Patkar and Sandeep Pandey on Wednesday alleged that the All Assam Students' Union (AASU) was carrying out the anti-CAA protest in "understanding" with the state government, "which does not allow freedom of expression and speech".
They criticised the government for arresting Krishak Mukti Sangram Samiti (KMSS) leader Akhil Gogoi and demanded his immediate release. They also pushed for giving work permits to immigrants from neighbouring countries. The duo, who were in the city on Wednesday, took stock of the anti-CAA scenario in the state, met Akhil at Central Jail Guwahati and took part in an interaction at Cotton College. They will meet intellectuals and other citizens on the Citizenship Amendment Act (CAA) here on Thursday.
Speaking to reporters here, Patkar and Pandey alleged a "deep conspiracy" by the BJP-led government in Assam behind the arrest of Akhil.
Akhil was arrested by Assam police in Jorhat on December 12, a day after the Citizenship Amendment Bill (CAB) was passed in Parliament on December 11, 2019, as a "preventive measure" amid anti-CAA protests.
On December 13, Guwahati police registered a suo moto case against him. The case was handed over to NIA on December 14 on the state government's request. The NIA booked him under the stringent Unlawful Activities (Prevention) Act (UAPA) following the issuance of an order by the Union home ministry that very day.
Patkar and Pandey observed that the AASU came to the fore of the anti-CAA movement only after Akhil was arrested.
"When I last visited Assam in December 2018, Akhil Gogoi's KMSS and 70 organisations were spearheading the anti-CAB movement. AASU was not on the scene at that time. The AGP opposed, but meekly. After Akhil's arrest, the AASU suddenly came into the picture and now they are leading it. We see a conspiracy here.... The agitation by AASU is being carried out in an understanding with the government," Pandey, a Magsaysay awardee, alleged. He added that during the 2019 Lok Sabha polls, only the KMSS was campaigning against the BJP while AASU was completely silent.
AASU president Dipanka Kumar Nath shot back: "We had filed a case with the Supreme Court way back in 2016 against CAB and have been protesting against it since then. Were this duo sleeping then?"
The KMSS and AASU are seen maintaining a distance from each other though they have common agenda like opposition to big dams in the Northeast and the CAA. Their relation became bitter when a few years ago Akhil alleged that AASU chief adviser Samujjal Bhattacharjya had connections with Assam Public Service Commission (APSC) tainted former chairman Rakesh Kumar Paul. Akhil had earlier made several requests to the AASU to jointly hold anti-CAA protests but in vain.
Hitting out at AASU, Pandey asked, "It's alright that classes of students should not be disturbed but we never heard that a protest should be held between 10am and 5pm. Is it a government programme or a peoples' movement?"
After the violence during anti-CAA protests in December, in which five people died, the AASU decided not to protest after 5pm.
Patkar, alleging that the government wants only those groups which will work in understanding with it, asked, "Why does KMSS not get permission to protest but AASU gets it easily?" She said Akhil and the KMSS had given voice to the concerns of the poor people, opposed toll gates and big dams.
He had also set up tourist attraction centres like the orchid park at Kaziranga, she added. "But today Akhil has been branded as anti-national, Maoist and violent and put behind bars. This is a very big injustice. What is going on in Assam today is against democracy," she said.
Pandey alleged that the Assam government does not want the KMSS to lead the anti-CAA protest as its strong agitation can affect the BJP's winning prospects in the 2021 Assembly elections. "The government wants a weak opposition for which it is giving so much space to the AASU," he alleged.
Hitting out at the BJP-ruled government in the state, Patkar said, "People cannot raise their voice against injustice.... It is happening in all the BJP-ruled states."
She also alleged that the National Register of Citizens (NRC) was prepared through a corrupt system in Assam. It excluded 19 lakh people, including "10-12 lakh Hindus". She added, "If NRC is done across India, then entire country will become Shaheen Bagh. We must resist the attempt to divide people on religious basis."