Stranded labourers reach Chagolia
They were rescued by Bengal police and South Bengal State Transport Corporation officials with the help of a Calcutta-based journalist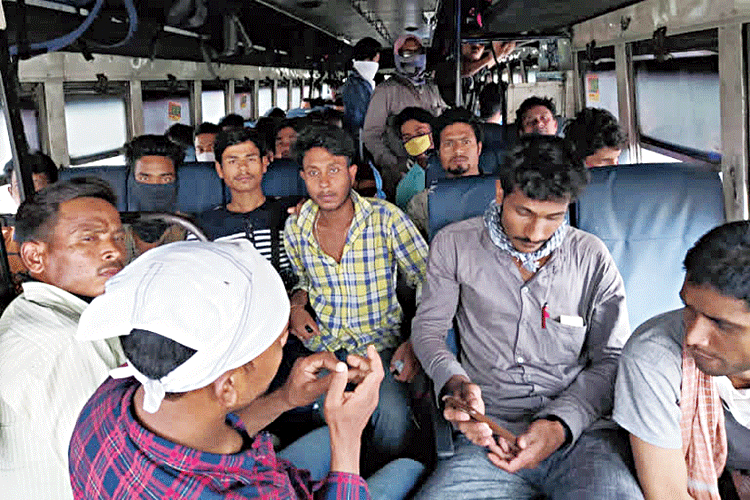 The labourers on the bus that brought them from Calcutta to Chagolia in Dhubri district.
Picture by Rinkumani Pathak
---
Guwahati
|
Published 25.03.20, 07:51 PM
|
---
A group of 40 labourers, stranded at Sealdah railway station in Calcutta since March 21, reached the Chagolia interstate checkgate in lower Assam's Dhubri district on Tuesday night.
The labourers were rescued by Bengal police and South Bengal State Transport Corporation (SBSTC) officials with the help of a Calcutta-based journalist.
"We reached Howrah railway station from Kerala on March 21 but could not get any train to Assam. We were then asked to go to Sealdah but were denied shelter on the platform. Outside the station, Railway Police Force (RPF) resorted to lathicharge several times," alleged Manoranjan Barman, who hails from Chirang district.
Another worker from Kokrajhar said, "We were without food for three days. It was raining and we didn't have any shelter. We couldn't even find water to drink. We contacted Hirokjyoti Medhi, a reporter from Basugaon, and shared our ordeal. He tried to help us but it was really difficult."
"Finding no mode of transport, we walked to the bus terminus at Esplanade," he said.
Manash Chatterjee, a Calcutta-based journalist, learnt about the ordeal of the workers and contacted Lalbazar police station. Lalbazar police promptly rescued them from the bus terminus and transported them to Chagolia, on the Assam-Bengal border, on an SBSTC bus (WB3945703).
The labourers were screened by a medical team at Chagolia, under the initiative of Agomoni revenue circle officer Chiranjit Das.
"They have been kept in quarantine for 14 days at Chagolia High School and Chagolia ME School," said Das.
Though coronavirus symptoms have not been detected in the labourers, a medical team is monitoring them constantly.
The district administration has arranged food for them.
"We can't go home right now but at least we are in our own state and getting food and shelter," said a labourer.